Nobeltec VNS & Admiral 11, the preview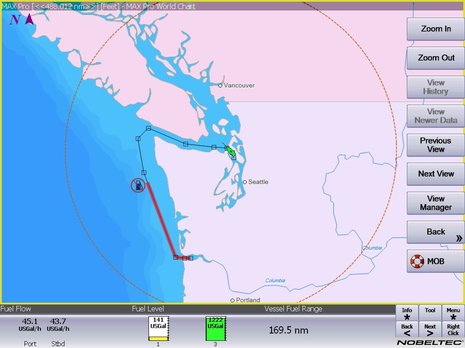 Real time fuel range — as when it's calculated using actual fuel flow and tank levels — is darn useful information; for instance, it should let you instantly see the effects of RPM or sea state changes not only on your MPG but also on your ability to get somewhere without a forced stop. Which is why it's neat that the Nobeltec 11 preview screen above shows the value as a number, as a circumference from your present position, and even as a distance along your active route. And there's an implication to this screen that I'm sure many of you will welcome (and may have already figured out)…

Yup, Nobeltec's new version 11 VNS and Admiral navigation programs — intended to "launch within the next few months" — will support standard NMEA 2000 data, which will eventually mean values like fuel flow, engine sensors, switch states, and much else that is not available via NMEA 0183. Fuel flow is the only special N2K data PGN that version 11 has been extended to display so far, but all the PGNs which duplicate 0183 data like GPS, wind, depth, etc. are supported (AIS excepted), and there's a Wizard to simplify the install. Nobeltec is obviously committed to the Standard, and AIS support, and more, will follow shortly. In fact, there will even be a Nobeltec branded N2K Gateway, as seen below, developed in partnership with Actisense.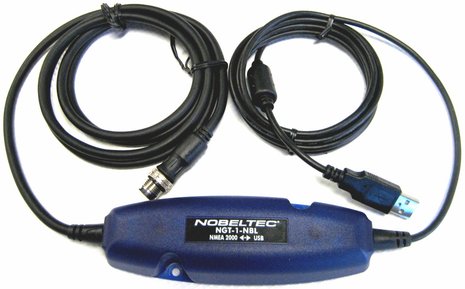 Nobeltec 11 software will also be opened up to NMEA 0183 data coming from Furuno AIS and NavNet devices via Ethernet. Which is not a big surprise as the two companies became cousins when Signet (MaxSea and MapMedia) bought Nobeltec last year. Similarly unsurprising, but nice, is how VNS/Admiral 11 will work with MaxSea's popular, and free, worldwide GRIB weather data. On the preview cruise in Fort Lauderdale — below is a grainy night shot of a big display set up in the main salon of a lovely and Nobeltec-loving 92′ Broward — we got to see how easy it is in version 11 to select an area of desired GRIB data, Max Chopper style; the new programs will even put an automatic download boundary box around a route.
Nobeltec 11 will also support data import and export via the GPX format, a move which I think many will view as another sign that the product philosophy is getting more open and generous. Others may especially appreciate the improved NavBar configurability, or better display of Sirius Marine Weather, or the new InSight IR2-HD2 2kW, 17-inch radar dome, which claims twice the resolution of Nobeltec's previous small dome, and uses an Ethernet connection like the bigger InSight models. Also demonstrated in Lauderdale was the iPad integration discussed here recently.
But the biggest news about Version 11 may be its mere existence, as I know some skeptical Nobeltec users were worried that they'd be forced to switch over to MaxSea. Well, a year later, with version 10.7 behind them and 11 ahead, it looks like Nobeltec is doing exactly what it promised — improving the original products with the benign support of a parent company that wants to retain Nobeltec's large customer base. Yes, they spoke of evolving efficiencies between the two charting programs and I think we may see more Furuno hardware integration and maybe a switch to MapMedia cartography — any problems with that? — but I, for one, have little doubt that we'll see Nobeltec VNS and Admiral versions 12 and beyond, and they'll be interesting.