On the road, w/ three bears and a cloud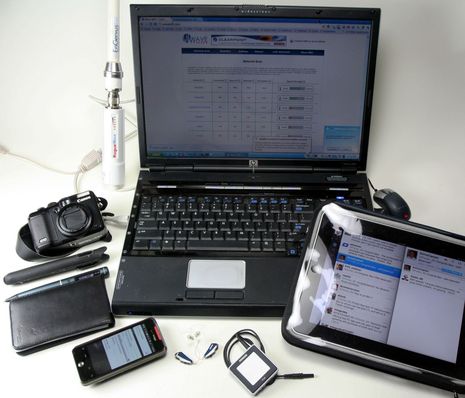 At the risk of causing uncontrollable laughter, this is the pile of personal technology I dragged along to the Miami Boat Show last month. Not just one computer, not even two, but a Three Bears family of processing and connectivity. And while it was intended as a (perhaps extreme) reporting and traveling kit, it makes pretty good sense on a boat too…
The "Little, Small, Wee Bear" in my metaphor is the Droid Incredible, though it's not really a child. Email, Web, quickie camera, tons or reading, iPod/streaming audio, and all sorts of navigation apps are always in my pocket. Of course the "Middle-sized Bear" iPad is much better for many functions — like tending email, writing notes, and reading — and is still portable enough to carry around a boat show all day (and great on a plane, or in a berth). Then there's that "Great, Huge Bear" of an HP 16-inch laptop which became the hotel base for some more heavy duty work I had to do.
The Rogue Wave WiFi system might seem overkill but it fit in my check-in bag fine (there are three bags involved in this kit), and beat hotel Internet larceny nicely. Baby bear could also serve cellular 3G Internet to Mom and Pop via WiFi (or to Pop via USB cable if I hadn't had the extra cost, and metered, mobile hotspot plan turned on). While all this computing flexibility is slick, the key element that makes it fairly easy to use is the fact that so much of my data is the cloud these days.
My Google email, contacts, calendars, documents, RSS feeds (Reader), photos (Picassa), bookmarks (Chrome), and even my health records all live in Google's server farms but are easily available on any of the bears, in some cases at least partially cached for those times when I'm beyond cell or WiFi coverage. Google Voice now handles voice messages on the Incredible and delivers email transcripts and audio files to all devices. And Google is certainly not the only cloud hero. DropBox, for instance, let's me back up and access any file from any Bear. And Instapaper not only let's me do the same thing with online articles I want to read later, but it also cleans them up considerably.
I could go on and on about the beauties of the cloud, and I'm sure many of you are finding the same thing. But the truth is that I'm on the road again, and keen to look around Palma, Majorca. I've got almost the full kit seen above, except I brought the EEE netbook — cloudy screen shot below — instead of the HP lunker. Why am I in Spain? Well, Simrad is putting on one heck of a product intro and demo. Big news tomorrow!