Panbo holiday good wishes, from Brooklyn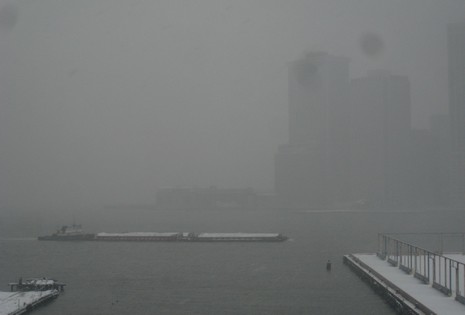 As gray it is, but with pinpoints of light shining through, this image (bigger here) says Christmas season 2008 for me. It's a slice of the view from near my borrowed apartment during last Friday's snow storm. Sometimes even the massive buildings of lower Manhattan, the Statue of Liberty (way to the left), and the Brooklyn Bridge (way to the right) were invisible. But I've learned enough from AIS and VHF monitoring to know that New York Harbor goes about its essential duties regardless: the oil (barges) come in, the garbage (barges) go out, and the people (ferries) go round and round 😉
Later today, my wonderful wife comes down from Maine, along with my mail (including this year's famous Echopilot Christmas card). All's well here in New York, as I hope it is with you and yours where ever you are.