Panbo turns 10, and founder Yme's Arviro 10 project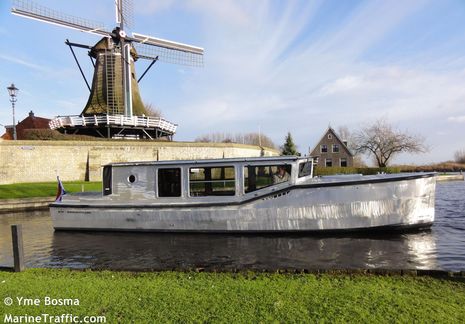 If you browse to the bottom of the Panbo monthly archives, you'll see that the very first entry went up on February 4, 2004. So Panbo is 10 years old today, which may be a century in Internet years? In fact, one motivation for founder Yme Bosma was an interest in what was then the new-fangled "blog" content management format. While he soon had to focus back on his high tech work and I took over Panbo in 2005, the boating geek bug is often incurable, as many of us know. It seems more than coincidental — and very cool — that Panbo's 120th month is also the debut of Yme's all electric, solar powered, and iPad instrumented cruiser design, the Arviro 10.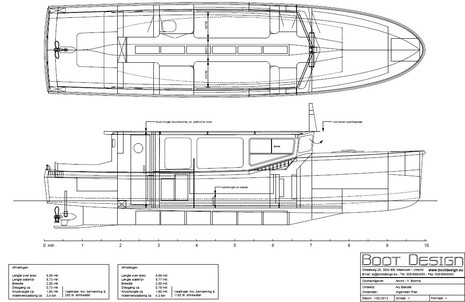 You can learn a lot about Yme's design at Arviro.com, but you may also enjoy browsing the blog of hull #1 Drift Away as it evolved from a pile of aluminum plates to test cruising around Holland in January (the blog is written in Dutch, but Google does fairly well at the translation). The design goal is a trailerable pocket cruiser with a 7.5Kw steerable pod drive that can propel her at about 5 knots for 50 miles from a 30Kw lithium battery bank that lives in her hollow keel. Added range and a nice complement of comfort appliances at anchor are powered by 1500W of walkable SolbianFlex solar panels almost invisible on the salon roof. Actual performance seems pretty good so far, even in wind and waves.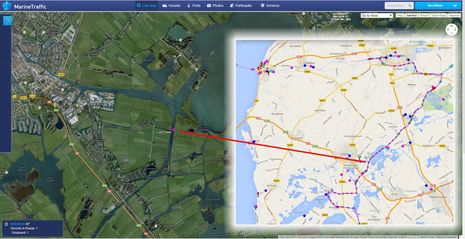 I particularly enjoyed watching Drift Away on Marine Traffic as Yme quietly worked his way up through the interior of Friesland last weekend. I know it's not so green now at 54° North, but what a perfect vessel for wandering those historic and beautiful waterways. Imagine trailering it behind your (large) vehicle to other exotic waterways, camping aboard along the way! That concept remains untested, but right now the first Aviro 10 has been hauled into the big trade center in Leeuwarden where apparently she'll be playing a special part in the grand opening of Boot Holland this Friday.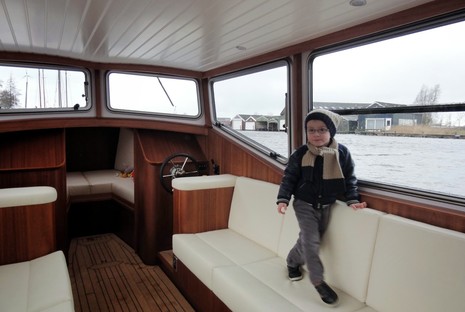 Just because the boat is raw (but easy to maintain) aluminum on the outside doesn't mean it can't be classy and comfy on the inside. And note the blank-looking helm forward of young Jesse Bosma. His dad tells me that "everything should work only through tablets, phones and an LED TV screen" and he added that Drift Away "has a 4G/wifi router on board for permanent connectivity and facilitating the boat network."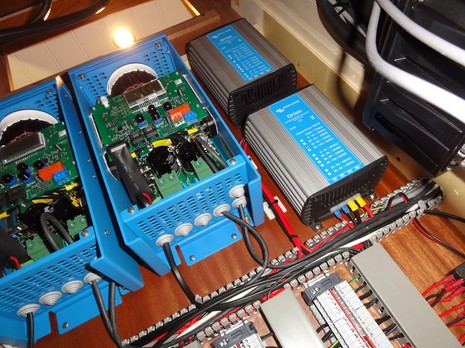 Of course, there's much technology tucked away on this boat, and I think a lot of it is Victron blue. In fact, when I wrote about Victron's powerful new Color Monitor GX, the lead photo showed an early unit at work under Drift Away's helm seat. I gather that Yme mainly intends to view the monitor data via its Internet or direct browser connections…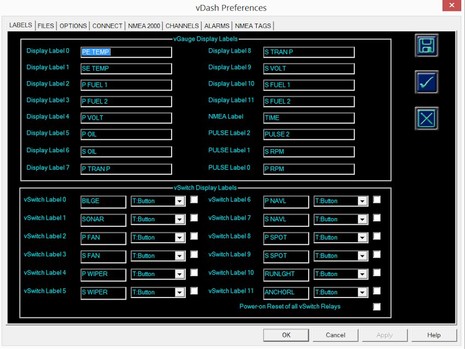 …and I know that he's also working with Chetco Digital's SeaSmart gear and vDash software to get the Aviro's NMEA 2000 data out to apps. But at least some of the monitoring and control is not yet finished, and more detailed coverage will come in a later entry. The great news there is that Panbo correspondent Kees Verruijt lives right down the canal from Leeuwarden, plans to be at Boot Holland, and has already had a ride on Drift Away. "I liked it lot," he wrote me, adding that Yme's design is "brimming with good ideas, both electronic and not."

I look forward to what I'm sure will be detailed systems coverage by Kees, and I understand that Victron is working on a video. In the meantime, I encourage readers to dig deep into the Drift Away blog and Aviro site. Mainly, though, I want to thank Yme for starting Panbo 10 years ago and wish him well with both his new boat business and his new cruising machine.