Problem with COG/SOG smoothing on Garmin handhelds?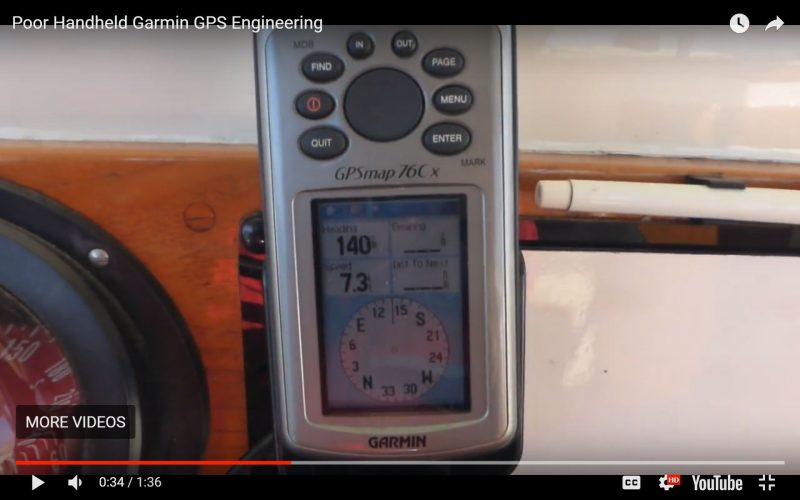 It's often hard to get big companies to change or fix arguably minor product issues, and I'm pretty sure the best path to success is to clearly, politely, and persistently state the facts, maybe even illustrate the problem on YouTube. But that doesn't necessarily work either, which is why I'm publishing this email from bluewater sailor Bruce Balan in full:
I've been exchanging emails with Garmin for years over their lack of COG and SOG smoothing in their handheld GPS. I know it is low-tech compared to a lot of equipment you report on, but we find using a handheld as our primary nav aid in the cockpit very useful; it keeps our eyes looking out and not on a screen. (Though we do use a tablet to help out in tight quarters.) This has worked well for us for the last 54,000 NM. There is also the very important benefit to a cruising sailboat of low power requirements.





Unfortunately, as GPSs have become more accurate, the otherwise well-designed Garmin handhelds have become almost useless in most conditions found at sea. The SOG and COG are affected so much by even a small swell, that you never know your exact course or speed. You can see an example here: https://youtu.be/hZPCZ4jyzAg

I've practically begged Garmin to fix the problem but to no avail. It's too bad because much of the rest of their design is excellent (except maybe that the anchor alarm's first entered digit is at 1,000 feet!).

I thought your readers may want to be aware of this issue if they are considering a handheld for cruising.
Solid experience should also count with manufacturers, I think, and did you catch the "last 54,000 NM" reference? Wow. Bruce's email included a Shiptrak tracking link, and down below is the path of his Cross 46 trimaran Migration in just the last year, which was only the last leg in what looks like an amazing 12 year meander around the Pacific (brucebalan.com/migrations). If Bruce and his partner Alene gave their cruising presentation somewhere reasonably nearby, I'd go.
Now back to the subject at hand. Have any readers experienced the handheld COG/SOG jumpiness that's bothered Bruce for so many sea miles?
PS 4/2: I didn't realize how controversial this post would be, and I'd like to clarify some points. For one thing, Bruce's GPSMAP 76Cx was sold as a "mariner-friendly" handheld GPS (though now discontinued), and for another he's not complaining about its accuracy (or trying to get it to steer his autopilot).
What Bruce is calling a problem and I phrased as an "arguably minor product issue" is how well the 76 can "smooth" its Course and Speed Over Ground calculations. Also called averaging, filtering, or damping, this used to be a commonly discussed marine GPS issue (try this search). I believe that every GPS does this to some degree and that there is no absolutely correct way it's done.
Calculating course and speed by comparing somewhat inaccurate positions over very short time periods on a vessel that may also be rolling, pitching, and heaving is not easy, especially if the boat is moving slowly over the ground. COG in particular was often a very jumpy value in the early days of marine GPS. Then manufacturers gave users some control over how much to smooth the readings and now they usually do a nice job of it automatically and dynamically, by which I mean you want different smoothing as a boat speeds up and maneuvers.
In fact, I think that Garmin marine displays have gotten particularly good at presenting steady, sensible COG and SOG numbers, even reasonably valid COG sometimes when the boat was tied up at a dock (though I'd prefer stopped to show no COG, and that their icons become circles unless valid Heading is available). At any rate, is Bruce really so wrong to want better COG/SOG smoothing on a fairly recent a high-quality marine handheld GPS?