ProMariner Introduces New ProTournamentelite Series Waterproof Chargers
Industry Leader in On-Board Charging Solutions Releases New High-Power Product Line Up to 50 Amps with Industry-First, Patent-Pending Functionality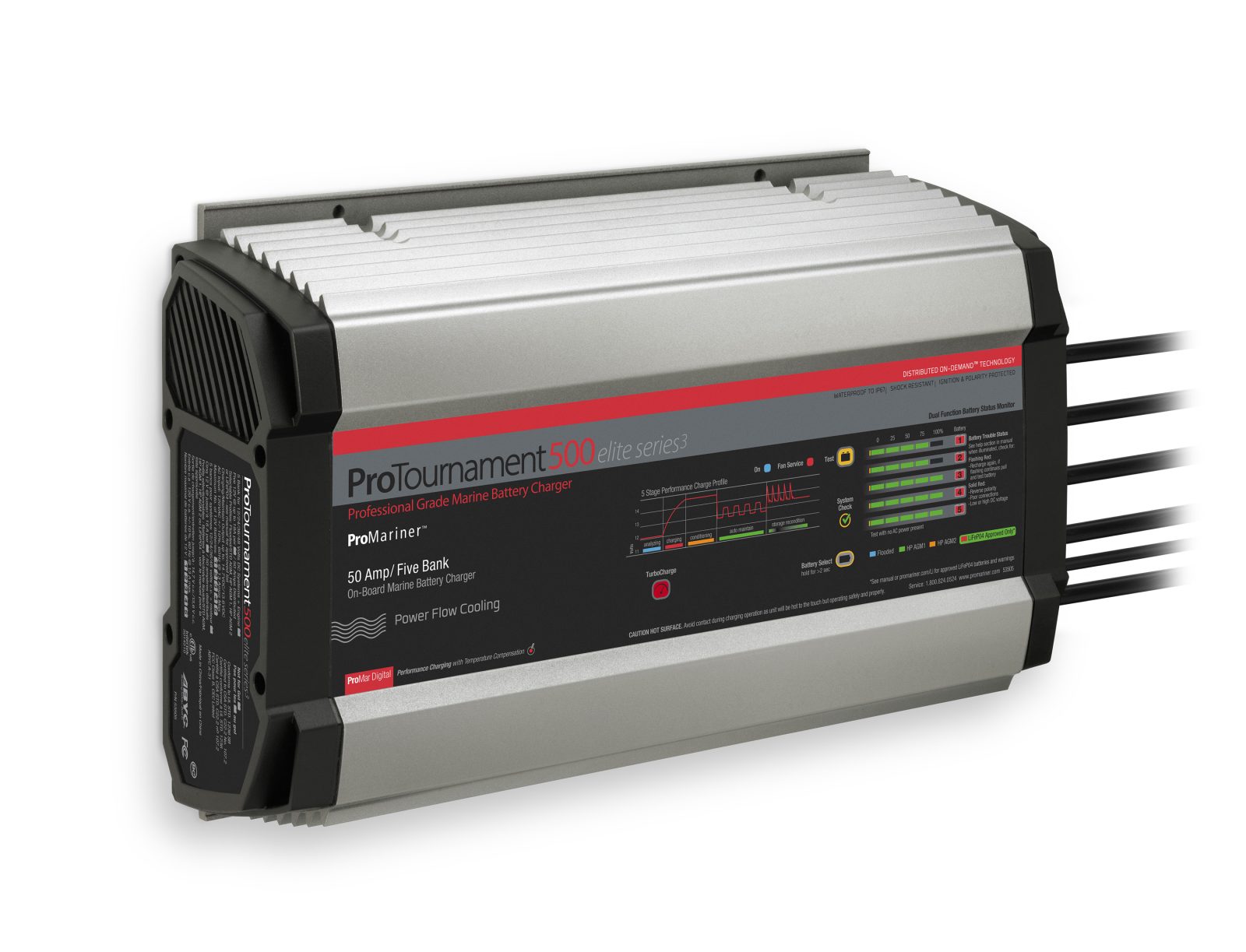 Auburn, N.H. – ProMariner, a leader in the design and manufacture of on-board marine charging products, announced today its newest product line – the ProTournamentelite series. Taken to a new level of design, innovation and performance, the ProTournamentelite series provides a competitive battery charging edge designed to get boaters out on the water first with power to last. Incorporating three patent-pending features not yet seen in the industry, the new models include a Charge Status AC Glow Plug, Power Flow Cooling and Turbo Charge capabilities for the fastest and most intuitive performance on-board marine charger available.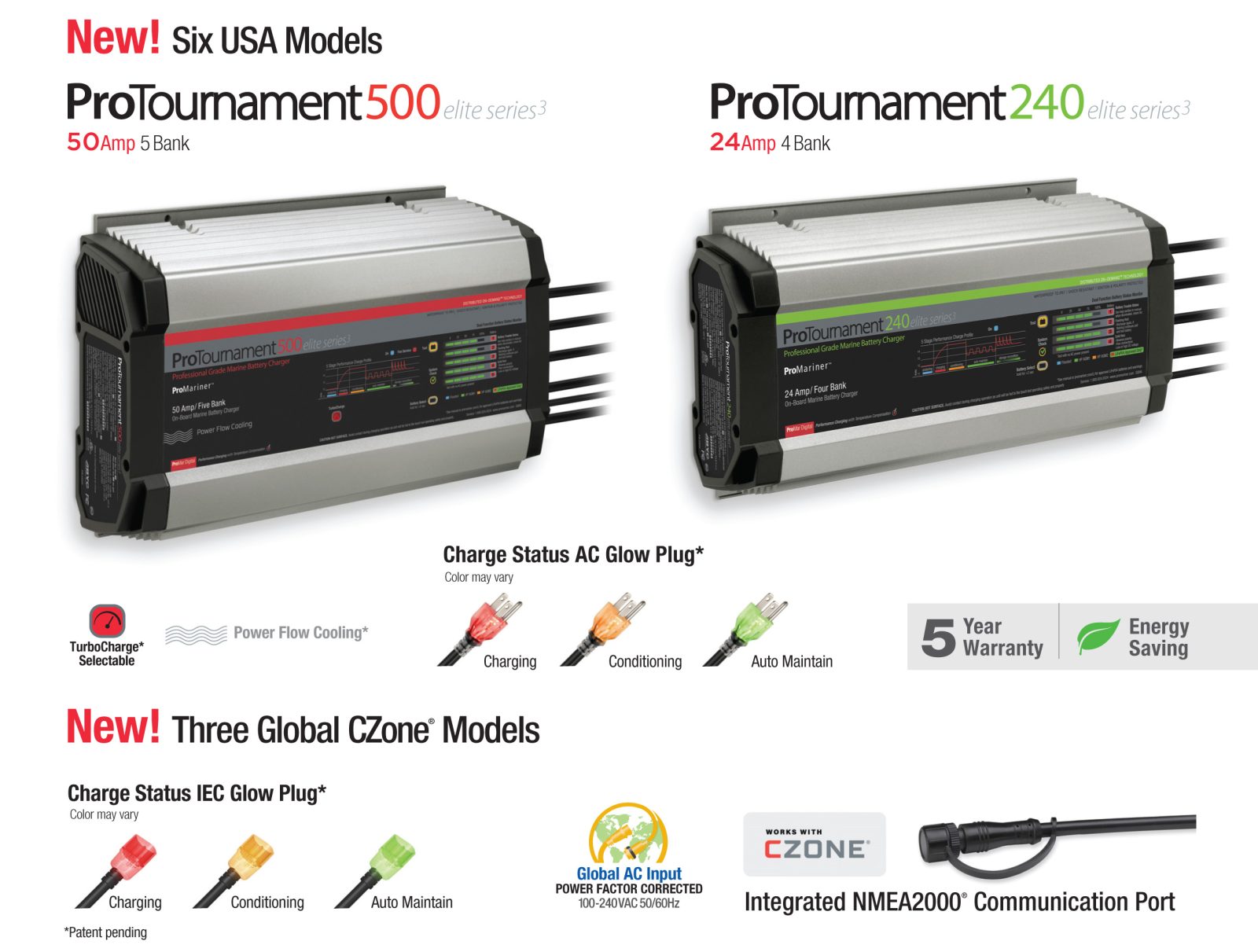 "The ProTournamentelite product line is the culmination of a true passion for innovative product design that continues to excite the sport fishing and boating community," said Gerald (Jerry) Demirjian, Senior Vice President, ProMariner. "We strive to manufacture performance charging products capable of providing batteries the power they demand while providing boaters exceptional value and peace of mind."
 
All ProTournamentelite models include the marine industry's first line-of-sight charge mode status AC Glow Plug. Boat owners at home or on the dock no longer have to go on board to see if their batteries are fully charged, as the AC power plug will glow red for charging, amber for conditioning and green for full auto maintain. As demand increases for marine electronics, ProMariner has developed high-power, waterproof, 36 and 50 Amp chargers with a sealed forced induction cooling cavity that is fully isolated from the power conversion cavity, allowing the charger to operate at full amperage with Power Flow Cooling. This new design strips heat away from the charger for the fastest charge times. For warmer climates or time-critical charging, the ProTournamentelite also has the industry's first Turbo Charge feature that increases the fan speed and air movement through the cooling cavity and allows the charger to maintain a lower temperature while outputting maximum amperage longer. In addition, the ProTournamentelite comes with a full user interface dashboard and four digitally selectable performance matched charge profiles for Flooded (lead acid), AGM, HP AGM and approved Lithium batteries.
 
Fully automatic five-stage charging significantly improves battery performance while extending battery life with five sequential stages: Analyzing, Charging, Conditioning, Auto Maintain (Energy Saver) and a once-a-month Storage Recondition Mode that is safe for short and long-term storage. ProTournamentelite's Distributed-On-Demand™ Charging technology uses 100% of the available charging amps and distributes them to any one battery or a combination of all batteries (up to 18 Amps per battery) as needed.
 
In addition to the above innovations, ProMariner has incorporated all these features into three global models with worldwide AC input and a CZONE NMEA 2000® interface for connected systems, providing charge status on board for slipped boats.
 
"We are so confident in the durability and performance of our newest design that we are proud to offer the industry's first five-year warranty on a family of pre-wired, high-power waterproof marine chargers," said Craig Shaffer, New Product Development and Quality Leader, ProMariner. "Our commitment to technological advancement in the marine industry over the last 44 years has shaped the ease-of-use, performance and selection of fully automated battery charging products."
 
ProTournamentelite meets energy-efficient California Energy Commission (CEC) and Department of Energy (DOE) requirements. All models are 100% waterproof and shock resistant and protected by a five-year factory warranty. Safety features include: dual inline waterproof fuses, reverse polarity, over-temperature, over-current, over-voltage and ignition protection. They are designed for 12, 24, 36 and 48 VDC environments. ProTournamentelite domestic models will be available in September from $339.99 to $599.99 USD. The ProTournamentelite Global AC with CZONE NMEA 2000 models will be available in October from $529.99 to $699.99 USD. Please visit www.promariner.com for more details.