Ray C140W Deck Pod install, a dubber's impressions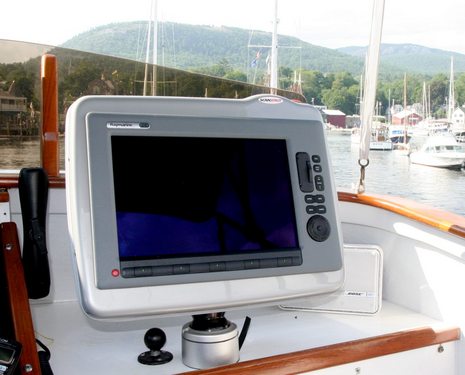 Yes, I'm frustrated that a combination of weather, travel, and gizmo glitches has so far prevented me from getting this Raymarine C140W and the attached RD418D Digital Radar operational, and then comparing it with Navico Broadband Radar (and Garmin HD radomes, too), but it was educational to install the MFD in that new Scanstrut Deck Pod. The completed rig is quite slick: the "silver" finish goes nicely with Ray gray, I think; all the cables pass easily, and invisibly, through the base; and the whole pod angle adjusts smoothly but locks up solid with that lever (which, after a little tweaking, now goes tight against the base when locked). But putting it altogether was a little challenging…
For one thing, do you notice that the MFD is not perfectly square in the Pod? It's not really obvious because the lines are so curvy, which is also why it's hard to get right. I'll take a large portion of blame as I rushed the install, and am something of a dubber anyway, but it seems to me that Scanstrut could have molded grid lines into the back of the faceplate (and perhaps could stick on a grid label now).
Actually cutting the face plate was fairly comical. The thick plastic drills easily, but when I tried to cut my lines with a jigsaw, the melting plastic welded shut behind the blade (doh!), and I tried a couple of different type blades. A carefully plunged skill saw did the job, though, and again note my dubber status (back in the day, dubbers were the guys who trimmed off treenails and excess planking with adzes, i.e. the least skillful workers in the yard).
It was a bit touchy getting the faceplate to fit over the Pod back without displacing the silicone gasket. Rob Emmet of Pyacht.com commented in the original Deck Pod entry that they used "sailmaker's seamstick tape" to hold the gasket in place. I got away without that, somehow, but Scanstrut might consider including some in the kit or adding the suggestion to the instructions (though, full disclosure, dubbers like me misplace them). Note, too, that Scanstrut uses several unusual, and hence theft proof, bolt head types on the Deck Pod, but only includes an allen wrench for one of them. You may need to expand your bit collection.
Incidentally, check out the C140W's cable set. That big right-angle plug, while not backward compatible, nicely takes care of power, a video input, and several NMEA 0183 ports (unused by me, thanks to the SeaTalkNG/N2K port). And I was glad to find two SeaTalkHS/Ethernet ports, as that means both the radar and the DSM 300 sounder module Gizmo already had can be attached without a separate switch box. A short crossover cable is needed for the radar's Ethernet cable, however, which is a dite dissappointing as other manufacturers seem to have figured out how to handle switched or straight thru Ethernet without crossovers. But the triple MFD/radar install is almost complete, and I hope to be testing, and cruising, later this week.