Raymarine and Avikus debut NeuBoat Dock, their joint surround view camera system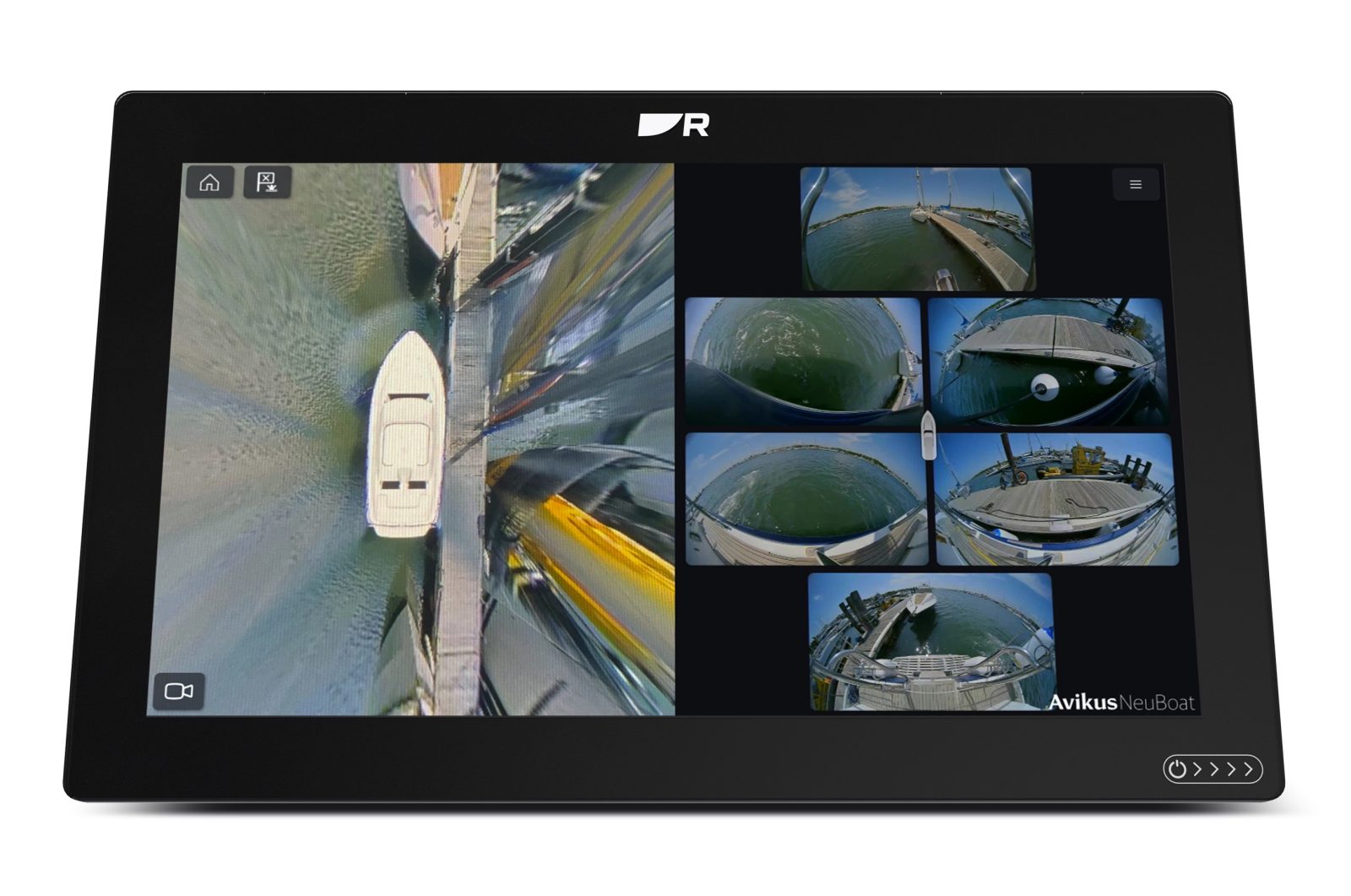 Raymarine and Avikus unveiled NeuBoat Dock, the first product to come out of Avikus and Raymarine's partnership. NeuBoat Dock is a surround view system that enables the helmsperson to see 360 degrees around a boat up to 100 feet. The system will be demonstrated next week at the Cannes Yachting Festival and in early October at the International BoatBuilders' Exposition in Tampa, FL. Raymarine and Avikus promise that this surround view product is just the first of quite a few announcements to come that will rapidly enable both awareness and autonomy capabilities.
Avikus is HD Hyundai's autonomous vessel-focused subsidiary. In 2022, Avikus made its first autonomous trans-ocean journey of 10,000 nautical miles. HD Hyundai, one of the largest shipbuilding yards in the world, announced at the start of 2023 that all the yard's ships would feature Avikus' autonomy system standard.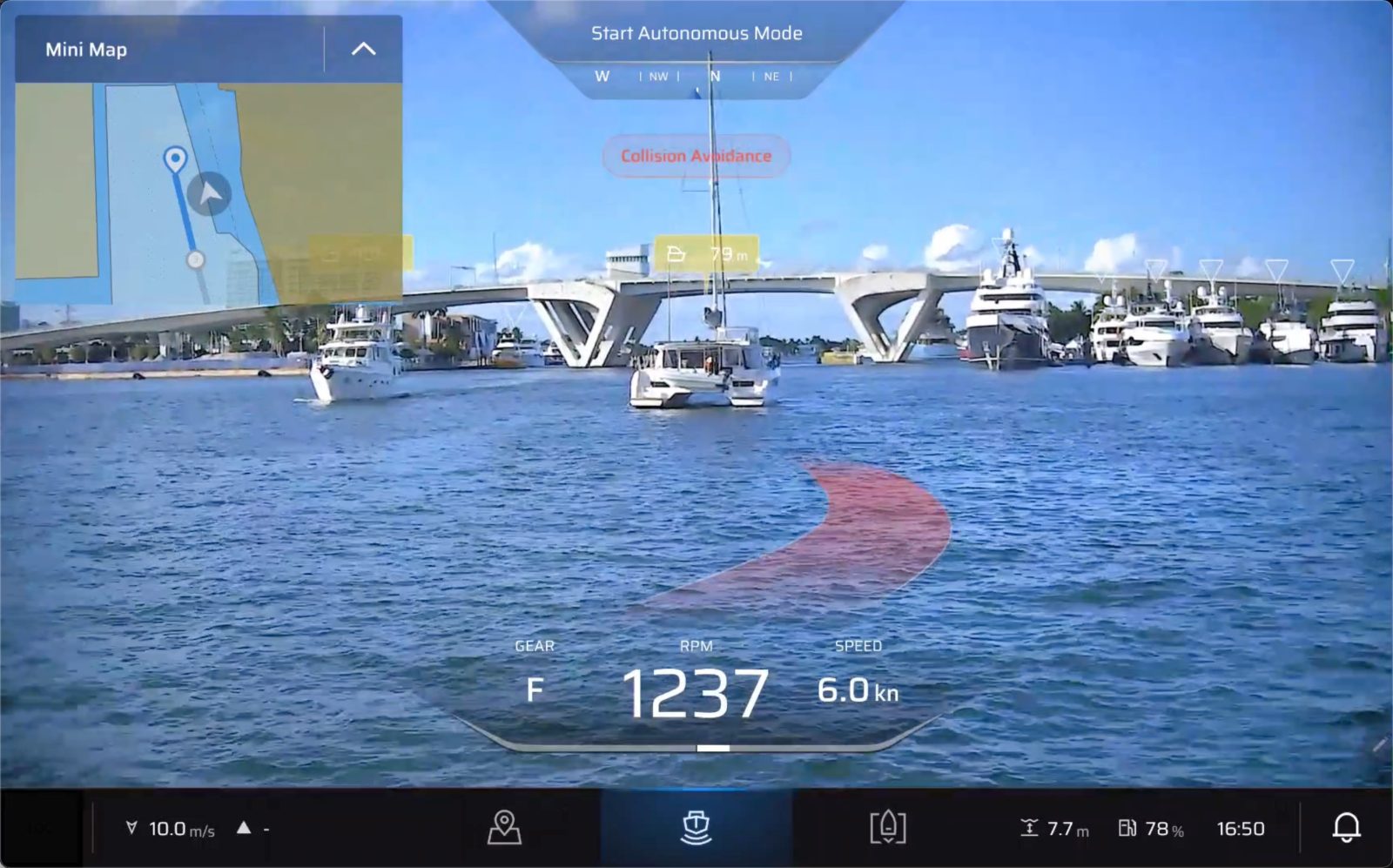 I first experienced Avikus' autonomous vessel operation during a preview event at the 2022 Fort Lauderdale. Shortly after that preview, Raymarine and Avikus signed a memorandum of understanding about moving forward. In February of 2023, Raymarine and Avikus announced that NeuBoat would only be available on Raymarine displays. Additionally, Raymarine is working with Avikus to integrate radar, FLIR cameras, and sensors.
Neuboat Dock is a 6-camera system that provides a 360-degree bird's eye view around the boat. By increasing operator awareness, NeuBoat Dock makes docking and tight-quarters maneuvering safer and easier. In contrast to existing surround view products, NeuBoat Dock calibrates in the field without specialized equipment or Raymarine or Avikus engineers.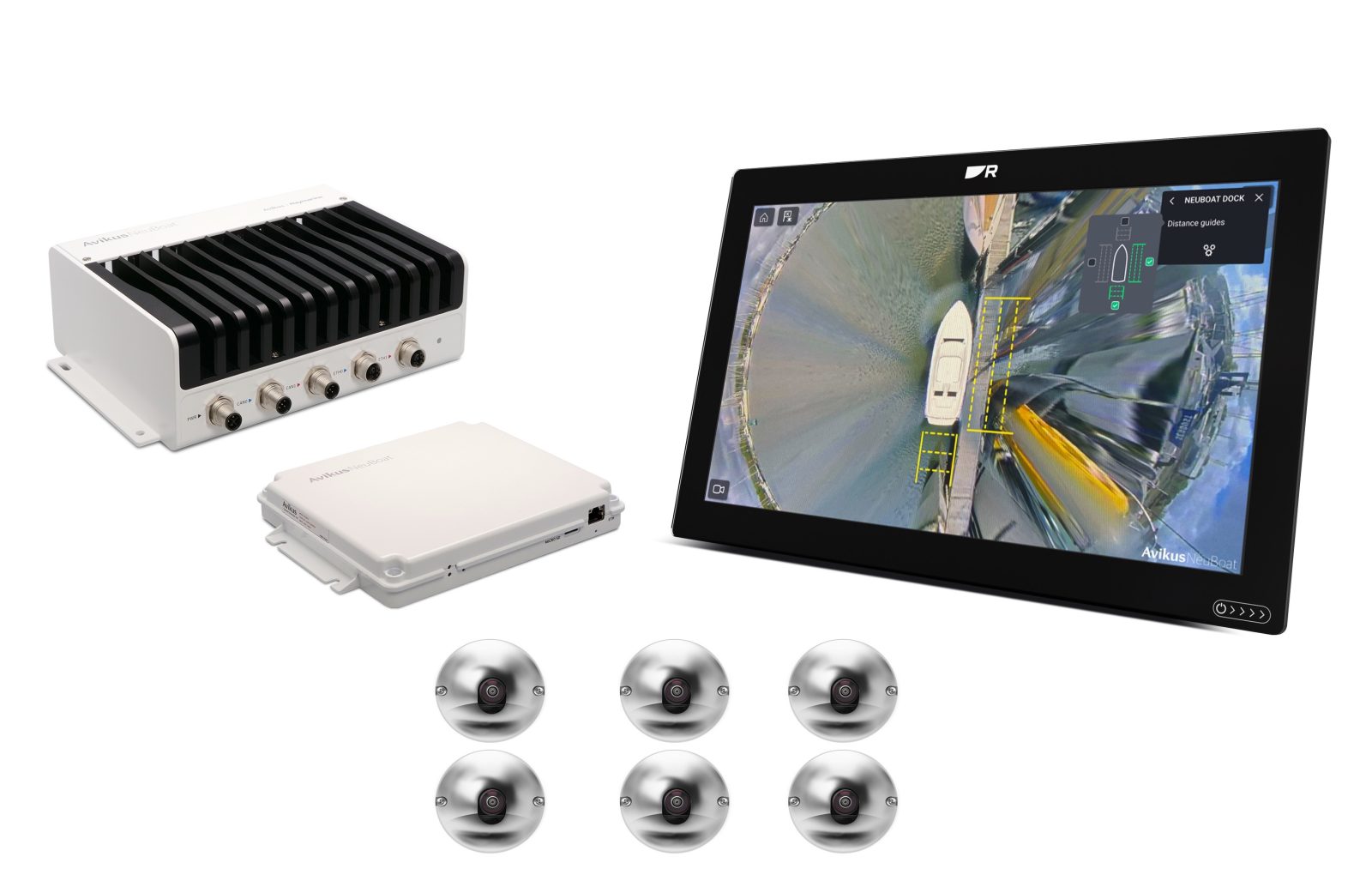 The system consists of a Raymarine Axiom series chartplotter, an Avikus object recognition unit (ORU), a camera control unit (CCU), and surround view monitor cameras. Avikus constructs the camera housings of marine-grade stainless steel for durability. Each camera employs 720p sensors. A complete, six-camera system lists price for $19,995.
NeuBoat Dock works on Boats up to 100 feet, but those over 50 feet require additional CCUs. Object recognition and detection won't be a launch feature but, work is well underway to add those features. During my Avikus demo ride, I saw impressive object detection at work, though I believe that the boat I was on relied on Lidar sensors.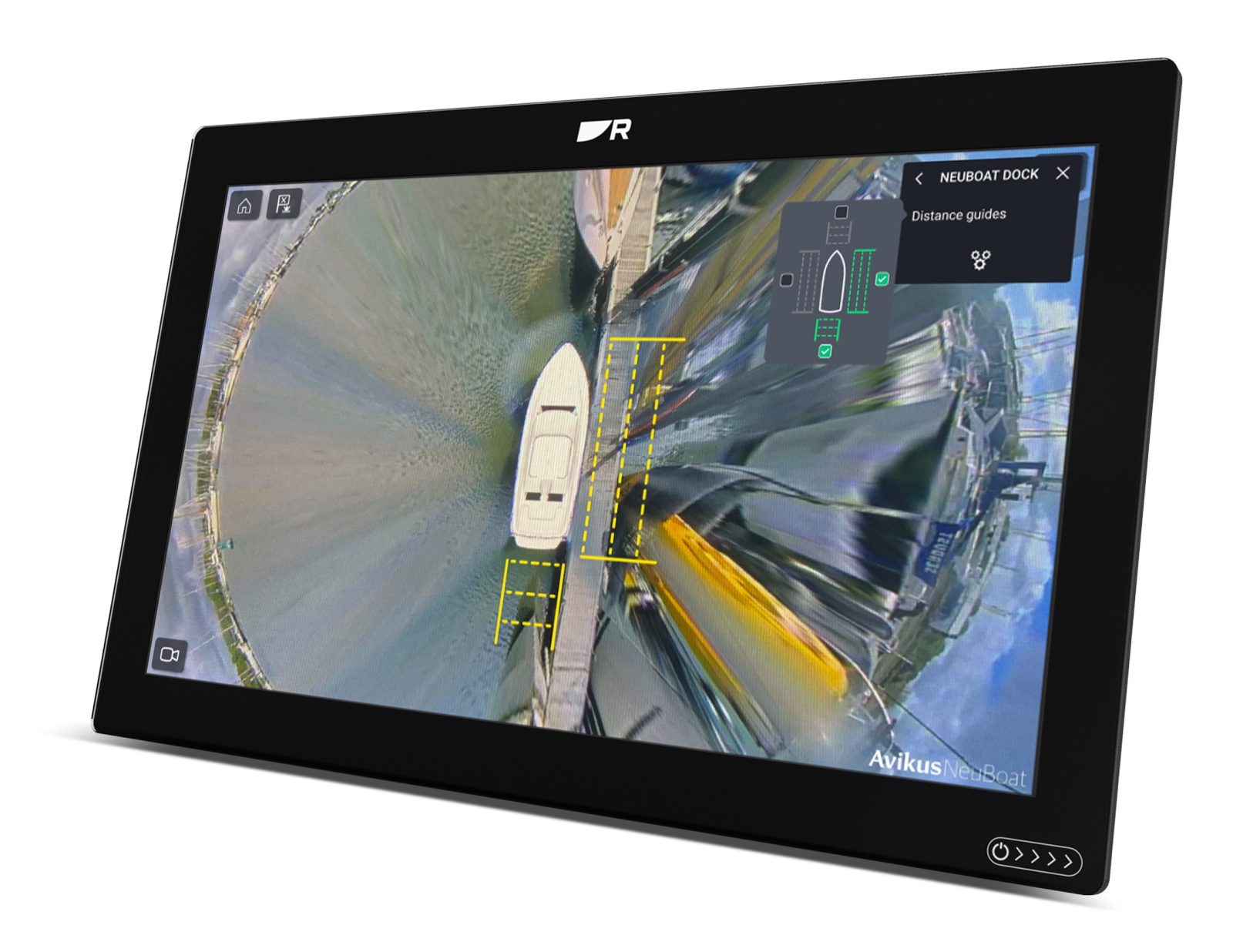 On-screen distance guides provide visual cues to help you dock in tight quarters. Views can be split with any combination of cameras to suit particular docking situations. Clicking any camera's view expands it to full-screen mode. Plus, when in full-screen view you can pinch to zoom and pan around for even more detail.
The user interface is designed to be as simple as possible for use in stressful situations. In the image above, on the right side there is an iconic representation of the boat with green shading, forward, aft, and to starboard. Shading indicates the enabled views, a lack of shading, like to port shows the view disabled. Tapping a side of the boat toggles the camera's display. Additionally, there are four presets for bow-to, port-to, starboard-to, and stern-to docking situations.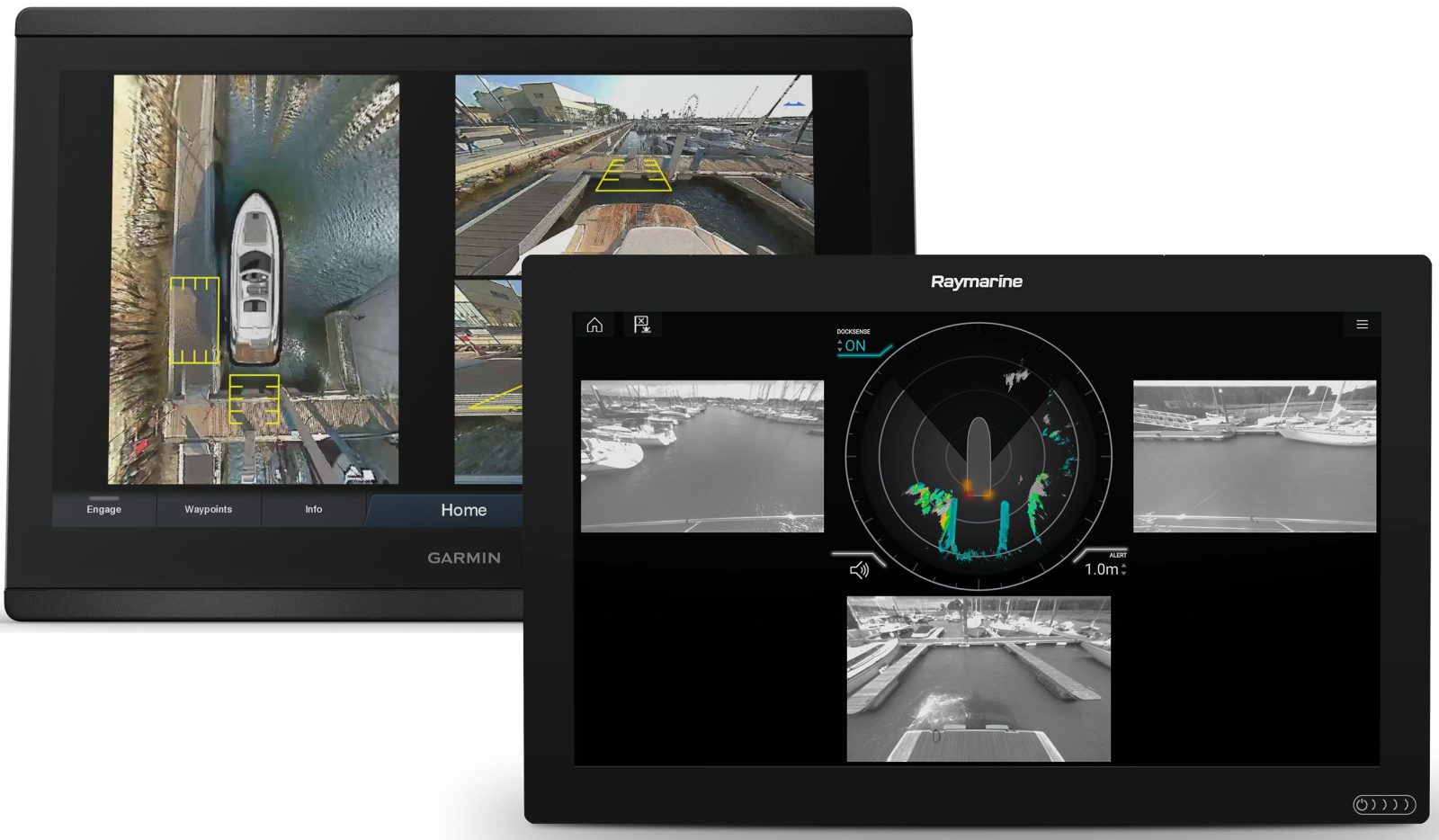 NeuBoat Dock isn't the first surround-view product we've seen. In fact, Ben Ellison compared systems from Garmin and Raymarine last year. NeuBoat Dock appears, at least with its launch capabilities, quite similar to Garmin's Surround View and quite a departure from Raymarine's Docksense efforts.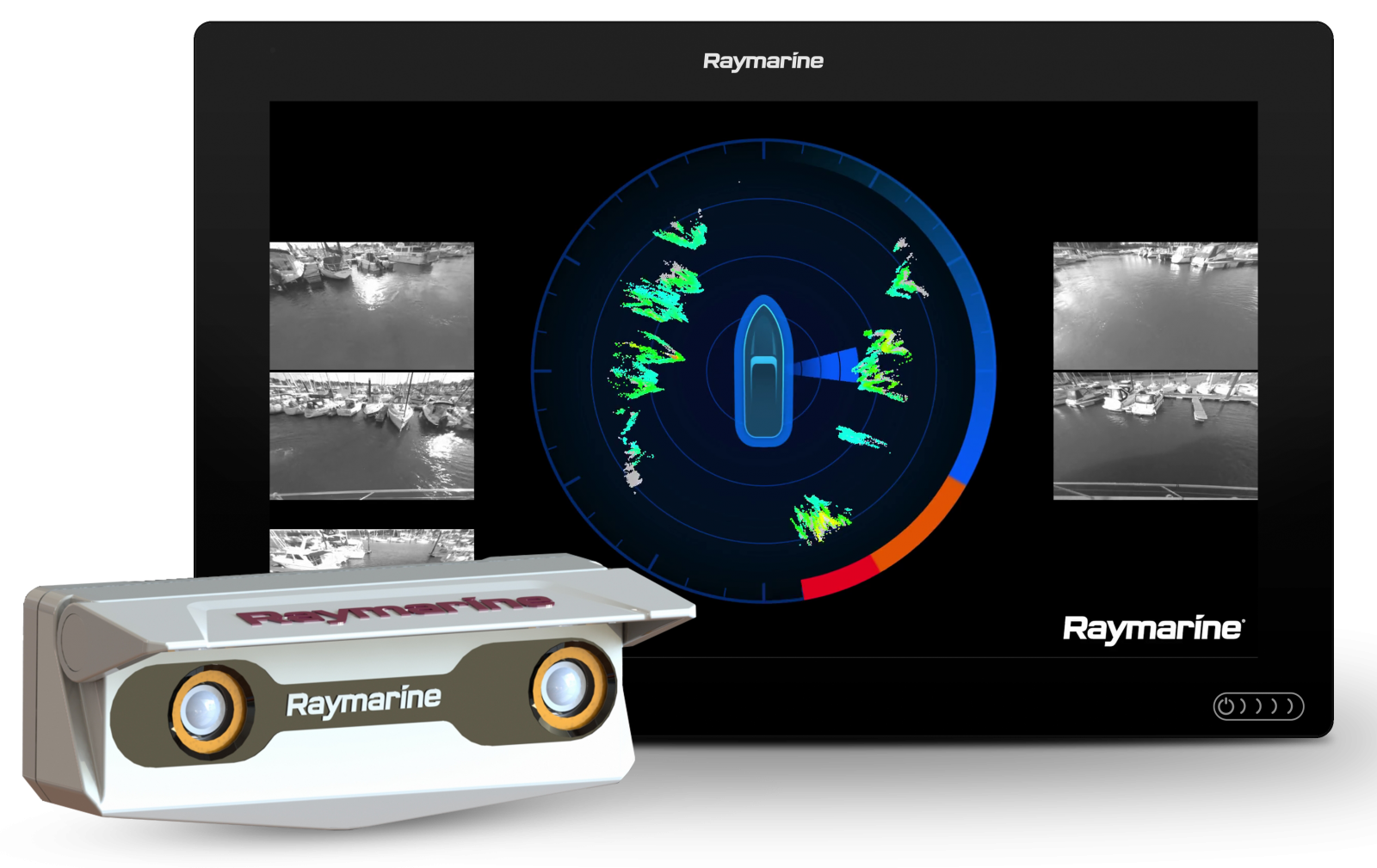 Back in 2019, I went to Mercury Marine's Lake X to see a system dubbed a Virtual Bumper. That system became Raymarine DockSense. Currently, DockSense is available in View — a surround view system like the NeuBoat Dock and Garmin's Surround View — and Control. Control allows a fully automated docking experience. Both DockSense systems rely on FLIR's stereoscopic camera systems, extensive factory calibration, and a lot of processing power to make everything work. Additionally, although DockSense displays a radar scope-like image, the camera images are all grayscale.
I've reached out to Raymarine to confirm if DockSense will continue as a product. My hunch is that it won't. I suspect the cost and complexity of the stereoscopic camera system represent a disadvantage compared to relying on more traditional cameras. So, I'm thinking we probably won't see new DockSense products. However, the technology, capabilities, and lessons learned from DockSense may well show up in future products.
NeuBoat Dock will be on display at the Cannes Yachting Festival on three boats: FIM R440, Princess Y80, and a Lagoon 51 sailing catamaran. The system will be available starting in Q4 of 2023 for boat-building partners. Initially, this will be available on new boats only but they are working on making it available for retrofit applications.