Integrated docking cam explainer: Garmin Surround View vs Raymarine DockSense Alert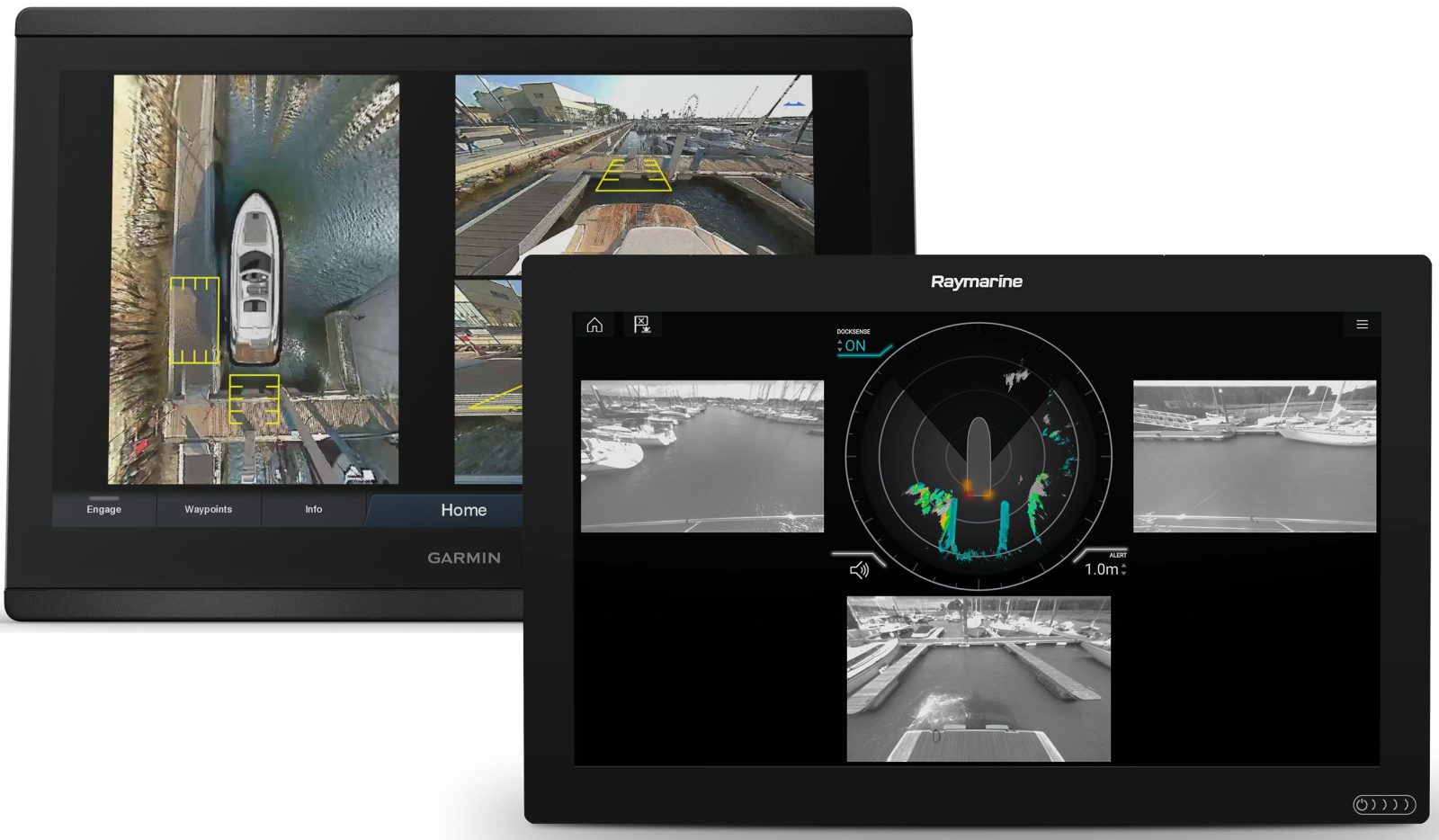 When Garmin introduced Surround View last fall, it seemed a lot like Raymarine's existing DockSense Alert. A precisely engineered array of cameras network to a powerful central imaging processor that gives the helmsperson a synthesized bird's eye view of the maneuvering situation plus individual cam views as needed. However, the underlying technologies are actually quite different, and worth understanding, I think, as they and similar systems are bound to become more common.
To be sure, Surround View and Docksense Alert are currently exotic systems, available only to boatbuilders and probably quite expensive even at their wholesale rates. But the hardware components are steadily getting less costly, and embarrassment-free docking is a major goal for much of the recreational boat industry. In fact, the huge Brunswick marine brand family recently announced an "Advanced Driver Assistance System" that's arguably more advanced than the Garmin and Raymarine technologies that I'll explain first…
Garmin Surround View
While Raymarine and Brunswick use grayscale stereo 3D cameras primarily meant to detect objects, Garmin Surround View is a pure video system with six color cameras carefully arrayed around the perimeter of the boat. Each has a fisheye-style field of view 188 degrees wide so there is a lot of horizontal overlap even if the surface-mounted camera casings can't be perfectly aligned. Thus Garmin engineers can "cut custom sections optimized for each boat model out of that field of view to build the Birds-Eye view image" and for the individual camera images they "crop out a de-warped custom view optimized for the position on the boat."
A nice thing about the Garmin cameras with their thru-hull cabling is that they can be installed in a boat's topsides, making sailboat Surround View quite possible. Actually, a few catamarans with the new system are expected to launch early this year, and it's easy to 'picture' how useful those integrated cameras will be given a wide beam and high topsides. I also wonder if a masthead camera or two might eventually be added so that the bird's-eye view includes real-time deck activity and even sail trim.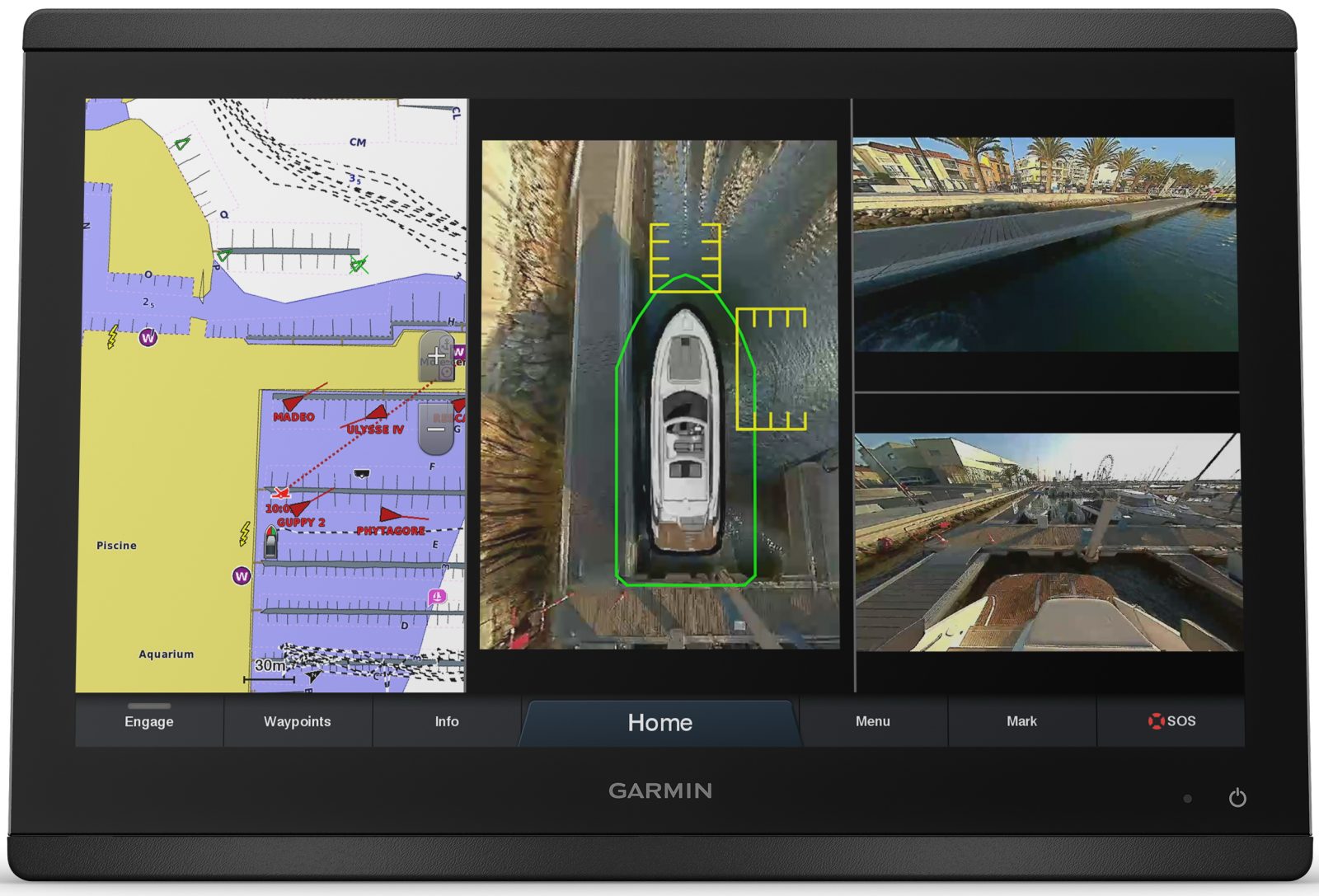 But while the existing Surround View bird's-eye view only includes the horizontal plane and a fixed image of your boat deck, it will certainly improve situational awareness while maneuvering around a marina. In the scene above, for instance, the demo boat has apparently backed down between two long docks bristling with other boats — no doubt some with concerned owners looking on — before making a 90 degree reverse turn into its slip. It's a task that would make me quite nervous even after many years of experience with Gizmo's straight-tracking long keel, effective bow thruster, and good helm sightlines.
And while not shown in Garmin's screenshots — or even in this comprehensive Italian Surround View video review — the helmsperson can watch their crew handling lines once they've stepped into any of the camera views and adjust the boat to help them. The system should also be quite handy when managing moorings or anchors, and there will likely be nifty benefits like capturing close-up videos of dolphins cruising your bow wave.
Note that Surround View can overlay a visual bumper and distance markers because the system knows the exact camera locations and their field-of-view geometries relative to the boat's perimeter dimensions. However, it's the boat driver's responsibility to monitor and use that information — there are no visual or audible alarms — because detecting the actual distance to a hard object takes the technology that Raymarine and Brunswick have chosen.
Raymarine Docksense Alert
A Raymarine Docksense Alert system can use up to five stereo vision camera modules, each able to match corresponding pixels seen by its twin video cams and thus detect structure in 3D. That data is then used by the DockSense central processor to create a bird's-eye map of surrounding above-the-water objects with their relative position to your vessel's perimeter tightly tracked thanks to two high-precision heading and motion sensors included in the system.
So the primary DockSense feature looks like very close-range radar, perhaps less intuitive than Surround View's video bird's-eye. And while individual camera module views are available, their usefulness is somewhat diminished because stereo vision apparently works better with grayscale contrast. Moreover — despite how well Raymarine adapted the underlying FLIR camera tech for life on a boat — the modules are quite bulky compared to Garmin's non-stereo design, and an elegant sailboat install is hard to image. But the benefits are significant…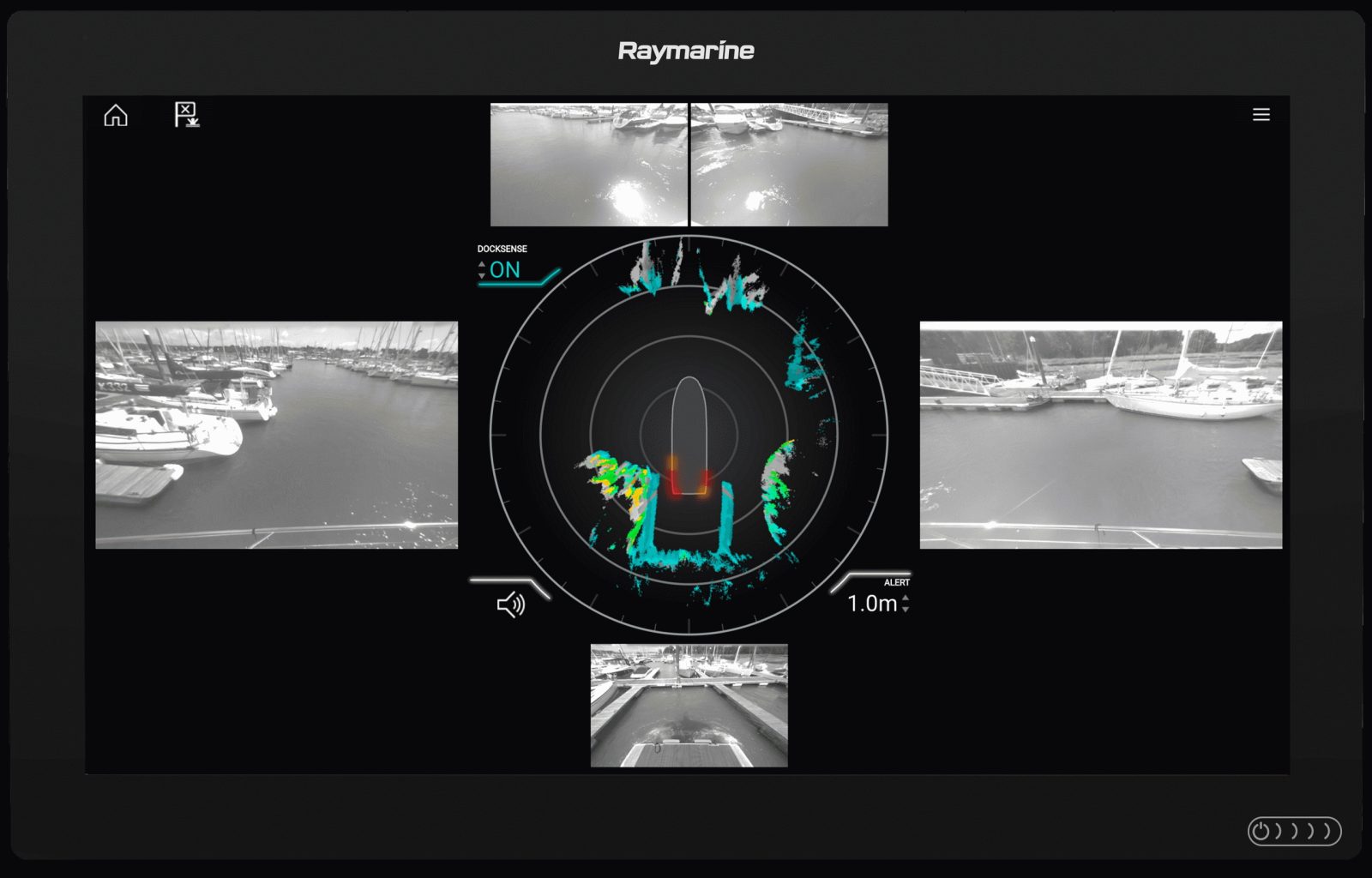 DockSense does indeed sense docks, and that means it can alert you visually and audibly when some part of your boat gets close. Actually, there are three visual alert levels — yellow flashing, red flashing, and red solid — shown as some section of your hull nears an object, along with three corresponding audio patterns (if desired). Note too how the bird's-eye color palette indicates the height of the objects detected, one of several DockSense nuances again nicely illustrated by Maurizio Bulleri in another The Boat Show video review.
Moreover, if you dig into the DockSense Alert manual, you'll find that the system will also warn you about various possible issues like a misaligned camera module or uncertain Heading accuracy. So DockSense Alert seems designed to give the helmsperson active and reliable guidance in close quarters, and that's no surprise as the original DockSense Control system "integrates with modern joystick propulsion systems, providing assisted steering and throttle commands to help captains make a smooth arrival."
In fact, Ben Stein previewed DockSense Control in early 2019 aboard a Boston Whaler Outrage 330 with Mercury's Advanced Piloting Assist (and MBY filmed it in action aboard a Prestige 450). But while both Docksense Control and Alert are fitted on some current models from those and other builders, apparently Mercury and Whaler corporate big daddy Brunswick likes the concept so much, they're working on their own implementation.
Here comes Brunswick ADAS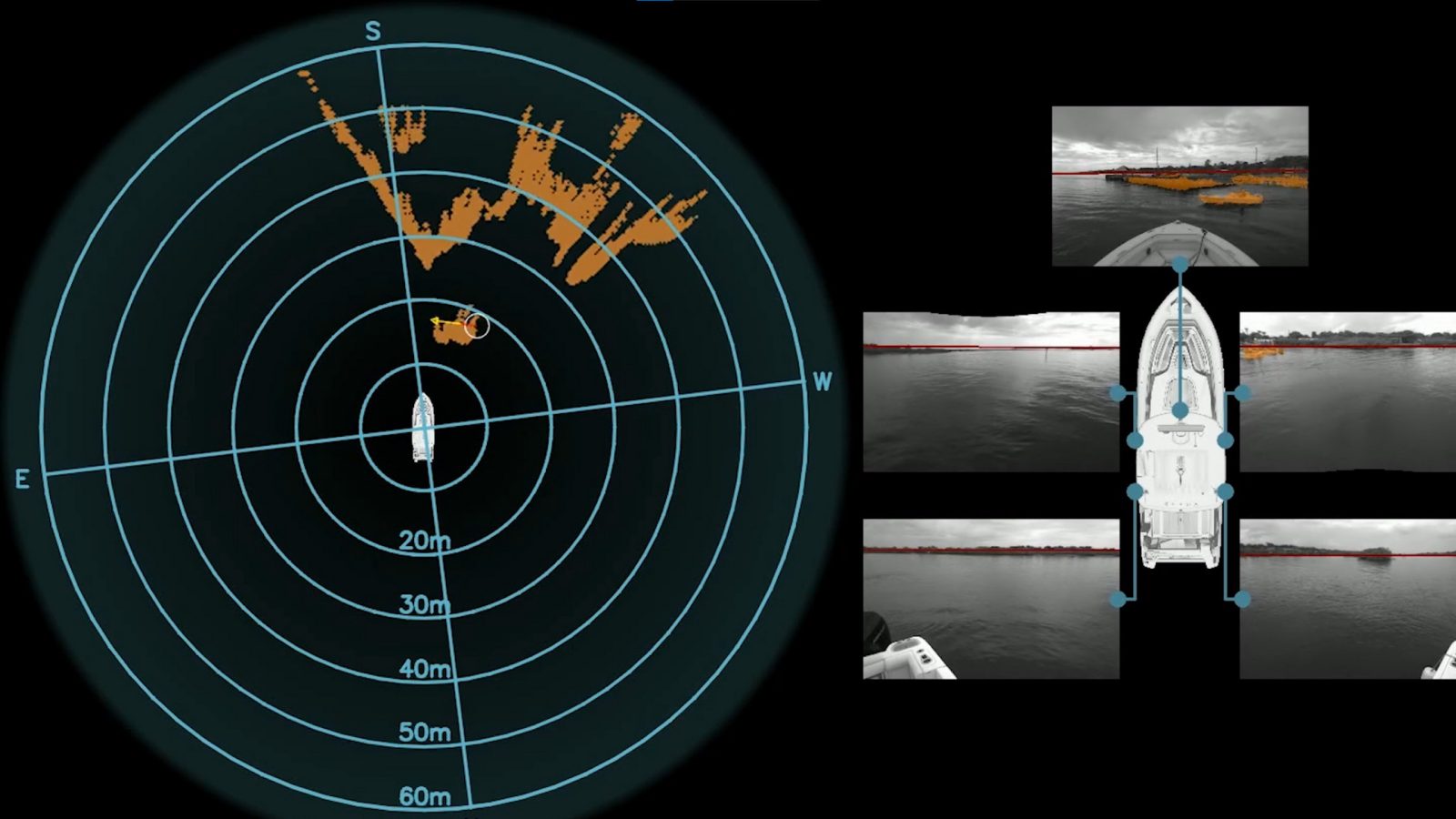 I suspect that Brunswick uses the term Advanced Driver Assistance System (ADAS) for their integrated stereo camera system because it's meant to do more than docking assistance. In the screenshot above, for instance, notice how ADAS has calculated a motion vector for the small boat passing in front of the marina being approached. But also note that ADAS is very much in prototype mode with no announced finished system or even the associated Brunswick brand (though my guess is Simrad now that Navico is part of the family).
Brunswick presented the ADAS concept as part of their January virtual CES media days, and I recommend the long-form video not just for the imagery above but also other interesting tech in development (like small Mercury electric outboards, which got more detail and the name Avator in Miami this week).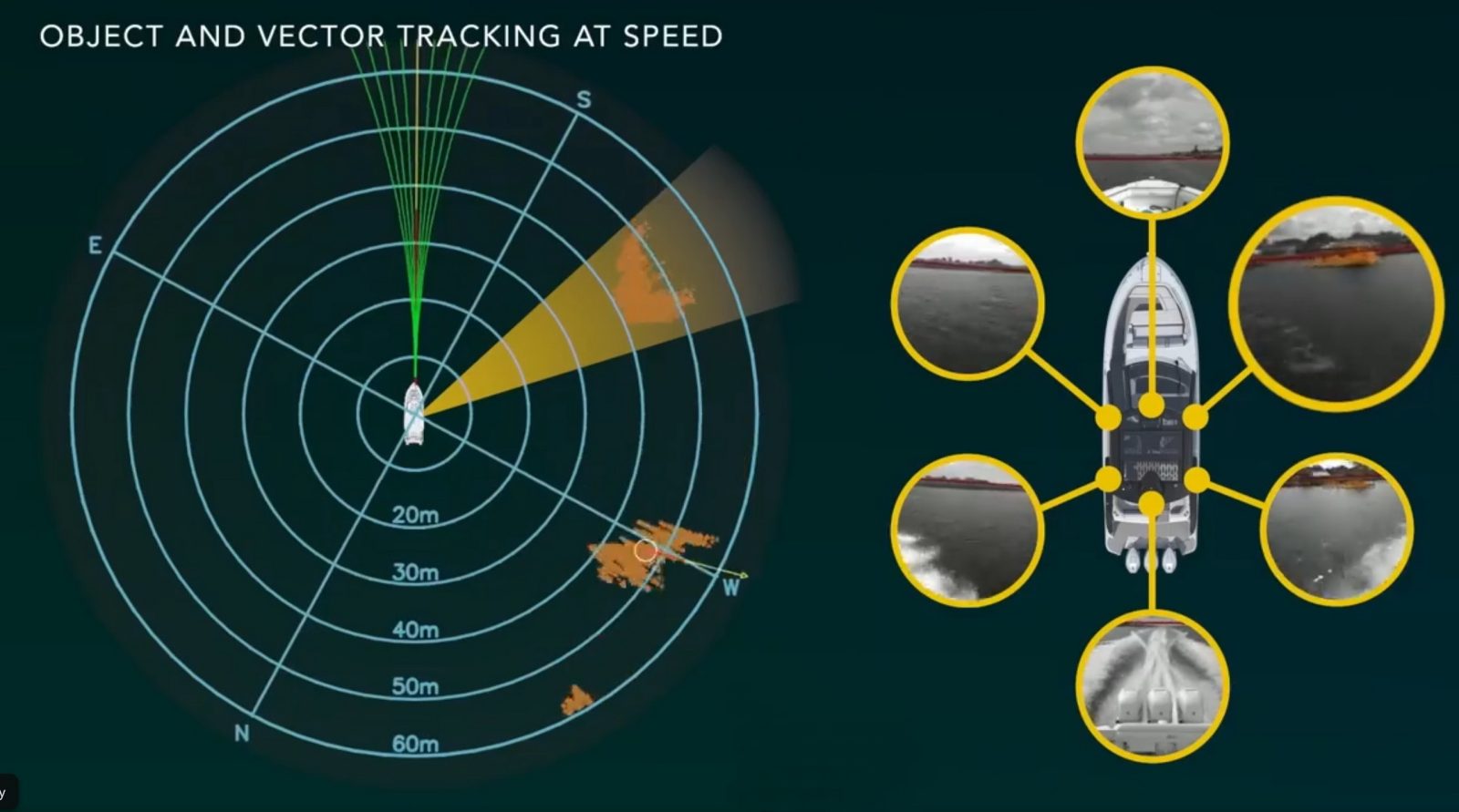 Brunswick and partner Carnegie Robotics also posted an ADAS specific video showing an alternate interface and different ways the system can help with close-range object monitoring, even at high speed. Plus they've even envisioned the narrative below in which the camera and sensor system assist a boater from exiting the marina to auto docking on return. The concept and language may strike some readers as highfalutin, but I'm tickled to see the narrative's "softer side" historical context (advocated here years ago).
With three major players now at least developing surround-view integrated camera and/or object sensing technologies, will they become common on future boats?