Raymarine i70, new king of all-in-ones?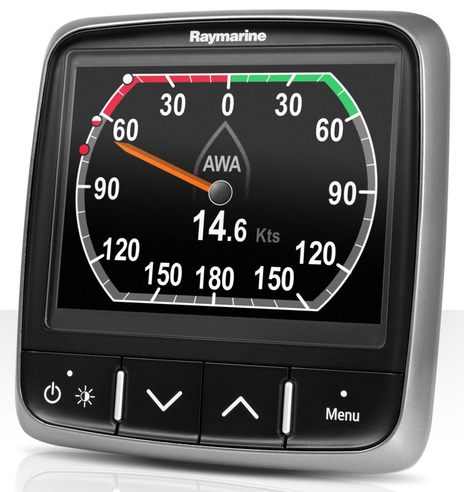 With all the fuss about Raymarine's new e7 MFD, the similarly styled i70 all-in-one instrument may not have gotten the attention it deserves. That 4-inch LED-backlit screen is a nice half inch bigger than the ST70, not to mention the very successful Garmin GMI 10, and it looks like the software designers made maximum use of the display space. If you're going to mimic an analog dial on a rectangular screen, that flattened style above makes sense. (And note the dots showing minimum, maximum, and average wind angles, a graphic nicity that I liked on the original ST70 but still haven't seen elsewhere.) You can find out more about the i70, and the new p70 autopilot heads, at this Raymarine page, but I came across a dealer presentation that has some extra details…
For instance, I think it's neat that Ray has put an AIS plotting screen on the i70, but even neater to know that you can use it to query all target data or set up a simple alarm zone. Apparently you can also use an i70 to control silent mode on Ray's new Class B AIS, though the presentation also makes it clear that the target display will work with any NMEA 2000 AIS data…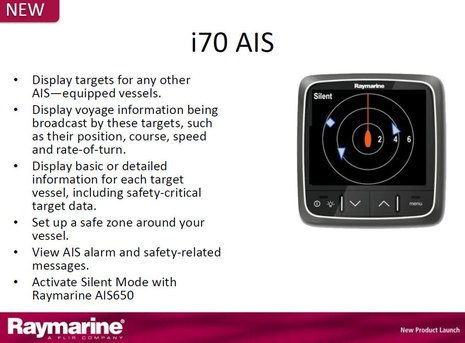 In fact, I notice several signs that Raymarine wants to play better with the NMEA 2000 standard, as in the illustration below that shows a patch cable being used to add an i70 to a standard DeviceNet cable system as an alternative to Ray's own STng cables and connectors. Actually that's always been possible with STng products, but it's good to have Raymarine endorse it. The presentation even says that Raymarine plans to get the i70 N2K certified, though I doubt that's possible given it supports daisy chaining. (But maybe there's something going on at NMEA I haven't heard about?)
Note that, as with the ST70, the i70 can accept data directly from a SeaTalk instrument or network using an ST-to-STng patch cable (the reason that STng spur cables have six pins). But the data is still not bridged into NMEA 2000; in other words, you could see depth/wind/etc. from an existing ST60 system on an i70, but it won't get to other N2K devices connected to the i70. However, that is possible if you use Ray's ST-to-STng converter…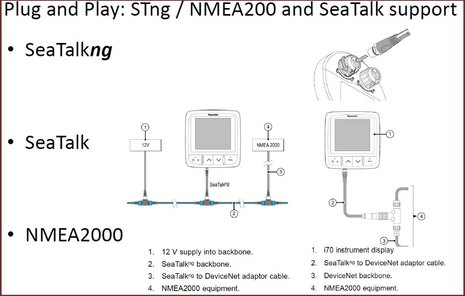 Finally, here's a presentation slide illustrating i70 display features. I'm reminded that there already is an all-in-one color instrument screen that's similarly power efficient and bright, and even larger, though also in a larger case. That's the Furuno RD-33, which I've been happily testing recently and will write about soon. In fact, the i70 claims the same brightness, 700 nits, as the RD-33 — which is darn bright — and has the same suggested retail of $595. And I've heard rumours about another all-in-one color N2K instrument about to be unveiled, and it's not from Garmin, though I'll bet they'll have a competitive response to the i70 (and e7) eventually. It looks like "best in class" for all-in-ones is going to be healthy battle!