Raymarine nearly sold(?) & Honeywell's holiday surprise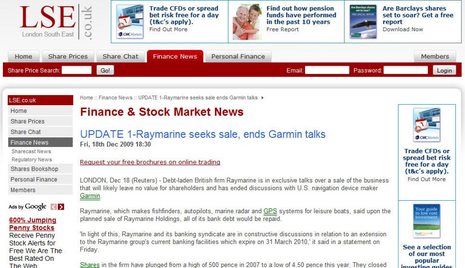 The news from London (reported somewhat differently here) is that Raymarine's board is now negotiating with a single buyer, which is not Garmin, and anticipates a deal in which all debts will be paid off and credit lines extended (but from which share holders may get zilch). Of course the deal is not done, but it sure sounds more certain, and a lot like what many of us were predicting last month. We may not know who the buyer is for a while, but doesn't it seem even less likely that Raymarine will go away? However, part of the due diligence still underway may involve the lawsuit that Honeywell laid on Raymarine, Furuno, and Navico Wednesday…

I have no idea how important Honeywell's suit is, and news is hard to find unless you sign up for a service like Law360, which reports:
Honeywell asserts five different patents related to a range of
navigation-related innovations, including technology for determining a
vehicle's true north heading, a system that sends signals to indicate a
vehicle's position using multiple types of sensors, technology related
to an autopilot system, a method for picking a route when there is bad
weather or other hazards, and display technology that can show weather
information in two dimensions and terrain data in three dimensions.
I do know that the patents at issue are 5,617,317; 5,631,656; 5,785, 281; 6,289,277; and 6,653,947, and I also obtained a PDF scan of the filing you can download here. One of my first reactions was "What about Garmin?" and Dan Corcoran, who I happened to chat with this morning, suggested that maybe Garmin is already licensing the technology from Honeywell, which would make this suit more meaningful. Maybe one of you knows, or can sleuth out, more? I just hope that this action didn't come as a nasty surprise to marine electronics folks about to head into the holidays, and that it won't result in higher equipment costs for us consumers.