Raymarine's Virtual Sea Trial, more please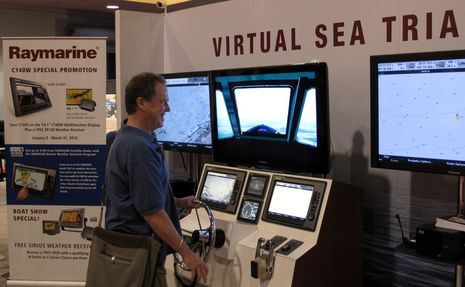 Raymarine introduced its Virtual Sea Trial system at the Miami Boat Show, and I was one of many who got quite a kick out of it. Note the twin wide open throttles (or WFO, an acronymn that will gather more meaning next week). When I wasn't driving the big simulated RIB over waves off the well detailed port of Marseille, France, I tried some slow speed docking maneuvers and was pleasantly surprised to find that the faux twin outboard backed and filled quite realistically. Of course having this high quality simulator integrated with twin E-14 Widescreens plus ST70+ autopilot and instrument heads meant you could really get a feel for how those devices work. But boys will be boys…

When I walked by the Raymarine booth a couple of days later, a small crowd was gathered around the VTS watching a young gent attempt to sink a simulated sailboat! And maybe I became one of the onlookers who egged him on; old men can be boys too. He never quite succeeded but every time he hit the sailboat it reacted in a different and somewhat realistic fashion, indicating that the underlying physics of the simulator are quite sophisticated.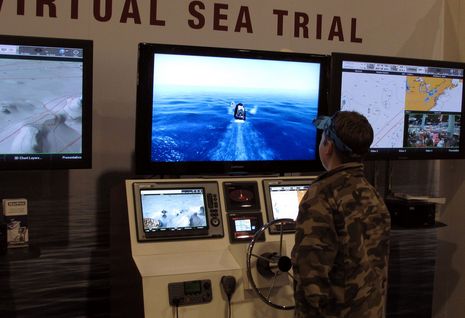 In fact, I wrote
about the underpinnings of this system a year ago, when Raymarine
marketing manager Jim McGowan told me about how Ship Sim Pro (now called Nautis) could
integrate with real marine electronics. I've heard that Jim
subsequently spent a lot of time in a spare room at Raymarine's New Hampshire complex getting the hydraulic steering, electronic shift and throttles, and electronics all working smoothly together. Unfortunately Nautis is pricing its software at maritime institute levels, which means we won't be seeing a scaled down version of the Virtual Sea Trial at marine electronics stores and other places where it could be really useful.
Wouldn't it great if Nautis or its relative Ship Sim, or a similar company, made a simulator specifically for low key recreational electronics training and demo purposes? Also, referencing Friday's entry about preserving digital chart history, wouldn't it be great if this set up was on exhibit somewhere ten or twenty years from now, when it might actually seem antique? Finally, I don't have any fresh news about the sale of Raymarine, other than what's in the comments here, but on Monday I'll have some interesting data backing up the idea that the brand will not be going away.