Sailing with an Airmar PB200 – Part II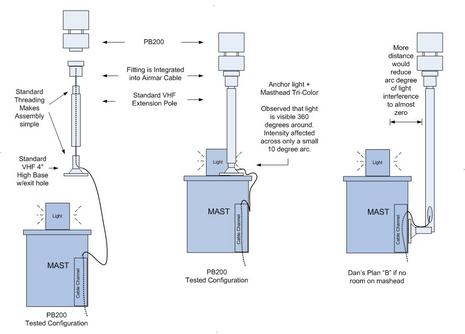 Many readers have commented on my Sailing with an Airmar PB200 entry. I enjoyed reading and responding to comments, and offer this diagram in response to some questions about mounting the PB200. The diagram above (click to enlarge) shows the parts unassembled, and then assembled on the masthead, along with an alternate "Plan B" my yard came up with before installation in the event my masthead was too crowded. (Credits to Jeff Willis at Willis Marine in Huntington, NY.)
The PB200 was designed to be used with marine VHF mounting hardware, like those I found at West Marine. On one end of the PB200 cable is a large two sided fitting that screws onto a standard VHF extension pole, after leading the cable thru the pole. With the fitting installed, the top of the pole then becomes a receptacle for the PB200 which is plugged in after all the other installation steps are completed.
Some things to look out for when choosing a location on your mast … don't get too close to any masthead lights. My installation is very close to my tri-color and anchor light. As the lights are wider than the mounting pole, they are visible, but dimmer across a 10 degree arc where the pole is. It's fine, but had I used LED masthead lighting I would expect the light would have been entirely blocked across 10 degrees. I imagine this could be reduced close to zero if you can get the pole six or more inches away.
The instructions recommend a 3 foot distance from the VHF antenna (on your masthead). As my helm and nav stations is filled with electronics with such requirements that can't be meet, I have become numb to such requirements. Although I didn't have a problem, you could easily double the distance I got, by mounting as per Plan "B" in the diagram .. or attain the full 3 feet separation using a tall extension pole. Plan "B" also has the virtue of gaining additional distance from the masthead light.
The placement of the PB200 over the masthead, rather than forward or aft as you see with some top line wind sensors, provided astonishingly good results both upwind and downwind. I would highly recommend you do the same. The local birds might be unhappy, but the straight up and down installation is simple and sturdy.