Satamatics Inmarsat D+, looking for smart VARs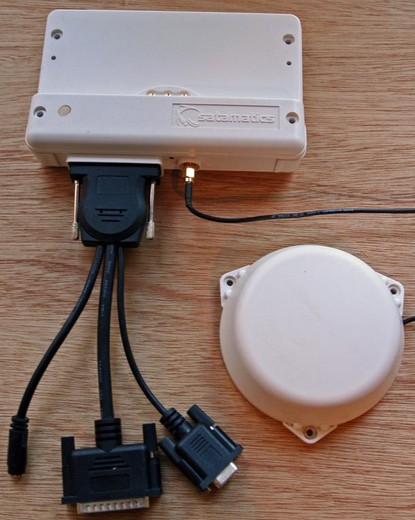 To tell the truth I didn't even know that there was an Inmarsat D+ satellite data service until I found the Satmatics booth in the far reaches of the Lauderdale Show. Satamatics, in fact, virtually owns this service, operating its own base stations and global tracking network, and making terminals like the 101 above, which it sells into many markets. Now, we're not talking broadband here, but D+ is capable of moving small amounts of data quickly and reliably. With its low power needs and built-in GPS that means it can track a smallish boat (or vehicle) anywhere (as seen below, and bigger here). It's also been approved for use as a SSAS (Ship Security Alert System), which would be nice to have non mandated vessels.
But all that's just scratching the surface. Supposedly the 101 can also do SMS and text e-mail, and includes numerous inputs for monitoring, as well as relays for actually taking action on the boat by (very) remote control. While I think it would be fairly easy for a boater to use a Satamatics terminal just for tracking, like this Australian sailor did, and/or SSAS, the company has not made the other possibilities easy to use. I suspect Satamatics is just too big to develop the neat multifunction boating product that's possible with this service and transceiver, both of which I understand to be reasonably priced at wholesale. So noodle with me; how could this product be made really useful for boaters by itself or integrated into other marine electronics?