SevenStar Class B, & an AIS rumination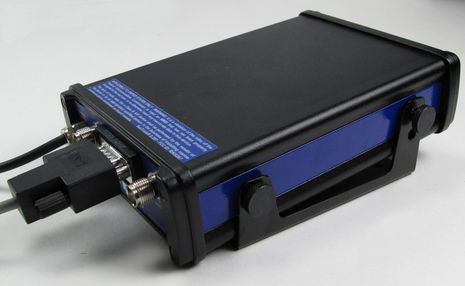 I've been testing a SevenStar SeaTraceR Class B AIS transponder for couple of weeks now, mostly on Gizmo but also in the lab. I could not detect any significant performance differences between it and other Class Bs, even when quickly swapping antenna connections and counting targets. But it does have a nice over/under tilt mount that lends itself to numerous install positions, and it also has wires for a remote silent switch, like the ACR Nauticast B (though, also like the ACR, it has no built-in switch). I'm pretty much convinced that the first generation Class B transponders all perform similarly (and pretty well), but what will we see when the next generation comes along?…
I'm regularly seeing Class B targets at five or six miles, even with land and other obstructions in between, and my antennas aren't great. That sort of raw transmit range — which generally becomes 8-12 miles on open ocean, especially given a receiving ship's higher and better antenna — probably isn't going to change, because the 2 watt maximum power is pretty much written in stone. But, then again, next generation AIS receivers may become more sensitive and hence bring in more distant targets. Certainly that's the wonderful trend in communications electronics, along with rapidly diminishing size and cost. I don't know how small and inexpensive Class B (or A) can go, but my sense is that we have only seen the tip of the iceberg.
In fact I had something of an AIS vision while laying in foggy Frenchboro recently. Many of the lobster boats there carry enormous VHF antennas that, along with the big rigs seen on many roofs, help keep everyone in touch, and safer, during the long work days. The islanders have also clearly taken to the Web as a valuable way to stay in touch with the world from 8 miles offshore (and promote their sidelines). How easy-to-own will AIS have to get before this lobster fleet adopts it (and sets up an onshore Web feed)?
I suspect that there are endless niches like this where AIS will blossom, especially when it gets smaller/cheaper/better. Check out the screen shot below, which shows the Class A megayacht Silver Shalis towing, or being trailed by, her Class B equipped tender Little Shalis. Of course that means the big yacht's skipper can easily track the smaller boat when both are underway or when the tender is zipping around some anchorage. But that's also means that any of us other AIS receiving vessels can easily suss out what those otherwise mysterious twin radar targets are coming down the Bay. Just as many of us would benefit if lobster boats — which go, stop, turn this way and that, and then go again most all day long — were also part of the System. I may be discovering various little glitches in the just begun (but promising) integration of AIS and NMEA 2000, but that's just the tippity top of a very large iceberg.