The ACRM 13 Mark/VIP boat, want a ride?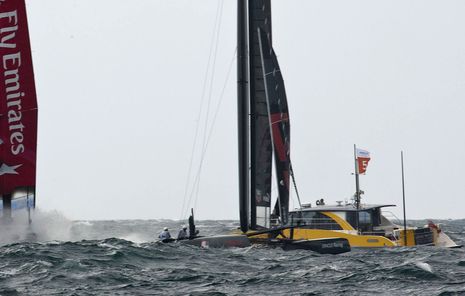 The first day of AC 45 racing in Naples yesterday made for must-see YouTube video, and must have been quite an initiation for the six new Mark/VIP boats. For instance, did the Volvo Penta IPS dynamic positioning I saw being tested in San Diego on hull #1 actually work in these very rough conditions? I'm also curious why there seem to be so few "VIP" spectators on board as the mark boats seem like a sensational spot to watch the racing. Yesterday I thought it might be for safety reasons, but today the conditions I saw on the live feed were much more mellow…
The problem may be that the Naples "Hospitality" program doesn't seem to have materialized yet, perhaps because America's Cup 34 had to cut personnel, which seems a shame as these boats were designed in part to raise money.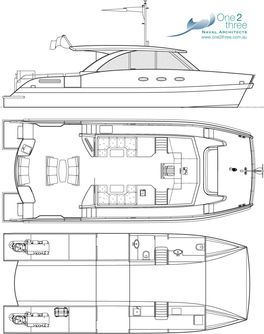 But I'll bet that the VIP mark boat program is organized at least by the time the AC World Series reaches Newport on June 26, which is one reason you might want to know more about what's variously known as the ACRM 13 or FRB 13. The design was created by One2Three in Australia and built by East Asia Composites in China with electronics systems by On Board Marine Group in Hong Kong.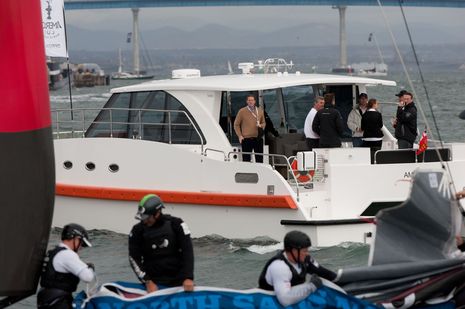 The antenna farm on still-being-commissioned hull #1 is only a subset of what I'm seeing in Naples (and the paint schemes have also gotten more flare). Note how the twin Garmin 15 inch MFDs below are showing different home screens because they're actually independent systems. The one on the right –with sonar, radar, AIS, networked VHF, etc. — is for regular navigation. The left one is on AC Race Management's high speed wireless network and can thus display super accurate race and support boat telemetry and easy-to-change course geometry, as we saw on the committee boat.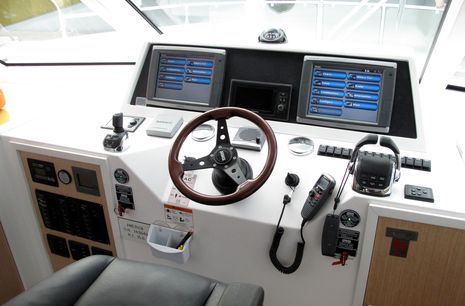 The 46 foot catamarans are also equipped with extensive BEP CZone distributed power, monitoring, and digital switching systems, as you can see somewhat in the schematic below. Note that BEP is now part of the Actuant marine power family mentioned recently…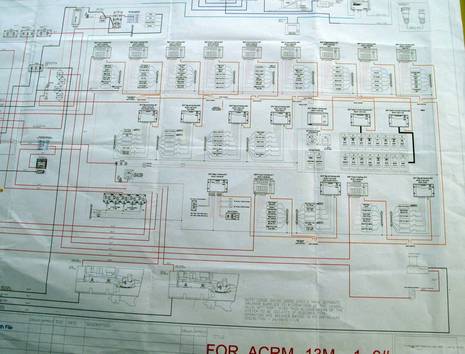 And so is MasterVolt, which leads to some interesting integration possibilities (more on that soon). You can see a CZone Signal module and some of an FRB 13's large NMEA 2000 network at upper left in the engine room shot below.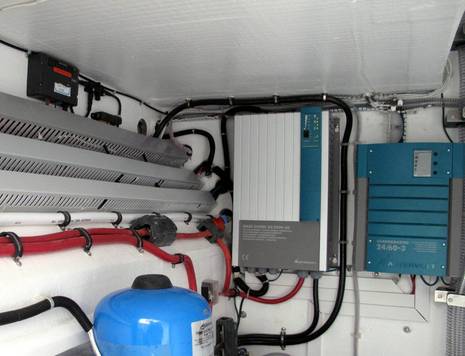 But if you're going to spend some big money to support the new America's Cup and see AC45 racing as close as possible, you may be more concerned with the FRB 13's accommodation. Well, how about a first class catering galley with a high tech wine cooler with dual heads in the other hull?…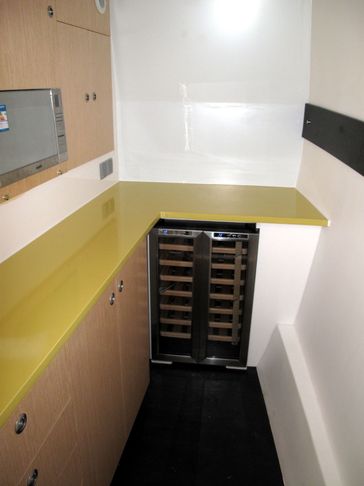 And besides for the two large on deck observation areas there's this big and well-windowed salon. I believe that each boat now has a large monitor on that center pillar so that you can watch AC TV when the boats aren't actually flying by "your" mark. AC 34 may be struggling a bit, but I think they've made an incredible effort to create excellent racing that accessible to both the wealthy and just those of us with a good Internet connection.