The Marine Installer's Rant, what's your favorite?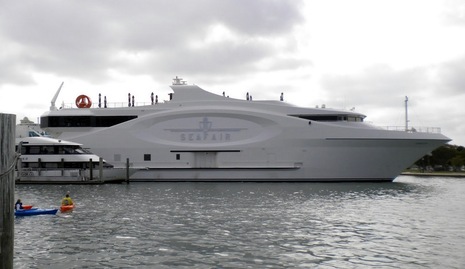 Admittedly, that vessel immediately makes me think of Reese Witherspoon's moderately immortal line in the moderately famous 1996 black comedy Freeway
: "Holy sh*t! Look who got beat with the ugly stick." (Clip here, but do treat yourself to the whole warped take off on Little Red Riding Hood.) However, this entry is actually about the unquestionably immortal blog aptly titled The Marine Installer's Rant. Which is where I learned about Seafair and her special duties as megayacht art gallery. Bill Bishop not only documents the travails of an installer, right down to the bloody wounds, but he notes and photographs perks like getting to see the weird boats that show up in his Sarasota, FL, home waters…
While I've got MIR in Panbo's blogroll and have used comments to encourage readers to go there several times, I'm convinced that Bill isn't getting the attention he deserves. The guy really knows electronics and is not afraid to speak his mind; he can write and take pictures well; and I think he's wicked funny to boot (even to guy enduring
lost days of PC malfunction
). Consider the nuggets of installer wisdom in entries like "
That boat ain't right, a primer
" or "
Big trouble in transducer town
" or "
What a dumb idea, stupid…
" (photo below). Or enjoy some of the wackier general marine entries like "
BOAT TRAVELS AT 65MPH WHILE BEING RUN BY AUTOPILOT! CITIZENS ARE OUTRAGED…
" or "
An Everglades 35 with some very clever dockside bondage work
."
There are so many gems at MIR, but there's also a problem. Bill hasn't broken up his entries with "continue reading" breaks so you can't scan the topics easily, and MIR also lacks categories, a search engine, or an
archive page like Panbo's
(a recent and valuable addition, I think). Then again, I don't know where Bill finds time to create all those entries, and you can use his RSS feed and a good reader (like
Google's
) to get a linked table of contents. But if you do read
Marine Installer's Rant
regularly or do some serious poking around today, maybe you can come back here and give us a link or two to entries that really teach you something, or render you
FDROTFL
.