The next Gizmo? Talk me down!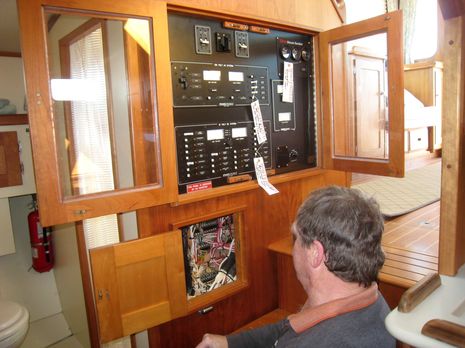 So it turns out that within my big old head still lurks the boat lust of a younger man, even when confronted with tangles of wires and other system complexities. No problem, I thought to myself, I can deal with this stuff! But was that the irrational voice of a love stricken boy speaking? I've been missing from Panbo for a couple of days because en route to NYC yesterday I checked out a boat I'd been admiring online…and fell much deeper under her spell. Today I've been consulting trusted advisors who know more about this sort of boat, and the used boat buying process, than I do. And I'd like to know what Panbots think…

So the possible future Panbo electronics testing platform and office afloat — i.e. the next Gizmo — might be this Duffy Atlantic 37 listed at YachtWorld. There's more detail on the hull here, and the yard that finished her here. Now before you give me grief about guzzling fossil fuel, let me note that I'd often run a boat like this in displacement or minimum plane modes, and would hope to evolve the systems so that the generator was hardly ever be used, or maybe even removed. But don't hesitate to poke holes in this dream boat; it might be good for me to be talked down a bit.