UGRIB, nicely done and priced right!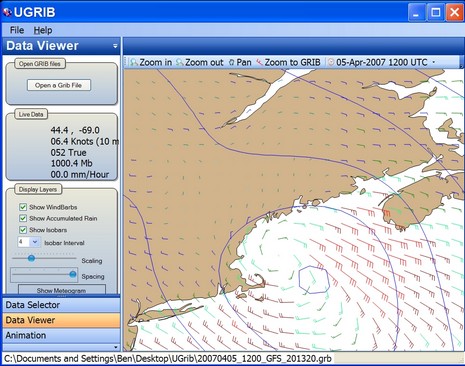 In Maine speak, that low pressure system which blasted through here last night was a "corker", leaving at least 10" of snow which has a gluey consistency unfriendly to snow blowers and plows. Panbo world headquarters is still digging out! Now, of possibly greater interest, that screen above is from a new and quite nicely done weather program called UGRIB. It lets you download and display forecasts for any section of earth as generated by NOAA's "global numerical weather prediction model." And it's all for free, thanks to the folks at GRIB.US. You only get wind, pressure, and precipitation—and, of course, you can find far richer weather data on the Web—but one beauty of GRIB files is their compactness if your data pipe is limited…like, say, a sat phone out in the ocean. GRIB numerical data can also be animated, as UGRIB does, and used by routing programs.
Meanwhile, back here in Maine, a 40' scallop boat sank Tuesday night as it tried to return home ahead of this storm. The crew is fine, apparently because they were well equipped with EPIRBs, survival suits, etc. The Luke & Jodi even had some sort of transponder such that the owner could track it from home, though that let to some confusion. At any rate, the crew did everything right according to the Coast Guard, except perhaps deciding to supply the liferaft with a case of beer and bottle of vodka "to keep them occupied while they waited to be rescued." That led to problems (and more detail here).