Vesper Cortex update: Boat Networks, squashing bugs & more
Vesper Marine's Cortex AIS, VHF, and monitoring system is the most innovative marine electronics product I've tested in a long time. But Cortex is also a serious challenge to review properly because it has so many useful capabilities — some of which look and feel strikingly different from their antecedents — and it's also a system designed to evolve.
That's the justification for this update, even though I recently wrote at length about testing the Cortex M1 Hub and haven't yet attempted to fully describe the H1 handset/VHF portion of the system. It's also why I'm delighted that others are now reviewing Cortex on their own boats, and often having different experiences with the details (as I'll discuss at the end of this entry). It may take a village to help a studious skipper thoroughly understand Cortex, even after making the serious financial investment.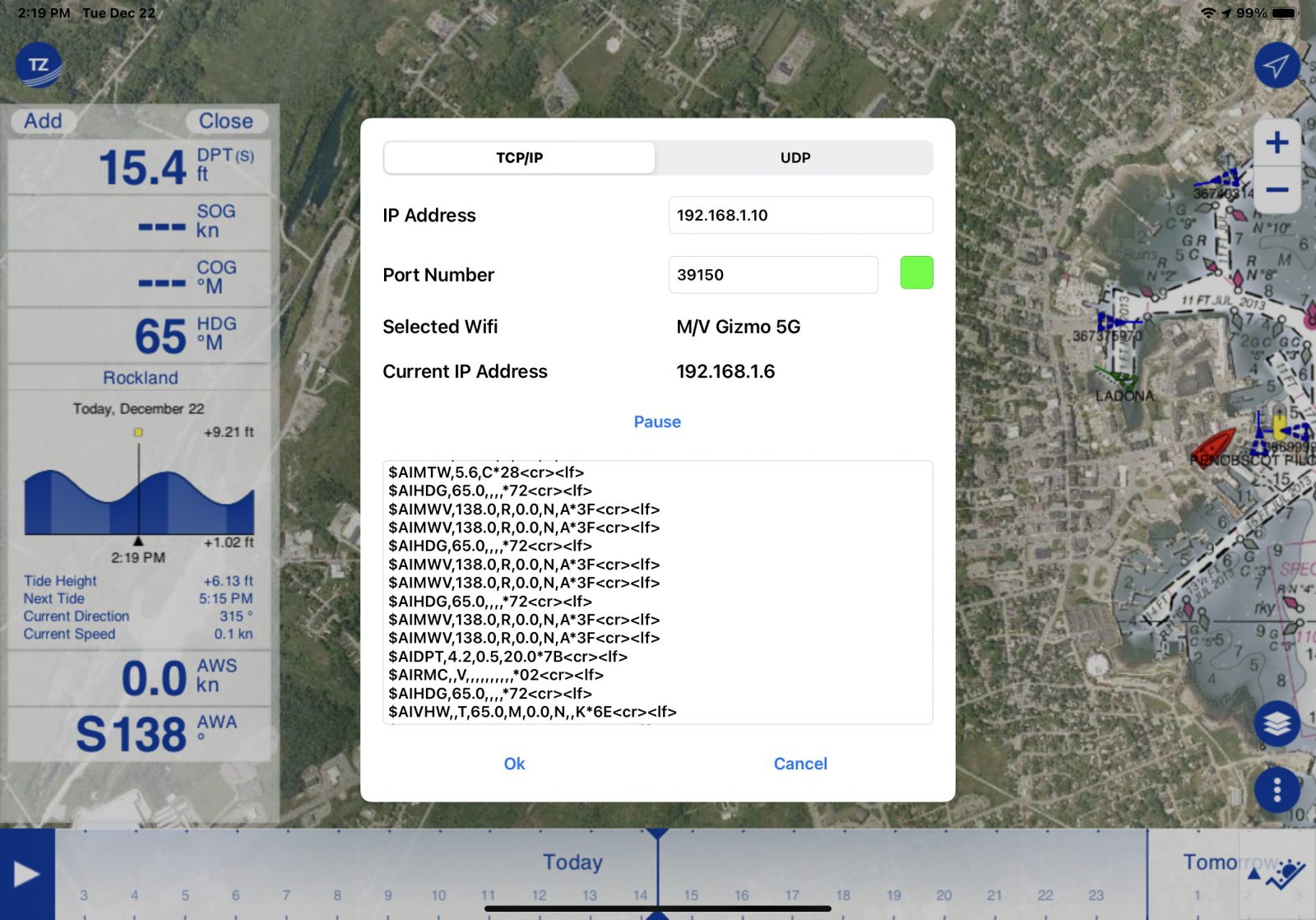 The major recent change to the Cortex hub is its new ability to join a boat's own WiFi network and then deliver its AIS and GPS data — plus other boat info it gathers from its NMEA 2000 and 0183 connections — to apps running on other devices also using the network. For instance, whenever I climb aboard Gizmo these days, my iPad automatically logs onto its "M/V Gizmo 5G" network and if I open a navigation tool like TZ iBoat, it's automatically displaying all sorts of useful info streaming from the Cortex hub (as illustrated above, with the NMEA Connection setup only shown to illustrate what's happening behind the main nav screen).
This means that I can also use the Cortex Onboard app while the iPad (or my phone) is still enjoying other benefits of Gizmo's network, like detailed Victron power monitoring. And, yes, it's possible that one day I'll be comfy in my berth streaming Netflix (or doom scrolling Twitter) while the excellent Cortex anchor watch runs in the background ready to literally tell me if something goes amiss.
Configuring the Cortex Boat Network feature using the Onboard app is quite straightforward, as suggested by the iOS and Android screens at the top of the entry. It's also nicely unusual because the app can actually switch the WiFi network your tablet or phone is using — to, or from, the M1 hub — when you toggle that Boat Network switch. Note too how the setup page shows the IP address — in my case "192.168.1.6" — where the Cortex data can be found on Gizmo's network. That's what you need to set up nav apps like TZ iBoat and many others (along with the "39150" port address that Vesper has used for years).
A Cortex H1 handset can also connect to the M1 hub via a boat network, and that seemed to work fine when I tried it. But the only reason to do this, that I can think of, is if a direct WiFi connection to the M1 doesn't work as well. In fact, Vesper recommends that at least one handset on a boat have a direct connection because the Boat Network feature does add a possible point of failure that's likely also less robust than the Cortex modules.
Note that the Cortex Hub can connect directly to as many as 5 Cortex handsets, and simultaneously to 5 more handsets or app devices via a boat network. And that Vesper is saying the next feature up is intercom between handsets.
Meanwhile, my original M1 hub review did not cover its NMEA 0183 output mainly because I was blaming myself for not getting it to work correctly. Well, lo and behold, the problem was actually a typo in the Cortex manual — now long fixed — and what you're seeing above are the nifty results of the Cortex feeding the HS 0183 port on Gizmo's FloatHub monitoring device. The FloatHub sends AIS (and other) data to my private FH web page over WiFi and then forwards it to Marine Traffic (and other AIS websites), so my volunteer MT mobile station is happily back in action (and I receive valuable MT subscription privileges in return).
Actually, I wrote about FloatHub's easy AIS forwarding ability in 2018, when a Vesper XB8000 was the source. And while I'm glad to have it back, those screenshots are also demonstrating how Cortex can still receive AIS even though Gizmo is now deep inside the windowless all-steel storage building you can see behind the JEM travel lift in this Google Street View (and that huge door is rarely rolled up these days). In fact, extremely difficult GPS reception inside that steel box is probably why my real-time FloatHub web widget shows Gizmo at anchor off The Bitter End Yacht Club right now (with the onboard air temperature at a decidedly un-tropical 40 degrees).
I know it's a weird test, but isn't it impressive that Cortex AIS, GPS and cellular radios have all been working much of the time inside what is essentially a huge Faraday shield? I did detach the main Shakespeare antenna from the tilted mast to get it standing upright, but I'm also hearing reasonably clear VHF conversations in about the same full Rockland Harbor range seen on the FloatHub AIS display. On the other hand, a GPS fix takes a very long time if I reboot the Hub — though I consider the month of tracking shown above quite good in the circumstances — and the cellular monitoring connection has been broken a fair amount in recent weeks (snow on top of the steel roof?).
Also, note that the free 90-day Cortex Premium Monitoring trial is long over on my test system, so what I'm experiencing now is the free-for-life Monitoring Lite. And it's not bad. NMEA 2000 boat data is still visible from afar, though only updated twice a day, and the same for analog sensor inputs like the one watching Gizmo's door. Those values are also roughly logged and graphed, and I think that the battery bank screen above — though actually it's the power measured at the hub — could be quite useful, especially when the boat is stored. (As to what's going on there with Gizmo's Firefly bank, sad story to come.)
So Cortex continues to impress me, but that now includes how tiny bugs can impressively slip through rigorous testing of complex systems. Besides the early NMEA 0183 manual error already mentioned — which was essentially just "+" and "-" signs transposed — doesn't the M1 WiFi password entered on my H1 handset above look correct?
I didn't have to manually enter that password anywhere until November because the Cortex V1 kit comes already paired and the QR code works great for the app devices. Also, the handset pairing never failed until I joined the Cortex beta program, though manual pairing will be necessary if I get more handsets. And it drove me nuts until a Vesper representative wondered if it could be a zero versus capital O issue, although they'd eliminated both characters from passwords early in the Cortex roll out.
Well, I not only received an early Cortex, but had also faithfully entered what I thought to be a zero, many times, until that prompt got me to notice how CORTEX is printed near the password and realize that Vesper had also used a compressed font. As Homer Simpson would say: DOH! Or Cortex manual style: D0H!
Of course there may be more serious Cortex bugs than I've encountered so far, but encountering them can depend on the particular install, usage, and location. For instance, toward the end of Steve Mitchell's thorough Cortex review, he describes losing parts of VHF conversations due to what he thinks is over-aggressive squelch. That's not good, and apparently Vesper intends to provide more squelch control, but in the less VHF busy area where I'm testing, Cortex's automated squelch seems nearly perfect as is and I've rarely even used the two settings besides Normal.
Then again, I have had noise problems on channel 68 that Cortex squelch won't fix, but then I realized that there's also some un-squelchable noise on the Standard Horizon GX6000 using the same antenna, though on 67 instead, and that Ben Stein's Cortex channel 68 is working fine in Florida. So it seems like a Gizmo problem.
And while the AIS MoB Test Alerts on/off switch is a bit hard to find in the Cortex menu system, I certainly understand why Kees Verruijt might think that an annoying bug after installing his Cortex in a Caribbean harbor where 48 cruise ship lifeboats test their AIS MoB devices weekly. I also learned from Kees that the Cortex monitoring on his U.S.-sourced system does not work in Aruba and can not be changed over for European cellular when he sails back home in the near future. That's disappointing, though I gather that Cortex monitoring will eventually learn to use other shore connections that might be available via Boat Network.
I'm hoping we'll hear how Cortex performs during Kees' Atlantic crossing (and highly recommend his recent Panbo PodCast). I also appreciated Chuck Batson's Cortex review, and am quite baffled about how his Instrument screen can show depth in feet and inches, let alone 9′ 12″. That's what I mean about different reviewers experiencing different Cortez quirks, and probably niceties too. The more reviews the better, I think, and I'd also like to see more videos of the handset in action, sound included. Which is my excuse for the rather crude attempt above.