Waste plumbing, more important than electronics!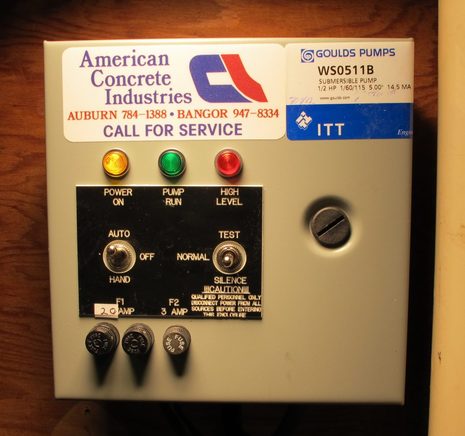 I don't know if I've messed up my karma somehow, but I do know that the last year has included an unusual amount of hand's-on time with blackwater systems. In fact, it was about this time last summer that I had to abort a cruise because I could not fix a jammed-up Lavac marine toilet. It did not help that the nice bag of spare parts that came with Gizmo were actually for an earlier model of the head's electric pump. But now I have the correct spares and a good snake on board, along with a comfy plastic seat

that can theoretically turn a standard five gallon bucket into an alternate head. And — my point in doing the work myself (aside from my Scotch blood) — I now understand the intricacies of the Lavac rather intimately, in case it again needs repair in a remote location…
And ditto for Gizmo's Jabsco 18590 macerator pump
, which also failed last season. Now we don't absolutely need an overboard pump because we have a proper holding tank and there finally are numerous pumpout stations around (Camden has two — one on a boat run by the town and the other at Wayfarer). But then again, a full tank can be as much of a cruising bummer as plugging the head, plus the Weema tank level sensor involved is not exactly reliable. So over the winter I rebuilt the Jabsco. Twice. And it still didn't pump the tank out!
Gizmo now has a brand new and fully functional Jabsco macerator pump (I didn't have much choice due to seacock size) and, oh man, am I familiar with that system (even if I don't yet know what ails pump #1). But all this pales in comparison to my home, where I have suffered from wastewater anxiety since August, 1979. That's when the little stream went dry and we realized that the septic system for the fixed-up shack we'd bought — it was still bigger than the sloop — was just an old concrete tank and a short pipe. The clever, and completely approved, fix at the time was a submersible pump in the bottom of the old tank and 200 feet of 2-inch compression hose run under the stream and up the road to the end of the town sewer line. It worked, too, except for the time someone flushed a wash cloth, and later a comb. And at some ugly repair point in the early 80's I built a heavy wooden frame and cover to improve accessibility, though it was still almost a foot under what would become a driveway when I replaced the original structure with a garage and an addition to the "new" house..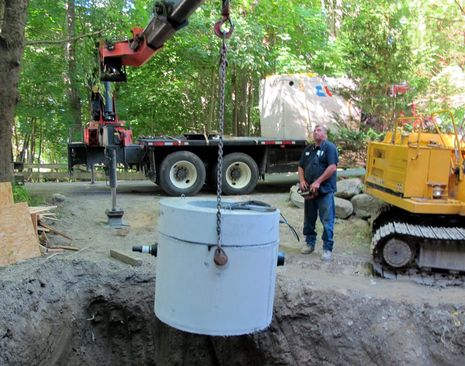 But then I didn't think about that system for a long time, except for the occasional anxiety jag, especially, say, when the driveway was frozen solid and I was off in Florida while my family was home. In fact, when we pulled the whole mess of a DIY pump tank out of the ground a week ago today, the Goulds WSO511 pump had been running for over twenty years without ever seeing the light of day! (Think about that, Jabsco.) So naturally I got the same pump again but the real find was the company that custom fabricated the new 3,000 pound pump tank package and delivered it precisely when they said they would Friday morning, on a state-of-the-art boom truck able to reach deep into my lot under wireless control…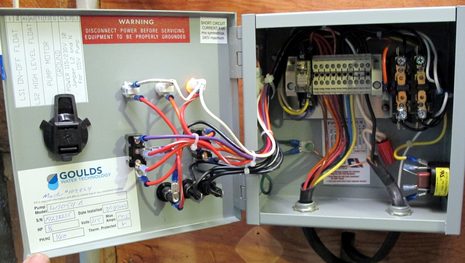 The company is American Concrete and if you're up around here I can't recommend them enough. Just check out my new control panel, pictured in action at top and opened up above. Note how well documented the pump and panel are, and what you can't see well is the color-coded wiring diagram that made hooking up the direct-bury cable really easy. Also not pictured are the crack team who are fixing various issues with the house that somehow got old since I built it, or the excavator who is over 80 but seems capable of picking flowers with his machines. By Friday afternoon, the steel 6-inch riser and 24-inch manhole (sourced from India oddly enough) were in place, the tank was back filled, and the pump, float switch, and high "water" alarm were all tested. 2 Bisbee St. was back in business.
So what the heck does this have to do with marine electronics? Well, this is one of the primary tasks I felt mandatory before taking off for months at a time doing my most advanced electronics testing ever, while also getting Gizmo down the East Coast. It's also a reminder to myself and maybe others about that important thing called "preventative maintenance." I lucked out with that pump, big time, but I must remember to treat the plumbing, engine, and other critical systems on the boat with less laissez-faire. "Forehandedness" — the ability and drive to fix things before they break — is one of the prime attributes of good seamanship, I think.
Plus something I like to do with this blog is to point out well-managed companies with good technology, and American Concrete is all of that. An extra surprise on Friday was the fact that they stenciled my name on the tank parts as they moved through the production process. I'd long yearned for my own manhole, but what I got was even better.