Who's driving that big rig? (#3, ouch!)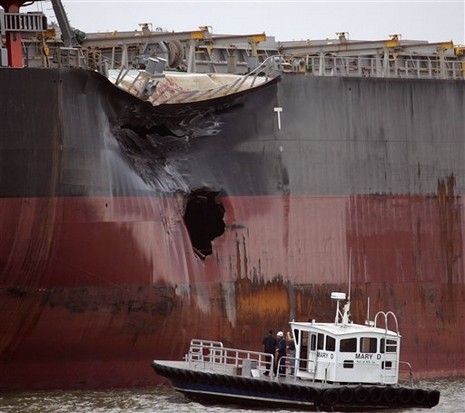 A Panbo reader (thanks, Mark!) alerted me to yesterday's collision on the Mississippi, in which the 712' Greek freighter Zagora, coming down river with a load of soy beans, apparently T-boned the anchored 737' Panamanian freighter Torm Anholt. Mark wrote, "It is amazing that yet again two ships of this size are able to hit each other. And to think one of them was anchored. How is it that small vessels are not plowed under more frequently? Looking forward to class B AIS transponders."
I'm looking forward to Class B too, but we should all be very careful not to over estimate its value. Interestingly, another Panbo reader (thanks, Kurt!) linked me to a page of presentations given at the recent AIS/06 conference. There's a lot of interesting material there, which I've only skipped through, but of particular note is the first day presentation by Dr. Andy Norris. One of his conclusions is that "Class B users must not assume that their AIS signal will be visible on any ship." More on Dr. Norris's work to come.
And some day the National Transportation Safety Board will issue a report on the Zagora/Torm Anholt collision. NTSB reports don't seem quite as detailed as the MAIB work I've referenced before, but it will be interesting to see what happened on the big River yesterday afternoon.