Xtreme QuadLink, and the Victron N2K Skylla charger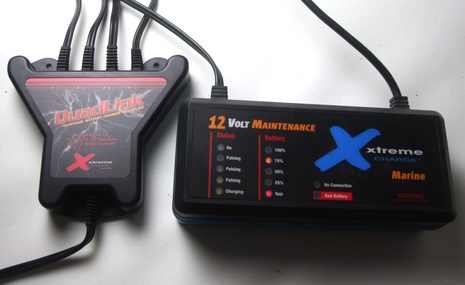 The line on Pulsetech's new QuadLink Battery Charger Multiplier is that it can "turn any 6V or 12V battery charger into a 4-station maintenance charger." I'm sure that's true but the most obvious charger to use it with is also from Pulsetech, like that Xtreme Marine I first tested in 2007. That unit has been through wringer without a wimper and I'm even more convinced today that it has certain battery healing abilities…
I've long felt that the Xtreme Marine pulsing desulphation process was important to keeping my motley collection of small boat batteries alive and vigorous, but last winter when I ran the Xtreme for extremely long periods on Gizmo's two main 8D AGMs and her two starting batteries, I got some actual evidence. Both banks are now holding a couple of tenths more voltage at full charge, and that's not something you normally see in aging batteries.
Pulsing Gizmo's battery banks would have been easier with the QuadLink, but it's especially useful back in the shop minding several of my older batteries at once. As suggested below, it comes with four battery harnesses that use the same cable connector seen on Pulsetech's chargers and elsewhere, and what's not shown are the four 5-foot extension leads that also come with. Simply hook everything up and the QuadLink will rotate the charger output to each connected battery in ten minute increments. This is a sweet setup for winter battery storage.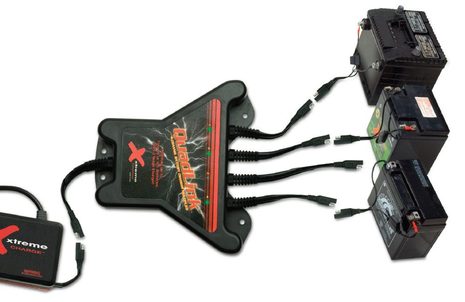 Meanwhile, in the world of high amperage marine chargers, Victron just announced the Skylla-i, a 24 volt design that will come in 80 or 100 amp models. It may be no surprise that they are smaller and lighter than previous models but they also have a "PowerControl" feature that let's you set an upper incoming current limit in case you run into a situation where your charger wants more juice than the shore connection can supply. I have the same feature on the Victron MultiPlus 12/2000/80 I installed this spring and though I haven't had to use it yet, I'm glad it's there. On the Skylla-i you monitor and manage this and other charging items with the Skylla-i Control, seen below. But the Skylla chargers will also be communicating over NMEA 2000, which may well be a first for battery chargers.
Victron also just received N2K certification for its Lynx 1000 shunt, which is probably also a first. There's not much info yet on the Lynx and its sibling input and output distribution boxes, but they look interesting. As does the the company's new Blue Solar MPPT 150/70 charge controller, which communicates via CanBus and N2K protocols. (I understand that even the new little 15 amp solar charge controller may get an N2K connection via a gateway to its serial port.) I think it bodes well for integrated marine power systems when even equipment like this with large non-marine markets starts using our data protocol.