Yaesu VX-8R, sign of VHF handhelds to come?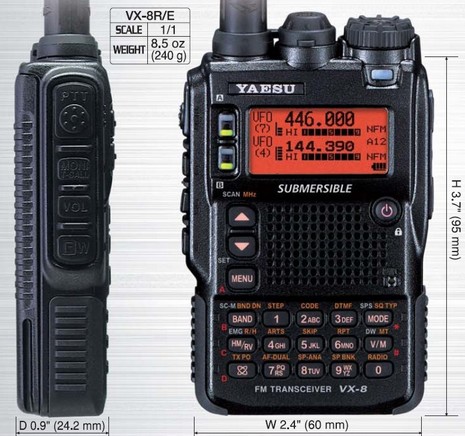 I recently spoke with Standard Horizon VP Jason Kennedy, mostly about the HX850s cracked case issue which I commented on today (and which has become a Sailing Anarchy thread). But we also discussed the future of GPS/VHF handhelds, a future that's especially rosy as the HX850s is selling well beyond Standard's projections. When I asked what's possible, Jason suggested that I check out the Yaesu VX-8R, a new amateur radio handheld which comes from a sister division. I did look at the brochures and manual available at that Yaesu site and, while the button labels above suggest what a complex beast this HAM set is, the obvious potential for a related marine VHF product is…wow…
The VX-8R is a tiny waterproof handheld that contains two wide band receivers and a 5W transmitter, as well as an integrated APRS data modem and temp/baro sensors. And, as shown below, it can be accessorized with a variety of Bluetooth headsets (including a stereo model that would be neat with the FM stereo reception possible) and a GPS receiver (labeled "1") that can attach either directly to the case or to an optional wired mic. The basic unit has a street price of about $400. APRS, incidentally, is the Automatic Packet Reporting System that some boating HAMs use to make their vessel movements available to friends and family. I don't know a lot about it, but figure that if Vertex Standard can fit that technology into the ultra-compact Yaesu VX-8R, then Standard Horizon can make an ultra-compact DSC VHF with all or most of the same features. If it thinks there's a market (?).