18″ radomes #6, MARPA & True Wakes edition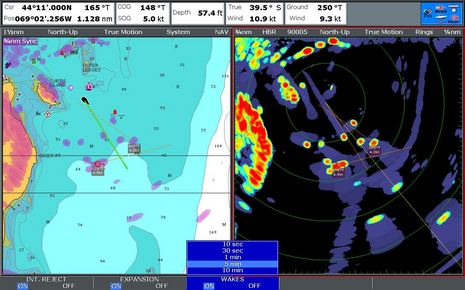 Though it's been a while since I wrote about the radome testing, I still feel overwhelmed with what I've learned to date, and not done yet. And at this point — harbor emptying out, cold and dreary — the images are becoming nostalgic. On the beautiful day above I was off Camden as the area's fleet of "dude schooners" gathered for the Windjammer Festival. Besides enjoying the scene (note the gentle sailing breeze, and also the indication that True Wind and Ground Wind are indeed different, as recently discussed), I intended to use the fleet as MARPA targets. But I got sidetracked by a feature that partially does the work of MARPA without having to cursor around and select targets. Click on the screen above and I'll explain…

Note that I have set the Raymarine C140W in True Motion mode, which means my vessel moves across the chart instead of the chart moving under it. The C Wide won't do TM in my preferred Head Up mode, but I've gotten used to this North Up display, which resets itself when my boat icon gets about 1/3 from the chart edge. What's truly neat is that target wakes, sometimes called echo trails, reflect the target's true motion, as opposed to their motion relative to my boat, and stationary objects don't make trails. Now in this particular screen I have the wake time set too long, which is messy, but you can see how some big targets far ahead are slowly moving my way, while one closer is moving away, and a smaller vessel (light blue on the true color RD418HD scanner I'm now testing) zipped across my path. You can even see that a schooner off to starboard just tacked and a small boat now near Curtis Island came out into the Bay and did a 180. You can also see Raymarine MARPA in action, here showing each vessel's true course and speed. In normal Relative Motion, Raymarine plotters display a MARPA target's relative speed and motion, which is unusual and takes some getting used to (more on that later).
As with many advanced radar features, Furuno is a step or two ahead, able to display True Echo Trails even when your radar or radar overlay displays are set to Head Up and Relative Motion. Both are illustrated below. Note how The Graves (a ledge that looks like a row of tombstones!) and its Gong show no trail, which they shouldn't, but how the speedboat just crossing my stern shows a long trail. Furuno gives the user almost infinite control over these trails — time length, graduated or solid color, which color, etc.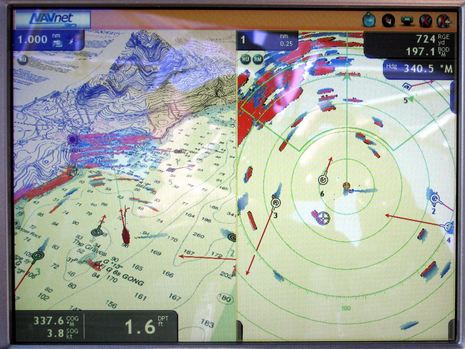 The Garmin 4- and 5000 Series do not do True Motion or True Echo Trails, but like the two systems above are quite good at acquiring MARPA targets when paired with 18- or 24-inch radomes. In fact, this is an area where touch screen works really well. The 5212 is not fussy about where you tap the screen, as long as it's reasonably close to the target, and a tap brings up several buttons including Acquire Target. Tap, tap…done. A list of MARPA and AIS targets is also easy to access with two taps, Menu, then Other Vessels. And I really like the way Garmin displays targets in a fairly standard and conservative fashion in 2D mode, but…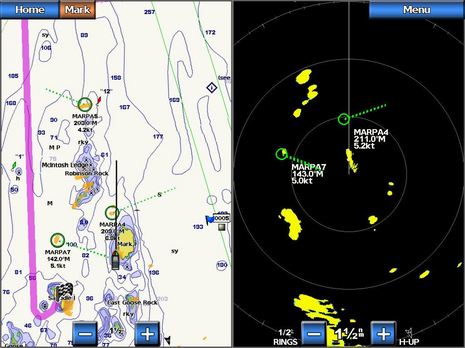 goes a little wild in 3D Perspective Mode, as seen below. The 3D works better in practice than it may look on a static screen shot. By the way, that Class B AIS vessel I'm following below is Red Sky, mentioned recently, and it's not showing its name because of the NMEA 2000 AIS glitch. The Simrad NSE, incidentally, doesn't have True Motion either, but it does have MARPA, though I haven't had much experience with it yet. Maybe today!