Accidental grounding, familiarity breeds complacency
My 2018 cruising started with a trip straight up Lake Michigan's Wisconsin coast bound for Manistique, a small town on Michigan's upper peninsula.  We had something very rare, three consecutive days of flat water on Lake Michigan.  So we made the most of the conditions and ran all three of those days for a total of 300 nm at 9 kts.  We made it the length of the lake to Manistique without incident.  Unfortunately, we didn't make it into Manistique harbor without incident.
I've been into Manistique's little harbor a handful of times before.  In fact, I had bread crumbs (tracks) on my MFD from a previous visit, and  I've never had the slightest issue getting in or out.  Moreover, several years ago a big deal was made of rebuilding a long face wall so it's large enough for the Great Lakes cruise ships, and the approach had been dredged.  So imagine my surprise when while pulling in – in a year when Lake Michigan is running 37 inches over chart datum (low water datum for Lake Michigan is 577.5′ and currently at 580.54′) – we suddenly hear the sickening sound of props striking bottom and the starboard engine dies.
As soon as we struck bottom I used the thrusters – thankfully I have bow and stern thrusters – to spin the bow out towards the lake and then used both thrusters to move the boat further south towards the lake.  I then engaged the engines and moved several hundred feet south-west to where I'd previously seen deeper water and dropped the anchor.  It was time to think about what to do.
We called the marina and realized the gentleman who answered the phone wasn't equipped to be helpful when he asked us what a prop is.  He then called his boss who said to stay to the left for the deepest water.  In the meantime, we'd asked an outgoing small fishing boat about the deepest water and they indicated it was to the east or our starboard side.
With completely contradictory information and having already hit bottom once I decided to deploy our dinghy and do some sounding on my own.  I installed a Garmin EchoMap 44dv on the dinghy about three years ago, a decision I am frequently extremely happy about and at no time more so than when I need to sound depth for the big boat.  I then proceeded to make several passes back and forth from the anchored boat to the marina.  It eventually became clear that if I hugged the far eastern edge of the channel there was between seven and eight feet of depth available, plenty for Have Another Day's 5-foot draft.
So, with my wife Laura now in the dinghy and me piloting Have Another Day, we headed towards the marina.  I had her lead me in and call depths as she saw them.  I'm pleased to say we made it in without further incident.
Once tied up and with an adult beverage in hand, it was time to figure out what had gone wrong.   Here are the factors I see contributing to our trouble.
I had been in and out of here before, in years of lower water no less, so I was complacent
When I glanced at charts I saw something that my brain couldn't reconcile.  This was my first time cruising with Aqua Map as my primary planning tool and I realize now I just didn't understand how it displays depth boundaries.
I had many different sources of cartography available, I didn't use them all and some were out of date.  I had NOAA RNC (raster charts) available to me but I didn't use them. If I had, I think I would have been much more on guard and possibly avoided this entire bit of unpleasantness.
I assumed that with 37″ of water over datum, even any potentially dicey patches would be fine because of the extra 3+ feet of water, what I didn't realize is how quickly this river mouth, exposed to the fetch of Lake Michigan, can silt in.
I relied on some current and some older cartography.  As you can see Aqua Map and NOAA RNC had current soundings.  I also had the Navionics Boating app with current soundings, about 12-month-old Navionics data on my MFD, and BlueChart Mobile with year and a half old data. Nearly all sources showed different depths.
There were no ActiveCaptain reviews with any guidance about depth or approach (I left one)
I subsequently found out from the city marina manager that they were aware of the hump that I hit and that it was there because the sand in it is considered contaminated.  Contaminated sand can't be disposed of as easily and their dredging funds didn't cover the disposal of these spoils so they left them.  While on the phone with me he mentioned that they could maybe put a float on it.  I concurred that would be wise, though too late for me.
Not long after our incident, I shared my experience with Ben Ellison.  He tactfully sent me a clipping of the NOAA RNC chart that shows a really clearly defined 4-foot area on the chart.  It was time to admit that I'd seen some stuff in Aqua Map that had similar small numbers but that while quickly scanning the charts I didn't figure out what they meant.  Ben E. made the excellent point that the benefit of raster charts is that a cartographer has made decisions about what should be displayed on the chart in each location.  This avoids confusing areas that are sometimes the result of software rendering vector chart data.  This is a great example of such an area.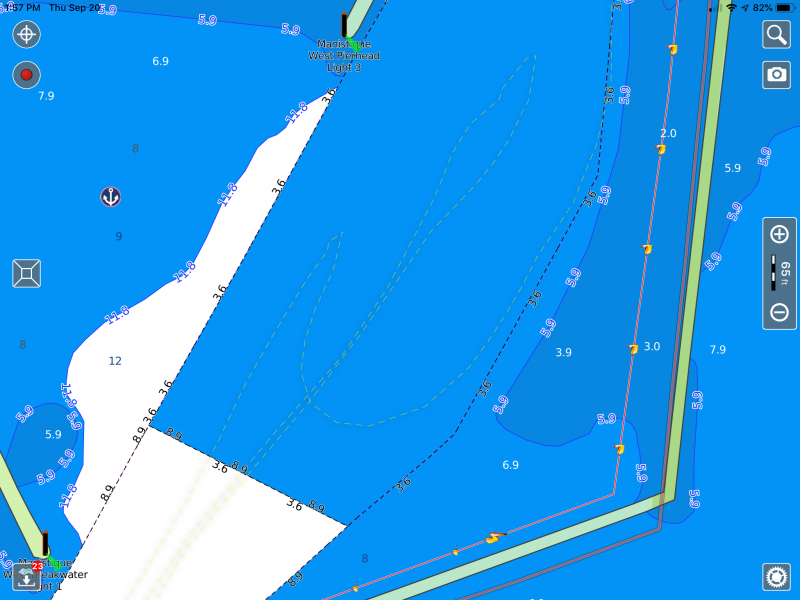 Even now looking at the way depth is displayed in Aqua Map I don't find it clear.  On the right side of the image there's a black dotted line that shows 3.6, then the 5.9-foot border to the right of that, but then a 3.9′ spot sounding in the midst of that.  So, what's the depth between the 3.6 and 5.9?  Regardless of this, I failed to understand how information was displayed, but because I'd been there before and thought I knew the depth I, without even thinking about it, just discarded this discordant information.
The complacency from having been through these waters extended to not calling the marina to ask about any information needed for the approach.  In this case, I don't think that phone call would have been productive, but I'm amazed at what I've learned at times by just asking.
I'm not 100% certain of what I should have done differently, and that's concerning to me.  Looking at charts showing 4′ of water and a lake level 3+' over datum I might have surmised I would be okay.  Nothing about any of the charts give much of a hint as to the location of the deeper water on the east side of the channel.  The employee of the marina didn't know this information and the information from his boss turned out to have been backwards.
I'm contemplating the installation of forward looking sonar.  I know I won't get enough range to be able to cruise with it and attempt to avoid problems, but perhaps for approaching known shallows it will give me another tool in the arsenal.
The good news is that the only thing that seems to have been damaged is my ego.  I pride myself on running the boat safely and in a considered manner.  I failed to make use of all the tools available to me and it bit me.