ACR Nauticast B, a new Class B playa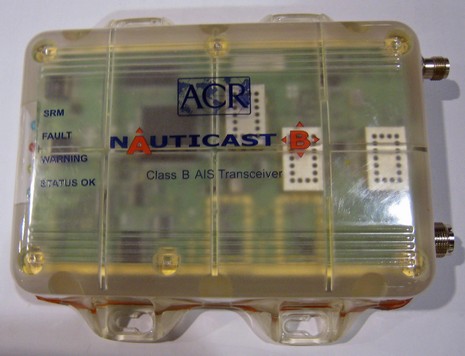 Over the years, I've gotten the impression that the FCC can be a capricious, even frightening, regulatory agency. For instance this is the only prototype Class B AIS that was actually shown to the public in Miami (I think), and ACR asked that I include the disclaimer below in this entry. At any rate, the Nauticast B looks pretty attractive (bigger image here). It's quite compact at less than 8 x 6.5 x 2 inches—the translucent case apparently helping with its "water resistance" while letting the four LED status lights shine through—and it will retail for $1,000 (once it's approved). It comes with a remote SRM (safety related message) send button which, like the SevenStar, can be reprogrammed by the user to instead turn quiet mode (receive but don't transmit) on and off. But probably the most important thing about this box is the name on it. ACR's reputation for quality, reliability, and support will be a real boon to AIS Class B adoption (as the new receivers from Furuno and Raymarine will be for AIS awareness overall). So, please, FCC, let's get on with it!
This device has not been authorized as required by the rules of the Federal Communications Commission. This device is not, and may not be, offered for sale or lease, or sold or leased, until authorization is obtained.