Across Ocean Systems NMEA 2000 pressure sensor, smart & useful
What you're seeing above is an innovative and affordable new NMEA 2000 pressure sensor from a relatively unknown company, plus the work of a dumbass installer. Yes, I tried to remove the analog vacuum gauge on Gizmo's Racor fuel filter system before installing the Across Ocean Systems (AOS) sensor, broke the gauge glass in the process, and only then realized it had a compatible seeming port on top.

In fact, I was even dumber than that — details below — and the AOS pressure/vacuum sensor is still not successfully installed. However, I've done enough testing to be confident that it will eventually deliver an early warning to my helm stations if a clogging fuel filter threatens Gizmo's normally smooth-running Volvo Penta diesel. I was also impressed with the sensor's build quality along with its clever configuration solution.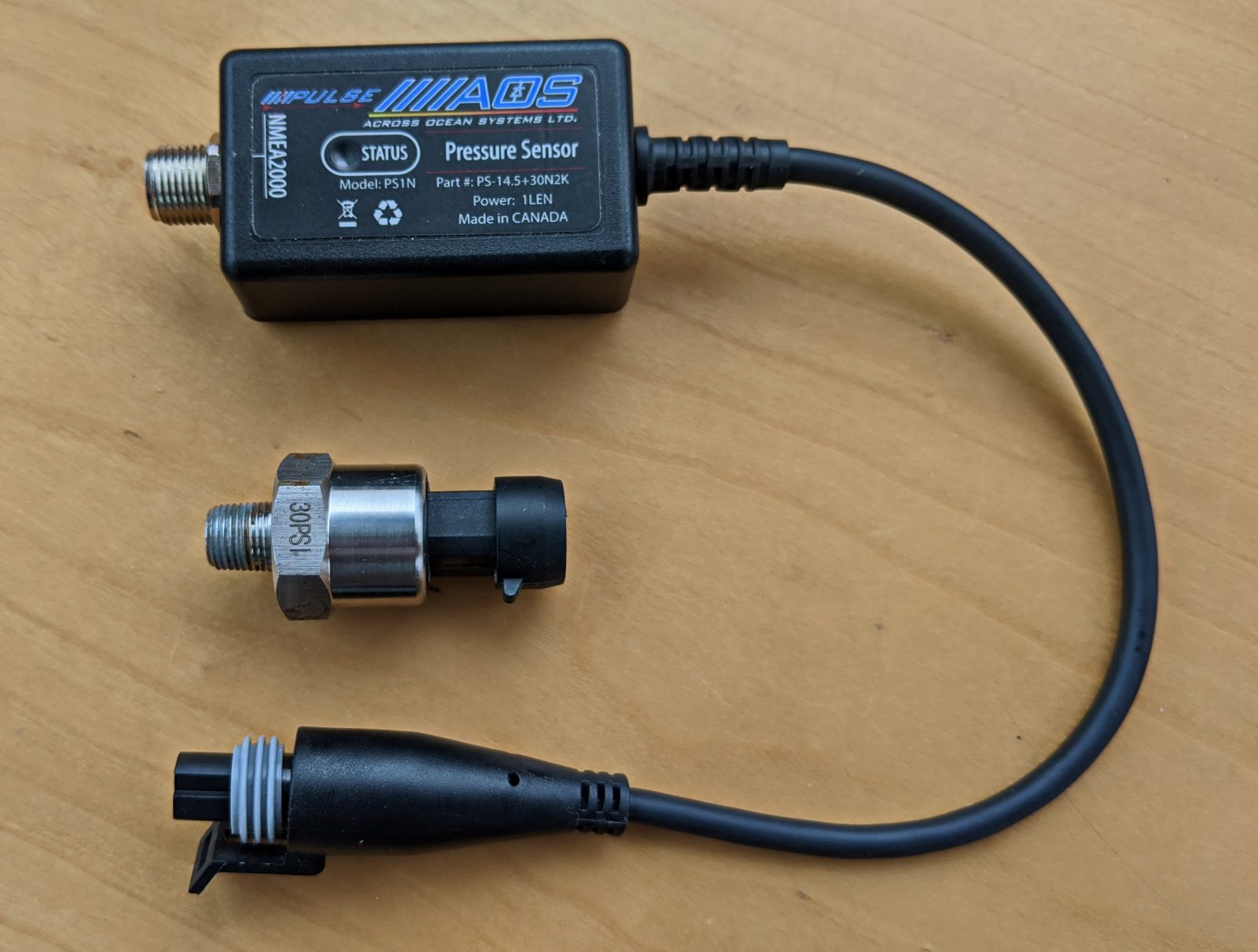 I already knew Across Ocean Systems because they developed the Kobelt Vitals "sensing, monitoring, and gateway powerhouse" I raved about last fall, which is now also called Pulse. AOS has continued to expand Vitals/Pulse features and some of the products on their site are mainly Vitals/Pulse accessories. But the new line of NMEA 2000 pressure sensors are designed to work on most any boat, and so the AOS Pulse -14.5 to 30 PSI sensor model for RACOR filters seen above can be purchased directly for $189.
In my testing, I learned that threading the physical pressure sensor into the fuel filter system was easier because it unplugs from the electronics module (which, technically, is an analog to NMEA 2000 gateway). And then when I put it back together, along with a drop cable to Gizmo's N2K network, it was nice to see the status LED blinking green every three seconds indicating that all was well. I was ready to try the sensor's very unusual WiFi configuration feature.
That little module has a WiFi radio!?! Yes, but it only runs when you want to update or configure the sensor, so it's not adding unnecessary power load or sustained interference with other WiFi activity on your boat. And here's the simple switch: You plug the Pulse sensor into a live N2K network, count 12 green LED pulses, unplug it briefly, and once it powers up again, you'll see a Pulse WiFi access point become available to whatever Web browsing device you want to use for the configuration.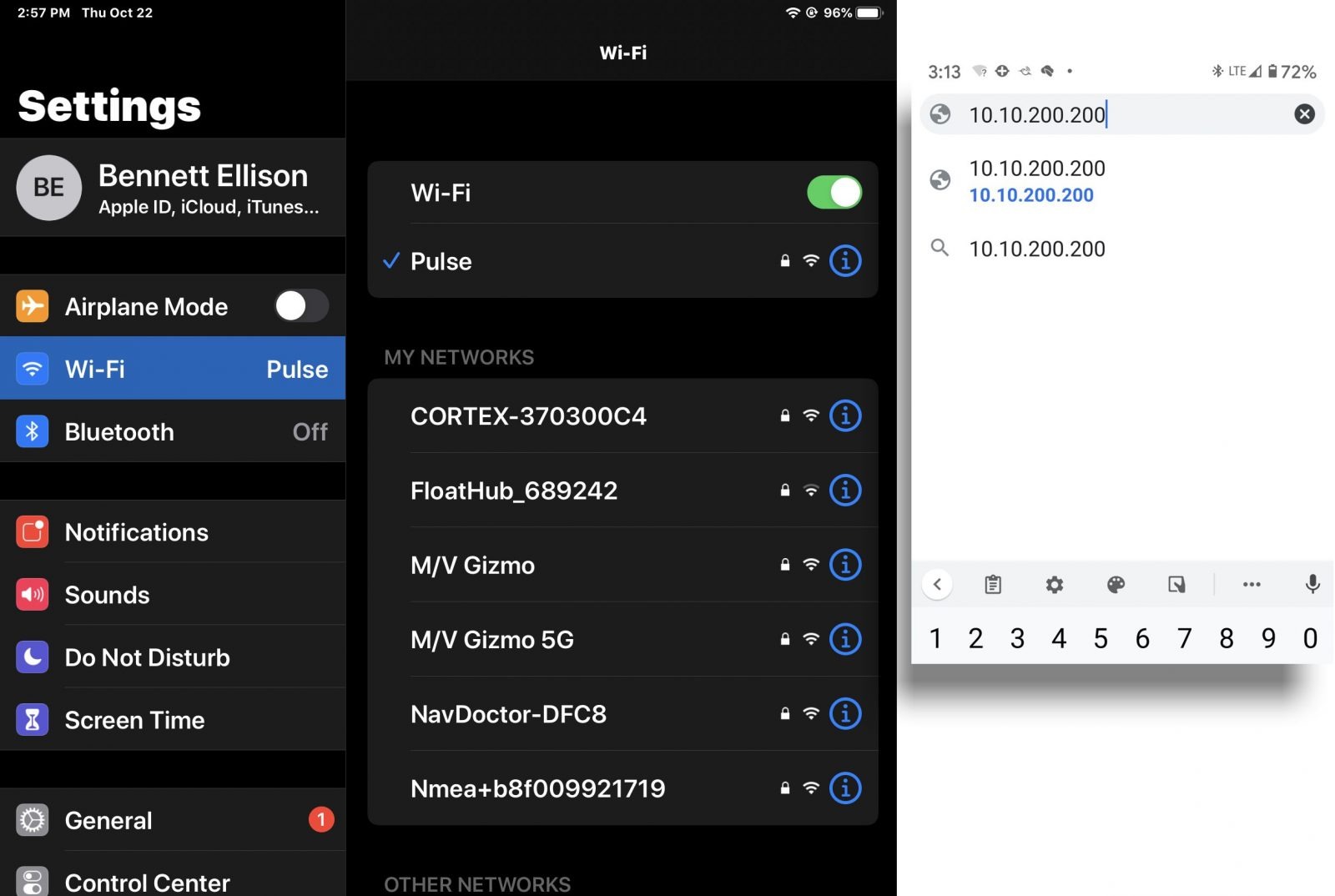 So in the left screen, my iPad is logged onto the Pulse sensor WiFi, and I also tested the process with a Windows 10 laptop and my Android phone. In fact, that's my phone at right taking the next step, which is to type the IP address of the sensor's tiny Web server into the phone's Chrome browser. It sounds geeky, but the AOS instructions are clear, and this technique has advantages over even the nice Bluetooth configuration apps we've happily seen supported by otherwise screenless marine devices (like the Victron Connect series I like or the advanced BG-One bilge pump switch Ben S reviewed).
WiFi has greater range than Bluetooth and these days even a tiny web server and HTML5 can provide a smooth app-like experience without you having to mess with an actual app.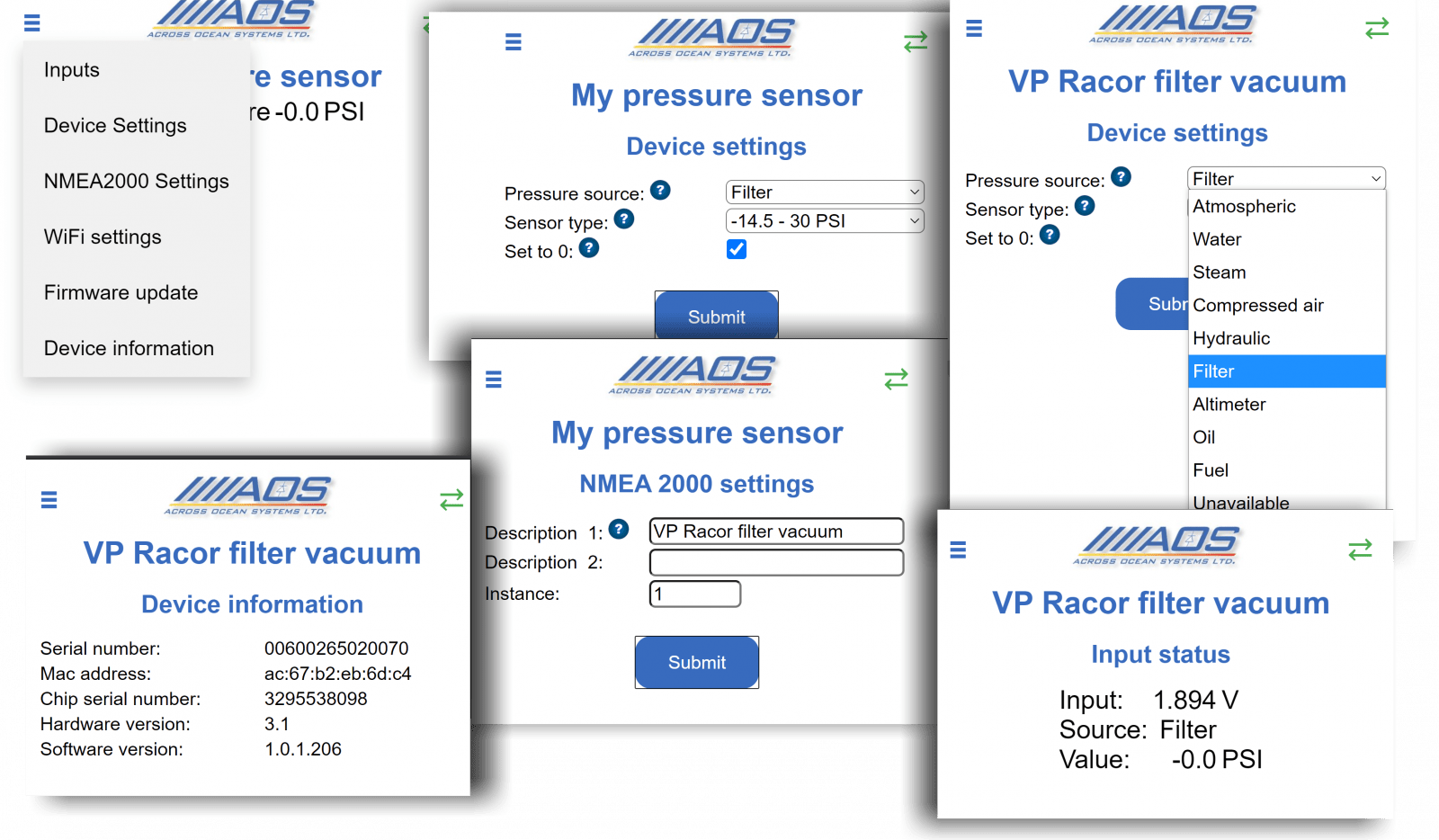 At top left is the AOS pressure sensor's Home screen and main menu I saw after pointing whichever browser I was using to the "10.10.200.200" address. And the array of available info and config screens show how well this method can solve the problem of managing an N2K sensor that isn't networked to a display of the same brand.
For instance, I could set the pressure sensor to one of the various Source types supported by NMEA 2000, and change its Instance if, say, I put two Filter or Oil pressure sensors on the network. I could also customize the two Installation Description fields that are output by every N2K device with #1 also used by AOS as the sensor title (which might be especially handy if you grab a screenshot for the boat's gear log).
It's certainly not necessary to examine a sensor's output with N2K utility software like Maretron N2KAnalyzer or Actisense NMEA Reader, but it is a good way to see how the AOS behaves on the network, and maybe to troubleshoot it at a later date. Note that besides all the network overhead messaging, the actual data output is one PGN (130314) with three significant fields — the pressure Source (type), Instance, and real-time value (nearly zero).
It's a lot of electronic work for that one value, but then again filter vacuum can be very important information that's subject to major variables like "Was that last fuel fill dirty?" or "Is this heavy pounding stirring up tank sentiments?" And it can be darn hard to keep track of otherwise; even Racor's improved vacuum gauge with tell tale only delivers old data unless your filter system is easily visible underway.
This is a good point to note that Maretron also offers NMEA 2000 pressure sensing with the FPM100 fluid pressure monitor module and its array of supported analog sensors. This is obviously a more expensive solution, even if you can use all of the six sensors supported (and you'll also need their USB100 Gateway). But then you could use N2KAnalyzer to configure all the sensors on the pressure module (and many other Maretron devices) in one place — no individual WIFi or Bluetooth connection needed — and the Maretron environment includes benefits like typing in meaningful Labels that reside in the module and thus can be easily used to properly label a data field on any Maretron screen or in their N2KView monitoring software.
Another Maretron benefit is that you can create intelligent alarms for most any value you can display, but that nicely includes the AOS Pulse "Filter Pres" number seen on the Maretron DSM410 above left. So I will eventually program an alert with the DSM410 (or N2KAnalyzer) that will look something like "Alert if in Underway (engine on) Mode and fuel Filter Pressure (Instance 1) is less than -10 PSI for 2 minutes" with possible adjustments as I see what actual filter vacuum looks like in various circumstances.
And if I recall correctly, a similar alert can be set up on an AOS/Kobelt Pulse/Vitals monitoring system starting with "If RPM greater than 500 and…" My point is that once a bit of data like filter pressure gets out to able NMEA 2000 monitoring, you shouldn't have to stare at it because you can be notified when there's a problem. Most current MFDs and N2K instruments can only do this sort of alerting on a limited set of values, but note how my little (and very inexpensive) Simrad GO5 now at least supports custom data labels (as Ben Stein recently detailed). So more Maretron-ization (and now Pulse-ization) is still needed, but progress is being made!
However, my test AOS Pulse pressure sensor is not reading near zero on those screens because Gizmo's active fuel filter is super clean. Nope, it's because this dumbass didn't understand the Racor vacuum plumbing mechanics, and must remove the old analog gauge to make this upgrade work. And because it won't budge — possibly due to 20 years of dissimilar metal-on-metal contact — waiting until after next week's winter haulout seems prudent.
But then AOS founder Jordan Shishmanov told me that I could see the sensor in action by simply sucking on it, and my best effort is shown in that -7.1 PSI inset. I certainly never pictured this gear test measuring my maximum sucking ability — apparently not quite up to Jordan's — but it did give me a new appreciation of what my boat's diesel engine feels on its way to choking out.
I also appreciate this Across Ocean Systems sensor hardware/software design and am glad to hear that more are apparently in the works. And I don't think I'm a sucker to make that conclusion.