Victron Connect, why Bluetooth configuration can make so much sense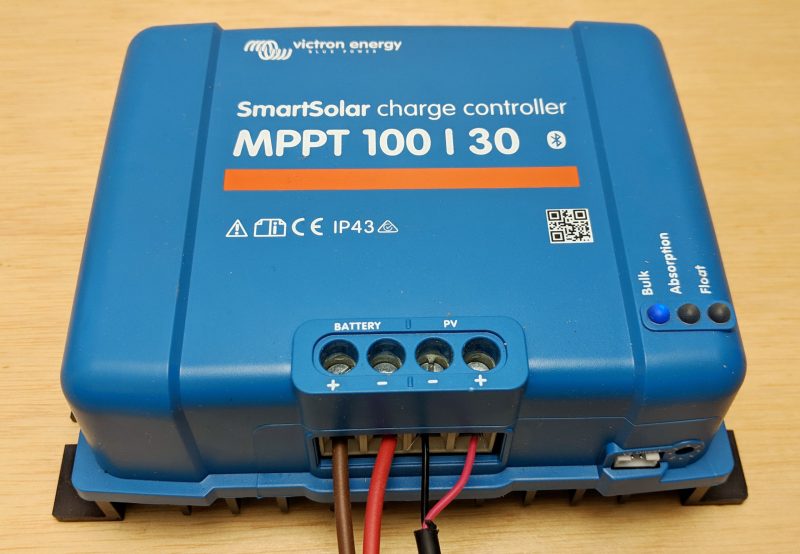 There are many reasons to like Victron solar panel charge controllers, but today I'll laud the Bluetooth feature that comes with the relatively new SmartSolar models and could make sense in many electronic boat modules and sensors, I think.
First, let's note that the SmartSolar 100/30 above costs about $226 online while the BlueSolar 100/30 goes for about $196, and the only significant difference is the Bluetooth. So Victron is apparently able to add the wireless radio and the Victron Connect app integration for small money (and is rapidly adding "Smart" to many of its formerly plain Blue components).  Now let's look at how well it works and what it can do for you, which may be different than you presume.
Frankly I remain a bit leery about Bluetooth, but it certainly has improved over the years and can be a delight when it just works. Like when I just connected the SmartSolar 100/30 to an old car battery in my shop, opened the Victron Connect app, saw the charger listed, and connected in seconds. I never had to mess with the Bluetooth settings in my (Google Pixel 2) Android phone, and the same was true with iOS on my iPad.
Moreover, I haven't had any connection issues with either phone or tablet since. But then again, this is not like streaming audio or a masthead anemometer constantly running for long periods of time (and possibly for long, cluttered distances around your boat). Victron Connect seems to disconnect as soon as you're done actively using it, and that's fine with me because it's primary use is configuration.
Checking out and configuring a new gadget in my warm shop before installing it on the cold boat was great — especially since only 12v and a phone was needed — and the Smart feature is potentially useful for all sorts of installers and troubleshooters. In fact, I used it to test two small solar panels I had kicking around, and that explains the Victron Connect Status and History screens above.
The nearly antique 7 Watt Flexcell panel putting out a measly 0.1A at 17V above hardly dented the SmartSolar's ability to convert up to 100 volts of photovoltaic (PV) power into as much as 30 amps of 12v charging, and hence it has yet to register even a rounded-up kilowatt hour over three (semi-gray late winter) days. But this was the first time I'd ever really seen what it can do, and now I know that its little (easily replaced) controller is why Gadget's automatic bilge pump system was failing last fall.
When the SmartSolar 100/30 replaces the still-working-fine BlueSky 2512i MPPT charge controller on Gizmo, it will be neat to finally see this sort of detail about the panel performance, especially the kWh counts.  But this is where boaters can get confused, I fear. Does it really make sense to regularly monitor key boat systems by flipping through apps on your phone… even as useful, inexpensive and pretty as the screens may be?
But you don't have to use Victron Connect that way. Perhaps the main reason I'm switching to the Victron solar controller is so I can cable its VE Direct port into the Venus hub, VRM remote monitoring, and "coming soon" MFD and N2K integration I recently discussed. I'll hopefully have highly sophisticated power system monitoring on all sorts of interfaces, including my phone, and Victron clearly has an ambitious road map for their Venus networks.
Gizmo's growing Venus-based system can handle many configuration tasks, even remotely, but Victron Connect will likely remain the easiest and most thorough SmartSolar configuration tool for quite some time. Actually I'm already experiencing this with the BMV-712 Smart that's integrated with the Venus, and it makes sense. With Victron Connect and built-in Bluetooth, even standalone installs can include easy, yet deep configuration and also painless firmware updates (as I've seen with both BMV and SmartSolar), and thus VC can be the primary config tool across all the boat types and other markets Victron serves.
The left screen above shows how I've customized the charge settings for what Gizmo's Firefly bank likes best, which was not possible with the Blue Sky (though its default settings were thankfully close). I won't belabor all the possible settings and frankly don't understand them all, but I have learned how the online manuals, Victron blog, and Victron Community can all yield information. And it is impressive when you realize that it's often the Managing Director Matthijs Vader who is fielding user questions, and doing it well.
But I will point out the "Streetlight" section of the SmartSolar Settings menu (above right) as a sign of broad reach for both Victron and solar these days, and will note VE. Smart Networking as an alternate and possibly confusing use of the Bluetooth feature. Gizmo doesn't need it because the SmartSolar mounted near the battery bank will temperature compensate charging with an internal sensor (or the Venus temp sensors could be involved), but the BMV could be delivering bank temperature over Bluetooth.
Confused yet? Sorry, but that's the nature of the new beast. We're already seeing whole boat electronics integration using all sorts of data protocols to get the job done, so why not individual sensors, chargers, etc.? NMEA 2000 has proven itself excellent for real-time critical boat data networking, with Ethernet for the big loads, but configuration is pretty much limited to same brand products (or a family of brands like the way Mastervolt power components can work with C-Zone and other Power Products members).
Meanwhile companies like Maretron, Actisense, and Yacht Devices have built good N2K configuration tools for components without displays, but they usually require a special bridge module and/or a PC. Built-in Bluetooth with an app looks to me like a great solution. I know that Victron is making the case well, and I'm glad to see it in interesting new products like the Blue Guard BG-1 bilge pump switch. Do you agree with "more please"?
PS 3/11: Here is the PDF of Gary Warner's excellent battery charging notes as discussed below in comments (yes, the discussion has gone off topic but it's valuable).