Battery Bugs, new monitoring tech?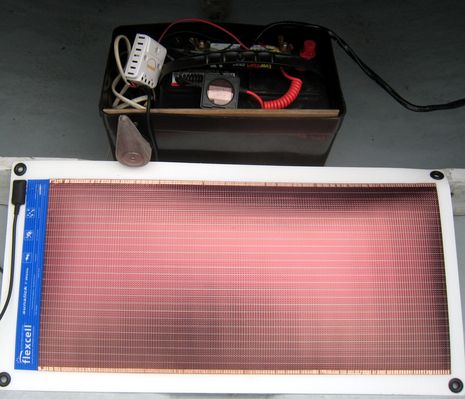 Lest you think I'm just about big diesels, check out the good Annie G.'s auxiliary propulsion power system. Years ago I bought the cheapest Minnkoda electric trolling motor I could find (visible on Annie here) and moved the control switch to that battery box where the 'custom' wooden shift/throttle gives me five speeds in forward and three in reverse. None exactly makes the 18′ iron-keeled sloop jump, but the rig is handy for getting into the Camden Inner Harbor slip I often use. But I always had a problem knowing if I had enough charge to use the motor as needed. That was neatly solved last summer with the addition of that solar panel and most especially the Argus Analyzer Battery Bug…

Argus makes DCM model Battery Bugs for applications like Annie G, and STM models for batteries used mainly to start engines, and they claim to use innovative testing technologies in both cases. The test for deep cycle use is called Large Pulse Resistance, which an Argus representative told me is similar to load testing the battery every minute (and keeping a history of same), while "Crank-Check captures the voltage profile of the battery during the starting sequence." I don't know enough about such matters to opine on how these truly compare to other battery monitors out there, but my knowledge of, and confidence in, little Gizmo's starting battery and Annie G's solar system was vastly improved by them last season. And both Battery Bugs held up well to my abuse. But they don't make much sense on a bigger boat like the new Gizmo — which has, God help me, four battery banks all tucked into the inhospital engine space — because they'd be hard to look at, and I'd never hear the alarms. But I do wonder if the testing technology might become a networkable sensor, and said as much to Argus. Over in the forums, our guy Russ is not happy with his bigger boat battery monitoring, and I'm wondering if any of you are?