Actisense QPD & A2K, more good choices in NMEA 2000 cabling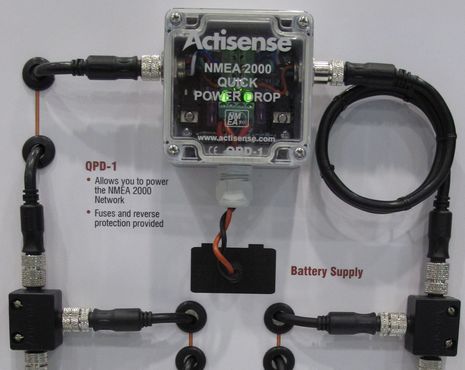 I believe that the new Actisense QPD-1 seen above is the best NMEA 2000 power drop yet, as long as you can live with its bulk. It's not just a split power drop — advantages described here — but it has its own blade fuses and LED diagnositc indicators, and it includes diodes that protect the backbone and the power sources from reverse polarity and back feed. It also comes in two models: The QPD-1-PMW above has nickle-plated brass Micro connectors meant to work with pre-made backbone sections while the QPD-1-GLA has glands to facilitate use with bulk N2K cabling. But while it's great that Actisense's growing line of cables and connectors are designed to support both install styles, you may still want to mix in parts from other manufacturers…
Actisense, for instance, does not yet offer anything quite like the two N2K connectors below. At top is a Maretron Multiport (made by Escha, I think) and below it is a Molex Brad DeviceNet quadruple Tee. Each enables four drops off an N2K Micro-size backbone (aka DeviceNet), but the multiport is slightly different in that it connects to the trunk via another Tee while the Molex has the trunk running right through it. Some say that a multiport is better in terms of protecting the clean impedance (explained here) that's critical to keeping a large N2K network happy, but there are plenty of 2000 installs where the multi-tee would work very nicely…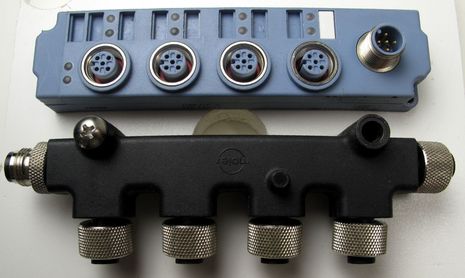 But then again, Actisense has long offered the very versatile QNB-1, and they've made it even more so by offering male and female Panel Mount Wired (PWM) connectors that easily interchange with the glands. It's worth noting that the particular QNB-1 seen below is the one I first tested in 2008 in the little power cat now named Li'l Gizmo, and that it's endured a lot of salty air inside the center console since, and that I didn't clean it a bit before installing that A2K-PWM-M, which took about five minutes. A QNB-1 is bulky but you get a fused split power feed, two backbone connections, and six device drops…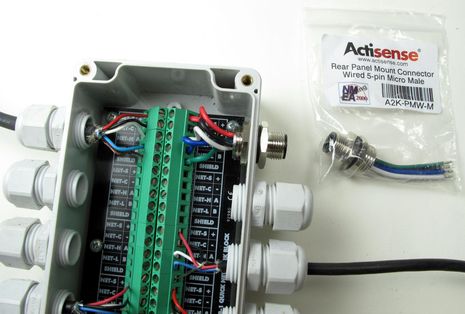 I also like Actisense's new A2K Tee connectors (more on the whole A2K line here). There are reasons behind that blocky design. For one thing they each have two fastener holes and for another they're high enough that it's easy to screw or unscrew a cable while the tee remains fastened. I also noticed that they are deeply embossed with the Actisense name, which suggests that they are the first metal N2K connectors specifically made for a marine electronics company…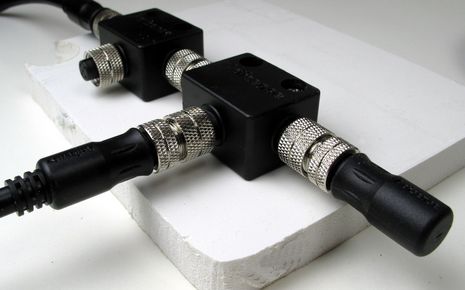 But then again, I spotted several unusual items in the latest Maretron catalog (download here) that each could improve particular N2K installs. At left (below) is connector cable with a nylon female end for connecting safely — i.e. without cross threading — to the many devices that don't have metal NMEA 2000 ports. (Remember that most — but, drats, not all — N2K cable/connector systems are designed to go male-to-female from all devices and backbone terminating resistors to the power feed, so that hot male power pins are never exposed.)
At center is a compact right-angle connector that could be a miracle in some tight situations, and at right is a long cord set — for backbone use only, as drops are limited to 6 meters — with a female connector molded on one end and bare wires on the other. It's also Mid size, which is a unique Maretron product that has larger gauge power wires to minimize voltage drop but still uses Micro connectors rather than the expensive and hard-to-run Mini size…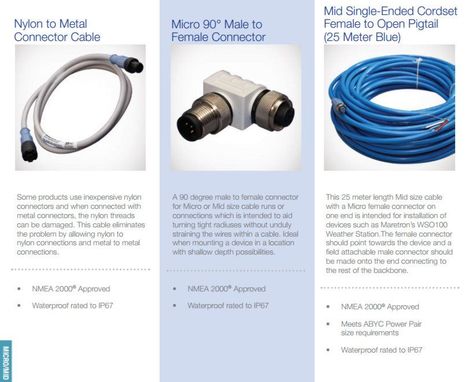 Now I'd like to see to more choices in female-end only cables, as they seem perfect for an easy and waterproof connection to an N2K device while also enabling tough cable runs to a break-out box like the QNB. In fact, I think it would be genius if some manufacturer offered cables with female connectors on both ends; they could be efficiently chopped in two for the purpose just mentioned, or used to switch genders (which does come up). I'm not keen on field-attachable connectors unless there's a good reason for them (though I was pleased to note that Maretron now has 90 degree models).
But my point in all this rambling is that there are more and more ways to rig a NMEA 2000 network, and that's a good thing. And while I've come to appreciate the desire of owners and boatyards to minimize the number of vendors involved in an install, I think N2K cabling is an exception as service and warranty issues are minimal. I suppose there are aesthetic considerations but if I ever do a long term N2K install on the big Gizmo — planned last Spring, and the Spring before! — it may well have dark blue Maretron Mid-size trunk cabling and a mix of micro drops and connectors. I think that could look and work fine, and the blue Mid would visually indicate the backbone to whoever cares.
What about the costs? While I have not researched that subject definitively, I remain convinced that the higher-quality metal-using connectors and cables are not much more expensive than the alternative. However, a limited-edition, long-billed, sun-resistant Panbo hat awaits the reader willing to compile an accurate comparative chart of N2K tee and cable street prices. Just let me know if you're interested so we can avoid duplicate efforts.