Adventures in NMEA 2000 Wiring – Part I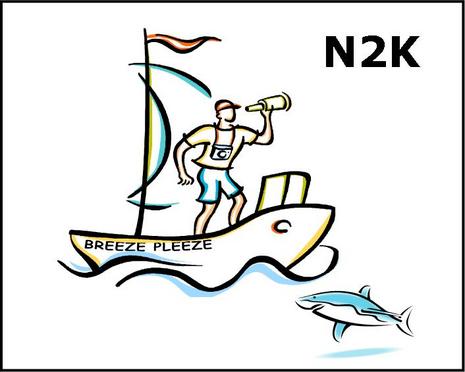 Guest entry by Dan Corcoran —
Breeze Pleeze has received nearly half of her new NMEA 2000 backbone, actually two of them, and I thought I would describe the thinking behind my network design.
Two backbones, yes that's right. The thought was to power a smaller network when my sailboat is on a mooring or at anchor. Most cockpit displays, most sensors (like the Airmar PB200), future autopilot, and so forth would be on a blue (blue water) network. While on the grey network would be things I would want active still at anchor such as a GPS (plot boat movement at anchor), fresh water tank sensors, battery monitor, and a chartplotter to display this information and weather (I currently have a pair of Raymarine e-series chartplotters and a Raymarine Sirus Weather Receiver). This will be an improvement over my current arrangement where I did not plan a power saving mode … and hence nearly all my marine electronics are powered up to keep an eye on how well my anchor is holding and the current weather picture at my finger tips.
For my blue and grey networks, I am using NMEA 2000 wiring components from Maretron including double end cord sets available in blue and grey, and chose the "Mid" size backbone for its larger diameter power wires that result in significantly reduced voltage drops vs. the more popular micro size. Ben wrote about this here. This is especially important to me as my golf cart style 6v batteries tolerate being discharged down to 20% every once in a while, effectively giving me a better power to weight ratio than standard lead/acid, but the voltage levels can get really low, such that I wouldn't want them to drop yet another volt traversing my N2K backbone.
I actually considered the largest sized cabling offered by Maretron, but it appeared hopeless to get through my conduit. I suspect the same voltage drop concern I have for low tech golf cart batteries will be true for some high tech battery technologies that are coming down the road capable of being discharged to very low levels without reducing charging cycles. Another bonus of having two backbones is that I can carry more current, as I have effectively quadruppled the amount of power on my overall backbone by combining two backbones with the split tap solution Ben wrote about here on Panbo. While I can't imagine having 9-16 AMPS of current draw that this arrangement supports (4 amps east and west of each of two power taps), I have effectively eliminated any amperage or voltage drop limitations on my N2K network and its ability to grow.
As good as this sounds, it was a difficult choice. The Raymarine SeaTalkNG wiring component family was very attractive (my pristine installation of cockpit displays are all Raymarine) and I believe they are innovative in several ways and a good choice for many situations. Their tiny connectors make the cable easier to snake thru cable runs, the ability to daisy chain simplifies wiring, lighter weight cable and shorter cable runs (daisy chaining) combine to lower weight, and, as Ben noted here, the color coding makes them virtually self documenting in terms of backbone vs drops. For the drops to my Raymarine components I used a combination of pre-made E-series cables from Maretron and SeaTalkNG cables (easy to snake thru my boat) with the end replaced with a Maretron field installable connector to mate with the backbone.
Getting back to the blue and grey backbones. The diagram below shows how the two networks are interconnected by a pair of E-80 chartplotters, themselves interconnected by ethernet cabling. I have not actually tested bridging two N2K networks this way, but the idea came from how my E-80's are connected now. I have one each at the helm and nav station, and they effectively bridge my two seatalk networks, three NMEA 0183 network segments, radar, weather, and new N2K network (Airmar H2183 solid state compass, N2K-USB gateway), such that all the data is available throughout the boat. Should this not work as planned, my backup plan is to have a cordset ready at the bow to bridge the two N2K networks … actually I wonder if I should just take that route anyhow.
The starboard side of the network is completed and running. Although the plan was to divide up the network to support a power save mode, it has already been helpful, as I came across an issue where I want to isolate two N2K devices until a future software update. I also see this coming in handy in the future having two networks provides a quick way to debug a possibly failed device by isolating it into a simpler network, as well as having two backbones provide some redundancy and a quick place to rewire devices should a backbone cable get damaged despite my best efforts to prevent chafing.
Some big caveats … running two Mid size backbones has proven an expensive approach to wiring N2K. The expense involves not only more parts, but unlike the slender Raymarine cabling and connector heads I could have snaked through most of this boat myself, it's proven quite difficult getting Maretron mid-size cord sets through the conduits in my boat, getting not just one but two has required help from my yard, Willis Marine, who know all the tricks to getting cable through tight spots in my Beneteau. I still don't know how they got it through my overstuffed starboard conduit — good work David! However, this expert help adds cost, and you're probably less likely to have plug and play if you choose to cut ends on the cable to make snaking cable easier.
Reattaching the ends is covered in Part II, in which I will start with the ingenious Maretron Field Installable Connectors for which I have a love/hate relationship.