Airmar Weather Station, really here and really works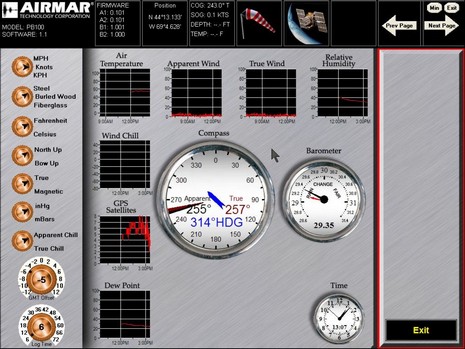 I've been posting on Panbo for almost exactly a year now, and one of my first entries was about the sailing version of Airmar's WeatherStation. While I'm sorry to report that that product still does not exist, the powerboat version does and I've been testing one. Above, and bigger here, is a screenshot of the PC software that comes with the ultrasonic (no moving parts!) sensor. This particular screen shows the controls available (left) and also what data can be graphed over time. Clicking on any of those graphs switches it to the gauge-style real-time reading. The software is very easy to use but needs some work; for instance, the wind speeds are graphed to a 0–100 knot scale, which means that low speeds hardly show any differentiation. And wind direction history is not kept, which is something that must be fixed for the coming sailboat version (which won't have a GPS, but will have an inclinometer supposedly able to correct the wind sensor for heel).
But I quibble. There are a lot of neat ways to use the WeatherStation, well illustrated in its latest PDF brochure. I have most of the setup below working (I just haven't installed the "Smart" depth/speed/temp sensor yet), and it's a powerful little network. A PC charting program like CE easily collects wind/GPS/heading/air temp coming out of the optional combiner via USB at 57,600 baud, plus the Furuno RD30 (a very handy device) provides alternate data display, and there's room to run more NMEA 0183 devices into or out of the combiner. Nice detail: according to the WeatherStation manual (another PDF) the combiner favors alternate GPS or heading inputs over what's built into the unit. I think that means that the built-in sensors can serve as automatic back ups. Nice!