AIS, this 'n' that #7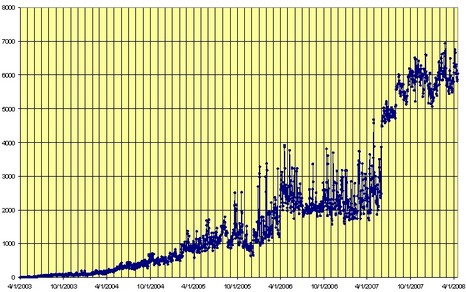 I haven't done one of these AIS miscellaneous entries since last June, but even then was wondering why the FCC hadn't yet approved Class B! Now it seems like the U.S. marine safety community has gone into a state of depression about it. I'm no longer getting e-mails guessing when the FCC commissioners might finally act, and don't know of any recent efforts to make that happen. Color me guilty too, though I did turn an April PMY Q&A into a mini editorial on the subject (it's below the electronics maintenance story some of you helped me with). But I've been encouraged to try another avenue, which I'll describe below, after a few this'n'thats
* First, for motivation, contemplate the chart above, which graphs the daily number of AIS targets seen in U.S. coastal waters from 4/2003 to 4/2008. The increase represents the adoption of Class A and also improvements in the nationwide monitoring system. 6,000 AIS-equipped ships a day is a real safety success, but imagine what that graph would look like if the FCC had approved Class B, and then the USCG had mandated its use on some 17,000 ferries, fishing boats, tugs, etc. And add all the boaters anxious to voluntarily install Class B. The more participants, the more effective the System!
* And lets note that while there are some glitches in AIS data, particularly the user entered stuff, the technology is pretty darn solid. In fact, it was pointed out to me that the SAAB and Sperry Class A units recently found to have GPS issues were early models that never got USCG/FCC type approval. (And, by the way, if you come across any anomalies in your GPS or the overall system, the USCG would like a report.)
* While I've always been reluctant to bring up politics on Panbo, I recently caught part of a radio interview in which some tech writer, now an Obama advisor, described how terribly messed up the FCC is and how Obama would fix it. The half-heard ideas sounded excellent, but I haven't yet been able to find them on the Web (beyond this). Can anyone fill us in on how the various candidates intend to handle FCC issues?
* Finally, I got seriously pitched by a smart guy with years of government experience and a strong interest in AIS. He claims that grass roots efforts and media attention really can make difference, and he added this: "You've done a great job of informing your readership about Class B. I'm sure many sent the form letters to the FCC, but I've yet to see a single letter to the Editor of the Washington Post or New York Times (papers of record) complaining. I'll bet that when or should that happen, you'll see some faster movement of decisions."
Well, I'm certainly willing to try that, but it will be a first for me, and I'm wondering if anyone has ideas on how to get a letter read by the right person, what approach to take, etc.? It strikes me that while a letter on the editorial page might be useful, it would be even better if a writer at one of those papers took an interest in this story.