"A"…must be for awesome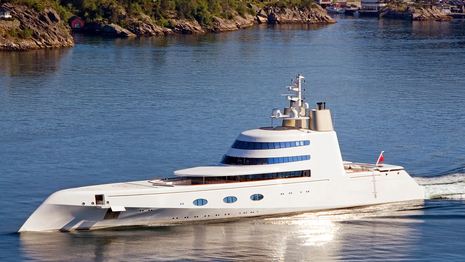 It's hard to beat this chap's description of what it must be like to arrive somewhere aboard the 390-foot motor yacht A:
You could hear the sound of penises shrinking from as far away as San Remo when "A" dropped anchor in the bay of Cannes recently. You could hear the sound of Billionaire's accountants calculating the cost of building a more spectacular boat about thirty seconds later.




Though "A" was launched (under a pseudonym) by Blohm & Voss way back in 2008, I still can't find photos of her electronics besides the tease below. The owners, Andrey and Alexandra Melnichenko, are apparently concerned about privacy and security. So while it's probably obvious where the "A" came from, let's also note that it's hard to Google a boat with a one-letter name!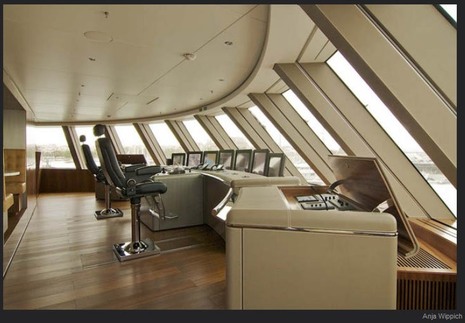 At any rate I did find a Motor Yacht A Specifications PDF that lists at least some of the goodies, like the Imtech Marine UniMACS 3000 Integrated Bridge System with "Alarm Monitoring & Control System, RADAR 3500 X- and S- Band, ECDIS 3500, CONNING 3500, NAVPILOT autopilot, DPT 3500 Dynamic Positioning, CCTV 3500, GMDSS, External communication, and tender tracking system." Yow!
"A" also has a Furuno FCV-1200L sonar and DS-50 doppler log, plus SAM Electronics MCS2200 monitoring and a Bosch CCTV security system with over forty cameras. And probably some other security gear that hasn't been published?…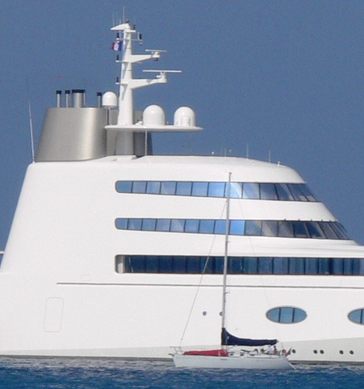 So how about that antenna farm? Besides a slew of Sailor radios, there are two Inmarsat Mini C's, a Fleet 77 TT-3008C, and two Seatel VSAT domes. Also on board are four "Fixed Sagem Telsat GPRS Base Units" somehow helping with cellular coms, but I can't find further info about them. Anyone?…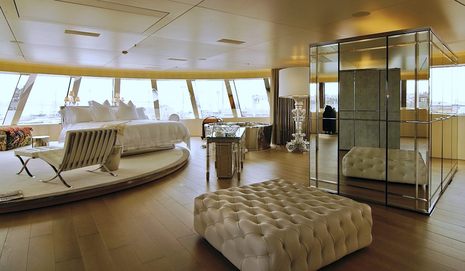 The real fun is the sexy stuff, much of which I learned about from a wonderfully dishy WSJ article. For instance, now I know that the huge top-deck master suite is protected by bomb proof glass and fingerprint locks. And that both the bed platform and the bed itself rotate via remote control, and of course there's a giant plasma TV that can appear out of the overhead on command…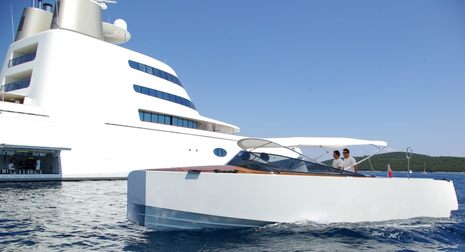 "A" also has two distinctive 36-foot tenders and a ferocious 50 mph RIB, all built by Vaudrey Miller (which may be out of business, like serveral other companies involved in this very complicated project). But my favorite article about this yacht is centered on Philippe Starck, the man who designed absolutely everything, including the outfits some forty "A" crew members wear. He also supplied a quote almost as startling as the opening one:
I am an environmentalist and a left winger: yachts are among the most daftest capitalist toys imaginable… I decided I might as well at least help the wealthy create something different: yachts that are not just a mountain of gold. So I designed something timeless and elegant…