Battle of the 14″ TV dishes, ongoing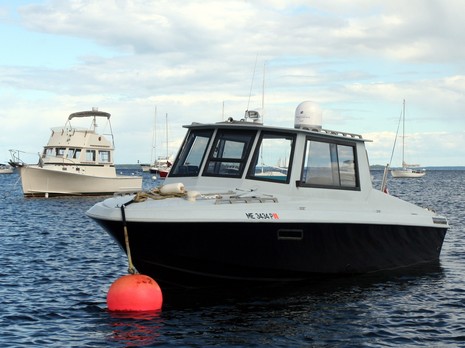 If a 14.5" stabilized dish can look, and work, fine on my 25' Ralph, most anyone who wants satellite TV on board can have it. But there are a lot more choices since I tested KVH's great little TracVision M3 in 2006. In the August PMY, I detailed SeaTel's Coastal 14 and King Control's Sea-King 9815–RJ, and how KVH had met this competition by rejiggering the original M3 into the M3st, M3dx, and M2 models. The battle was rejoined last weekend when King introduced the Sea-King 1500-HD.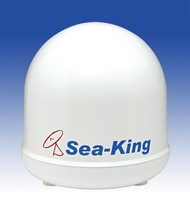 This $4,000 dome (17" high, 16" wide) comes ready to bring in HD or regular TV from DirecTV, Dish Network or ExpressVU, and includes a multi-switch for connecting up to four receivers. The details aren't on King Control's site just yet, but this antenna, along with the larger 1800–HD, purportedly use an unusual rear feed LNB that "optimizes signal strength resulting in a substantially larger geographic coverage area," and also "creates a lower center of gravity within the dome promoting greater stability, smoother motor operation and extended product life."
Incidently, if you already have a home dish or boat sat dome that sometimes experiences signal problems when it rains, you might want to check out King's spray-on "rain fade solutions". And, finally, please note the very able Ralph is sitting on a rebuilt trailer behind my house, awaiting new adventures, and is still for very much for sale. Geez, do I have to put a Mac on it (5,000 new Panbo visitors so far today)?