Blue Boat, way to go in Dam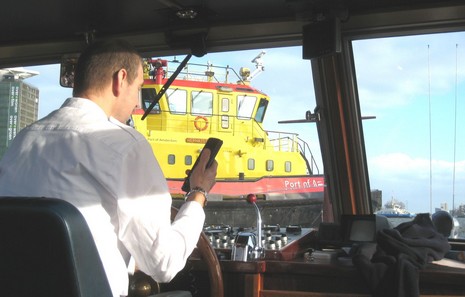 Good day. My fourth METS show in six years (starts tomorrow), but the first with my (fairly) patient wife along, and the first day that I've gotten out on the Amsterdam canals or even seen much blue sky here (in November). We got a ticket for a Blue Boat tour with our B&B, and that turned out lucky too. They seemed the most handsome and woody of all the tour boats, and our particular skipper hardly used the computerized "guide" (the mini PC screen upper right) in favor of his own patter and custom mix tape, both slightly cracked. His nav equipment? A Furuno GPS mainly displaying SOG, and a VHF that he used to keep in touch with the home office or, above, query an arrogant tug who cut him off cold. And mind you he's driving a single screw vessel about 60' long—no thruster, no deck hand—negotiating lots of traffic, and numerous bridges with barely a foot or two of leeway either side. His main safety tool seemed to be that rear view mirror over his left soldier and the mirrors strategically placed at many of the blind canal intersections. Not that a collision would cause any real harm. Great skipper; good day.
And tomorrow, like Tuesday a year ago, should begin with a passel of Garmin press releases. What do you think…15" displays?…instruments?…Garmin branded auto pilot?
PS, 11/13: Well, Garmin introduced all the above…quite neatly too. The GMI 10 instrument is sort of like an ST70, only brighter and less pricey I think, and will accept most any NMEA 2000 or 0183 data. The GHP 10 autopilot to my pleasant surprise is also N2K, and Garmin will have its own N2K GPS, an N2K fuel flow meter, an N2K 'smart' depth transducer, and its own N2K cabling, plug compatible with DeviceNet but supposedly less expensive. Another good day in progress.