Boat PC, how low can you go?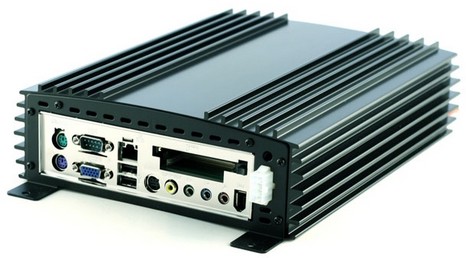 I'm back home, happily, and cogitating on a perennial issue: What's a sensible compromise in terms of a compact and rugged, yet able and reasonably-priced, boat PC? A good place to start the conversation is a roundup of "marinized computers" written by Tom Tripp for MadMariner last summer (and recently expanded upon at Tripp's blog). Just about all the marine PC specialists I know of are mentioned and linked to, but, as Tripp notes, the meaning of "marinization" is vague. Which is one reason I wonder if a good "carputer"—like the VoomPC2 seen above—might do.
Carputers are designed for tight but bumpy spaces, extreme temperature changes, lots of I/O needs, and even DC power surges. I've yet to find the ideal carputer information or gear site, but of interest are Xenarc, Mini-Box, Custom Carputers, and mp3Car.com. Can you picture a little fan-less PC doing all the navigation, monitoring, and communications tasks you might want at your helm? And if a carputer won't cut the mustard, how about an industrial PC, like a Nexcom, or a small profile desktop like a Mac Mini or a Shuttle. The latter, incidentally, is what Big Bay Technologies bases its Mariner PC (below) on, and let's acknowledge that boat PC possibilities are confusing enough that turning to a marine specialist just might be worth some extra dollars. What's your thinking on a compact and rugged, yet able and reasonably-priced, boat PC ?