BOATING SUITE Releases Major Update – Latest Release for iOS NOW Available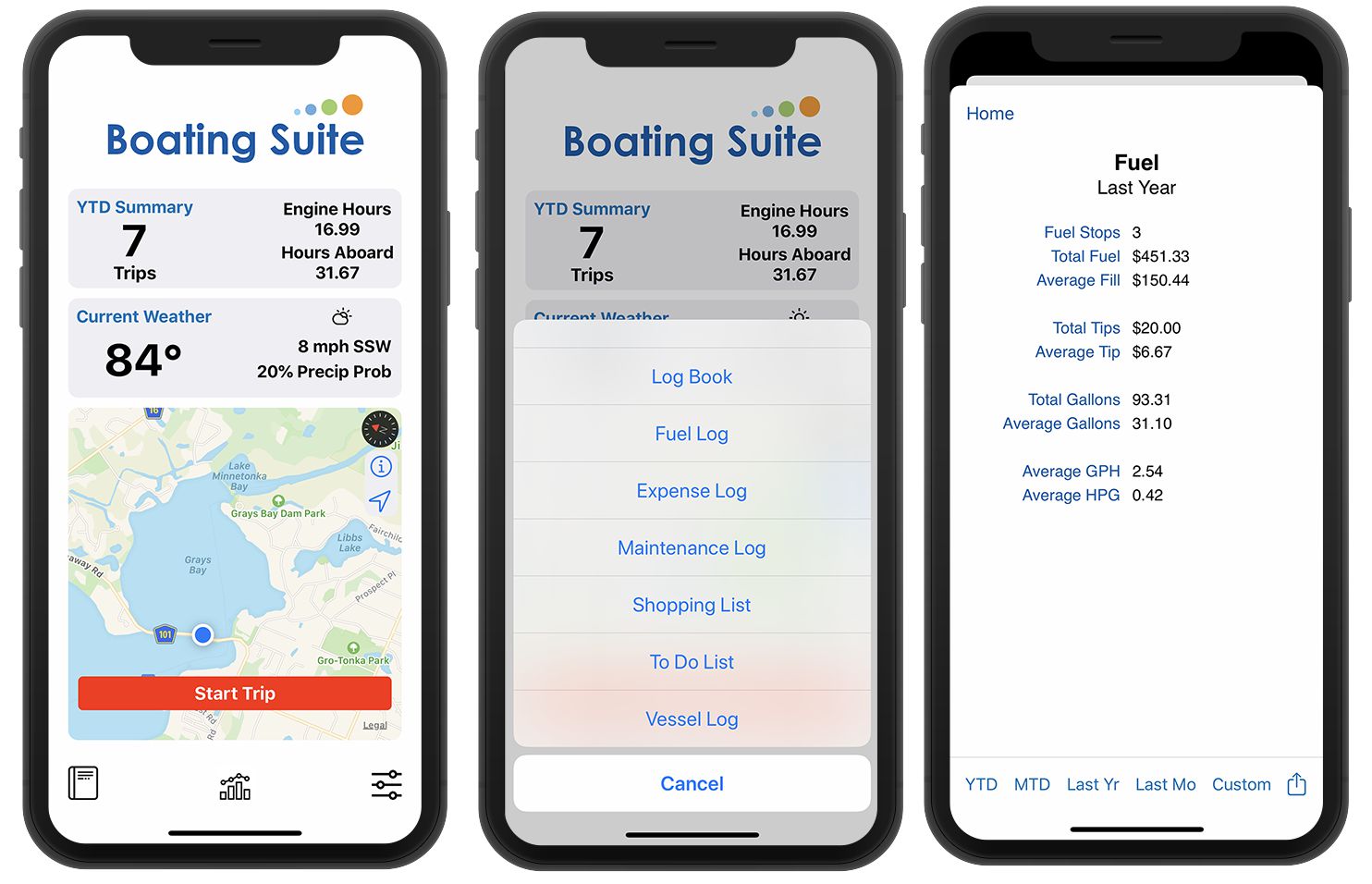 MINNEAPOLIS, Minnesota — April 16, 2020 — Boating Suite, LLC today announced Boating Suite: Logbook & Expense Tracker is now available on the Apple App Store. Version 2020.1 is a major update to Boating Suite and represents the third major iteration of the app. Not only has Boating Suite been completely re-written from the ground up, it delivers many new features including a completely new interface and dashboard, track recording, weather integration, native iPad support, one-button trip logging, dark mode support and more.
In March of 2010, Boating Suite, LLC launched the original Boating Suite, the first iOS-based logbook app for boaters. Since then, Boating Suite has remained the #1 boating logbook on the Apple App Store.
"This is a major step for Boating Suite and a glimpse of what the future holds for the app. For example, the track recording and weather integration will be integral features going forward and we're excited to get customer feedback in these areas to really make them robust," said Rob Anonen, founder and President of Boating Suite, LLC. "For more than 10 years, we given boaters the best, and most convenient app to log their boating activities and expenses and we'll continue to do so because it's our customers who guide us. We have the most loyal and passionate users and their input is what drives us."
Seven Apps in One
Boating Suite consists of seven individual, yet integrated modules plus several customizable reports. The seven modules are; Log Book, Fuel Log, Expense Log, Maintenance Log, Vessel Log, To Do List and Shopping List. The robust reporting provides the user with information about each trip along with fuel usage and fuel cost, total cost of ownership and much more.
Boaters benefit from Boating Suite by having a single, convenient app at their fingertips to log their trips plus track their fuel, maintenance, expenses and manage their boat(s). Boating Suite also helps users remember stuff with handy To-Do and Shopping Lists. And its intuitive interface allows for efficient entry of information.
Features of BOATING SUITE include:
Log Book: Maintain detailed records of every trip including a recorded track. From engine hours to air temp, from crew members to weather conditions.
Fuel Log: Keep track of all fuel purchases plus track fuel economy.
Expense Log: Maintain detailed records of all boating related expenses. Whether it's engine oil or life jackets.
Maintenance Log: Detailed maintenance history at your fingertips.
Vessel Log: Keep track of every detail including serial numbers, registration, insurance, fluids, batteries, etc.
Shopping List: Enter the stuff you need when it runs out or when it pops in your head so you don't forget when you're at the marine store.
To Do List: Owning a boat means a never-ending to-do list. This module will keep it together.
Reports: Get detailed usage and expense reports instantly. Select the date range and information that you want to see. It's that simple.
Available on the iTunes App Store
Boating Suite is available on the Apple App Store as a one-time purchase for only $4.99.