Boatsense, hip hip for the home team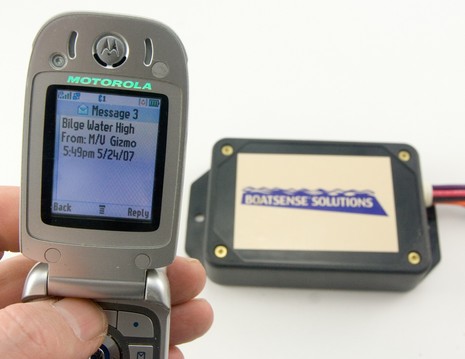 Wasn't I tickled to discover that what looks like a fairly simple and affordable new remote boat monitoring device is being made right here in Maine. And further tickled when Boatsense Solutions cofounder David Jacques zipped right up and explained more about what's in that little bomb-proof (epoxy potted) box…i.e., more than explained in the so far rudimentary brochure and manual. And tickled even more when I fired up a test unit last night, taught it my phone number, and successfully simulated a high bilge alarm, all in a few minutes.
Boatsense is a GSM cellular modem set up so it can send text messages wherever GPRS data service is available (much of the world). It monitors battery level with just its power feed, plus has an input for most any kind of bilge alarm switch, and three more for whatever sensors you want to add (including output from an existing on-board monitoring system). That's it; no screen, no GPS, no Web page…but it's only $499 list and $180 per year for up to 20 messages a month (extras 10 cents each). Distributing partner Hamilton Marine has a package deal here, and if you do a search on "boatsense" there you'll find a selection of sensor options. I'm going to test this baby more on Gizmo (wished I'd had it last July, rigged with a magnetic motion switch), but I'm pretty sure that it's well thought out and may well be a winner.