Captn. Jack's Maptech/Garmin bundle, a winner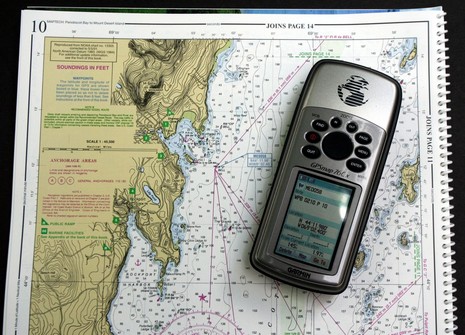 Last Fall I tried Captn. Jack's Garmin 76Cx bundle, and liked it a lot because it not only includes a Maptech Waterproof Chartbook of your choice, but comes with all the printed waypoints already programmed into the GPS. Turn it on, pick the desired waypoint from a list, and—bada bing—you have a solid connection between a traditional chart and electronic positioning. Given your distance and bearing to the waypoint, you can simply eyeball where you are, helped out by all the course lines Maptech lays out (bigger picture here), or you can use dividers and parallel rules for more accuracy.
I think this is the nuts for beginners and traditionalists, not to mention small boat navigators and lazy old coots (like me). And whereas Chartbooks also come with a CD of digitized pages and a basic charting program, and you can get full detail charts for the 76Cx (or the larger Garmins in the other bundles), this kit gives you a couple of ways to grow. It's also a good example of how a retailer can add serious value to some already good products. All of which is why this was one of my Sail magazine Freeman K. Pittman Award picks, just announced today. I notice that Motor Boating included it in their "Gear of Year" too. Now, wouldn't it be cool if Maptech, and other chart/guide publishers, made their waypoint files available for anyone to download? And it might sell more printed products, so there's some motivation!