Cellular online, and other adventures in GSM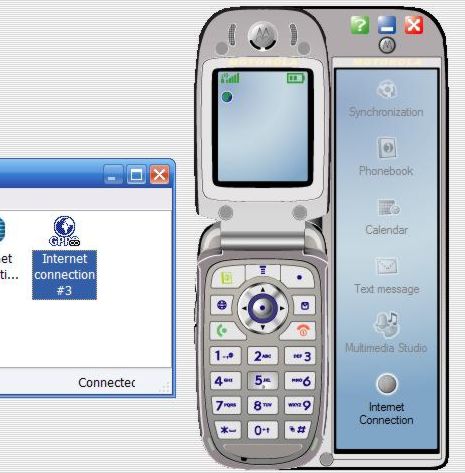 I'm happy to report that GSM phones not only do voice calls in midcoast Maine (finally), but also data. The bit of screenshot above shows a program called Motorola Phone Tools Deluxe 4.0, which can set up an Internet connection quite easily (though I did have to call Unicel for an 'apn' address because it's not one of the many presets). Once set up, it's just a matter of plugging the phone into a standard mini USB cable and hitting that lower button. It shows a speed of 230 Kbps (though it doesn't feel that fast) and it logs the amount of data passed. This bodes well for checking my email when I'm beyond local WiFi access points. The software, by the way, also does well at backing up the phone, synching it with selected Outlook calendar and contact info, and making your own wall paper and ringtones (the long intro to UB 40's "Rat in me kitchen", if you must know…and, sure, you can have a copy
). Plus the phone charges via the USB cable.
Meanwhile, I've continued to experiment with GYMsim. It works fine in Boston, on my phone and also on my daughter's unlocked Sidekick, but does not seem to work with my local Unicel GSM service. The voice mail is nicely done, and you only pay the base rate (.39 Euros a minute) to listen to them (unlike some cards where you'll pay roaming fees both for the getting and listening to the message). Best test: I handed the package to a friend flying to Copenhagen on Friday, then called the Liechtenstein number today. GYMsim is working fine for him, and he's already figured out how to query his remaining balance and "top up" at GYMsim's site.