Conning displays, another use for NMEA 2000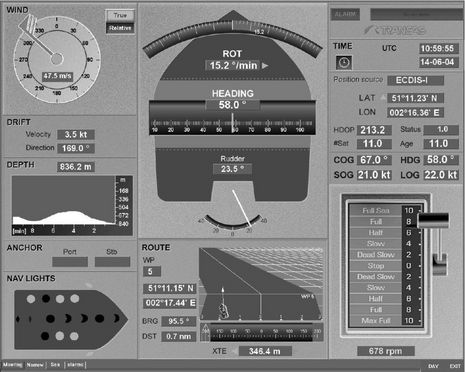 It wasn't just pirate drama (hurray for the good guys!) that had me thinking about big ship helms recently. When I was reading IEC documents about AIS target plotting last week, I came across the nifty "conning display" above. Even in greyscale it suggests how useful it is to integrate lots of usually discrete vessel data onto one screen. While I've seen conning displays in the past, and thought that something similar could be useful on even medium size yachts, that thought is particularly intriquing because nowadays every bit of data on this screen could be delivered over a single NMEA 2000 backbone.

It's even possible now to put nav light status on an N2K network, given Maretron's Run Indicator Module, and similar from Albatross Controls (which now has a U.S. distributor). It's ironic then that, in fact, the Transas Navi-Conning system which collected all that data above uses "NMEA (ver. 2.1/3.0/3.01)…realized via serial RS232-type and virtual ports." Pity the poor installer who has to get all those NMEA 0183 inputs seen below to work properly! Big ship electronics change at a glacial pace, but the IEC did finally approve NMEA 2000 and one day a ship's conning display will simply tee off its N2K network, I think. Is it nuts to think a similar screen might useful on a boat like the soon-to-be-mine Gizmo, especially for docking in tight quarters? And isn't it quite possible as sensors get more accurate and MFDs get better at NMEA 2000? And I wonder whatever happened to NMEA's "intelligent gateway" idea, which would encourage marine PC software developers to work with N2K?