Cruising with an iPhone, Navionics Mobile 2.2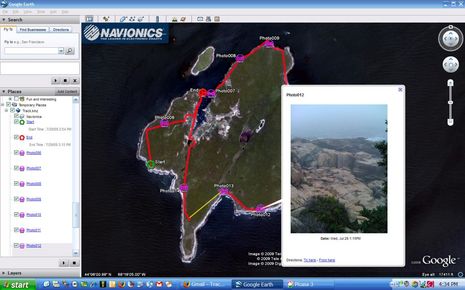 How cool is this! Most of the time we were hiking Long Island over the last two days I had Navionics Mobile 2.2 (East Coast) running on the iPhone and in track mode. Thus I could use it to check our progress against the trail map (downloadable here). I also took some iPhone photos of the mossy rich and rugged scenery from within Mobile, which then geo positions them on the chart. That's all neat, but the true kicker is that I could easily email the whole track with (reduced) photos to anyone as a KMZ file (only 248k, downloadable here) that can be overlaid on Google Earth as shown above. Or, with only two touch commands, could post it all on my Facebook page, where it seems to link to a Navionics-served Google Maps file which you may be able to see even if you don't have Google Earth or don't know beans about Facebook (like me). This easy track and photo sharing is great, but in fact the iPhone has been useful in many ways on this cruise…

Until we got a mooring with good WiFi (thanks to the crackerjack Lunt & Lunt operation here — which also served us the meatiest and possibly tastiest lobster I've ever eaten (and that's a large sample) — the iPhone was our only tool for checking email, seeing weather radar, and other online tasks (like moderating Panbo comments). The somewhat embarassing truth is that I've gotten into reading news sites on the iPhone in my berth at night, which saves 12v juice (don't have an LED there yet, and can charge the phone when underway or running the gen set).
And the fact is I'm not even using the phone to its fullest yet. The latest version of iNavX, for instance, has an anchor watch mode (plus true routing, and wave heights added to the GRIB overlays). I'm just downloading direct to the phone now (maybe, as only Edge service here). I did manage to install a new app called the Boater's Pocket Reference and am impressed. I've seen most of the material on its 1,800 little pages before, I suspect, but it is darn handy to have it all on an iPhone, searchable and book markable. If it keeps raining, I may retire to my berth and learn some some exotic knots.
And Lord knows we've all just gotten started with clever smart phone apps for boaters. For instance, EarthENC — which made NOAA raster chart overlays available, like for Long Island — is promising phone apps soon. And I very much look forward to what Active Captain — now sporting a much improved Web site (registration no longer required to see postings) — has up its smart phone sleeve.