DAME Awards, Navionics &…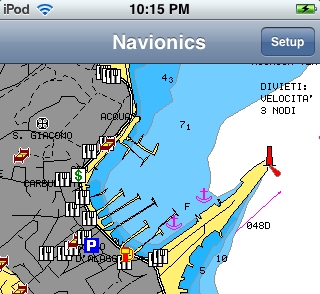 Congratulations to Navionics for winning the DAME Design Award (marine-related software category) with Navionics Mobile. And it turns out there's going to be more to this product than I first understood. In addition to large portfolios of vector charts to run in iNavX, Navionics will also offer a free viewer and inexpensive small area charts. In fact there's already a preview of Navionics Viewer in the Apple Apps Store. It includes impressively detailed sample cartography of the area around Genoa, Italy, which is how I took the screen shot above, full size here (but it still takes Google Maps to see the hotel pool I once swam in ;-). Zooming and panning are reasonably quick on my iPod Touch, and I look forward to seeing the finished app. There's no end to the iPhone effect.
Congratulations also to Cobra, which won the marine electronics category with its Bluetooth cell phone mic. Look for my test results, with audio, tomorrow. The judges gave out lots of "special mentions" in this category: Blue and Green Marine's ultrasonic boat antifouling system, B & G's HVision Display Range, Tacktick's T106 Remote Display System, and both an inverter and charger from WAECO. I'm not sure why the latter were in the electronics category, or why the Fusion MS-IP500–which made the short list—didn't get at least a special mention.
Meanwhile, the grand DAME went to Steyr's hybrid diesel engine, which also picked up a prize at IBEX. This engine/generator, which I learned more about at FLIBS, is really intriguing. Finally, Mastervolt picked up two special mentions in the electrical systems category: one for its 24v/160Ah Li-ion battery and another for the Digital DC 10x10A addition to its interesting distributed power system.