Doing boat WiFi right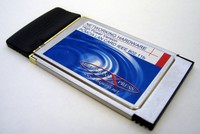 I've learned a lot about how boaters are using WiFi along the our coasts, and it's darn exciting. Savvy folks are using the Internet to the max for fun, work, and even cruise planning (weather, slip reservations, etc.) using fast wireless connections, either free or from dedicated marine services, in anchorages and marinas from the Abacos to the Straits of Georgia. You won't hear much about this in the marine press because it's kind of a helter skelter scene with very few big players.
Yet a clear key to success is good equipment. You might find an occasional hotspot using Centrino built in WiFi and standard Windows XP WiFi software but you'll do a whole lot better with a high power (200 mw) WiFi card or USB device connected to a high gain (6–12 db) 2.4 GHz omnidirectional antenna with low loss LMR400 coax cable and some decent WiFi software (like the free program available from Boingo). You won't find this stuff at Staples! And so far hardly any regular marine electronics outlets have gotten into this market. Places to look for long range WiFi gear are: Broadband Express, a Pacific Northwest marine service provider (gear shown); MarineNet, a Florida marine communications outfit; and HyperLink Technologies, a commercial all-things-wireless equipment vendor (where there's also great detail on which cards use which connectors, etc.).