Electronic Marlin teasers, who knew?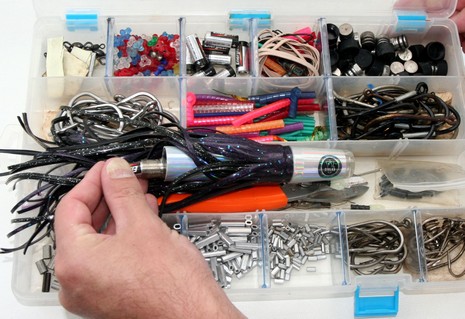 What can't be improved with electronics? Hence the battery going up the hind end of the Sevenstrand Electronic Acoustic Lure above. The idea is to attract billfish by simulating the sound (wailing?) of distressed bait fish. And I'm pretty darn sure it works because Greg Stotesbury told me so…
I count myself lucky to have spent a day fishing with Greg in his home waters off Southern California, in a 31' Contender Fish Around he'd just tricked out to the max. The way he'd detailed the boat and the way he fished it were truly impressive (check out his blog). However, I was aboard mainly to experience Knock Down's full-on Simrad GB 40 system, and so we reeled in the Marlin gear fairly early and blasted over to the comfort of Catalina's lee. While some good electronics testing was had, darned if there weren't lots of Bonita enjoying the lee too. Good times. Now I'm just home from another trip (family this time), and will be here only until Fort Lauderdale. It may be winter before I catch up with all the testing projects stacked up in the lab (more Class B AIS transponders coming), interesting new products being announced, and experiences like the GB 40 trip. Please bear with me!