For Mark McClellan, a boatguy's boatguy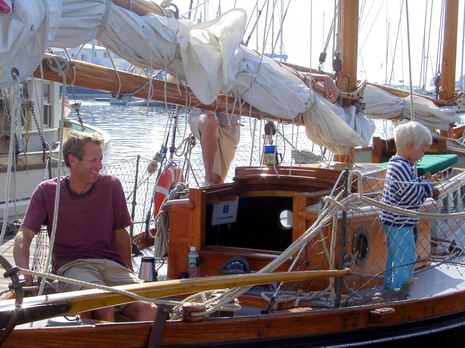 I'm going to get personal here, but I just can't stop thinking about Mark McClellan, seen above with his son Thomas on their schooner Simplicity five summers ago in Camden. This morning I learned that he was the damn fool who went solo ice boating on Lake Chickawaukie during yesterday's snow and wind storm, setting off what seemed like a successful rescue operation after he broke through the young ice. But Mark didn't make it. And "damned fool" sounds much more judgmental than I'm really feeling…

Mark was a guy with an almost perpetual glint of adventure in his eyes. Not a macho hey-look-at-me sort of thing, but rather a joyous hey-wouldn't-that-be-a-blast enthusiasm. And while I believe he had a stellar reputation as a boat builder and woodworker, he always seemed to make time for boating. In fact I remember when he was dreaming about Simplicity and asking guys like me for advice. Given that she was an older wooden boat without an engine, and Mark had both young children and a sizable wooden powerboat to take care of already, I counseled caution. But Mark went for it, fitted her with an offset shaft and diesel, ran her as daysailor, and took the whole family to the Caribbean on her.
The last time I saw Mark was Memorial Day, which was particularly clear and splendid this year. Andrea and I were walking a back road on the upper end of North Haven when the McClellan family rather randomly rolled out of a dirt driveway in a jalopy pickup (turned out they'd acquired a backwoods camp, and an island vehicle to go with it) and offered to take us into town for the parade. We had a very nice time together that morning, and Mark said he might sail his Whitehall out later to see Gizmo. But when it started to blow about 20 knots across Pulpit Harbor and I saw Mark arrive at the beach with an extra kid in tow, I got a little nervous. Bad idea, Mark! But he managed fine, wisely dropping the idea of working to windward to see us, and instead running that little boat along the shore with a bone in her teeth. I dare say the children got a fairly thrilling sailing experience.
So I'll remember Mark as a guy who walked the fine line between foolhardy and adventurous, which I admire. I'd guess that there are friends and family today who are pretty pissed off at him for going too far, and thus deserting the family I saw him so lovingly settled with last May, and I understand those feelings completely. But I'd like to think of him whooping with excitement as he flew across Chicky in the breeze, before he hit the thin ice. I want to remember Mark's infectious grin and glint, though I do wish he'd been more careful.