Furuno FI-50 Multi XL, a NMEA embarrassment?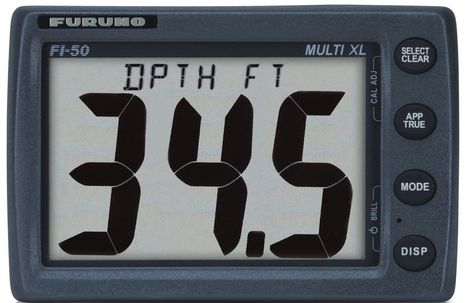 Hey, maybe I can get the NMEA riled up too (though I doubt it has the posse gCaptain does). Here's the thing: Furuno's FI-50 line of instruments, including the neat new Multi XL above, are all about displaying NMEA 2000 data, right? Heck, we've known that since their 2007 introduction. I later tested them with all sorts of N2K data, saw how well that screen works in direct sunlight, and then used them this summer in a Cruising World article about N2K wind instruments. They display NMEA 2000 data from most any source, and they're darn good at it! But I defy you to find any reference to NMEA 2000 in the FI-50 brochure you can download from the Multi XL page. What the…?…

In fact, there's hardly a mention of NMEA 2000 on Furuno's new instrument mini site (note the new long-wanded wind sensor too) or even in the FI-50 installation guide, except for the coy suggestion that the instruments might work with N2K sensors as well as CANbus ones. Neither is there a list of the specific N2K PGNs that each model can display, and Furuno is usually very good about that valuable info.
The cause of this nonsensical and confusing state of affairs? NMEA will not certify the FI-50 instruments because they allow daisy chaining and Furuno felt it had to scrub most all mention of the Standard to properly acknowledge their lack of certification. This doesn't seem right to me. I've yet to find an N2K-aware engineer who thinks daisy chaining is a major problem, I believe it's commonly done with other CANbus networks, and — probably most important — two of Furuno's major competitors had already decided that daisy chaining was worth breaking the NMEA 2000 rules for.
Simrad and Raymarine also developed their own proprietary cables to do daisy chaining and other N2K-type networking with, and while that's further confusing and annoying, I really haven't heard of problems with those systems either. By contrast, the Furuno FI-50s used standard N2K male and female connectors, metal even (as shown here), and thus function much like a tee in a regular N2K backbone. If an FI-50 were to fail in such a way that the instruments upstream of it are isolated from the backbone — which is the fear that NMEA's rule is all about — an informed owner could just pull the busted unit and connect the two cables to each other. The problem could be solved without even shutting down the system…not that I've heard of such problems.
Let's recap: Three major NMEA members — all of whom participated in developing NMEA 2000, I think — have all decided that daisy chaining, which particularly simplifies installations like a row of instruments, is worth defying NMEA for. Isn't that an issue that should be solved, rather than papered over with silly "CANbus" euphemisms? I think NMEA should relent and permit daisy chaining. I want to respect their N2K certification process because I want it to protect me from problems I can't easily understand and troubleshoot, like bogus network messages. But as far as I know all those Furuno, Raymarine, and Simrad instruments do NMEA 2000 fine, except for the daisy chaining, and I'm willing to recommend them without certification. Fix this, NMEA, please. Hell, you could even make these guys put a "Daisy Chaining Warning" label on the offending gear.

The brochure diagrams below show the unfortunate "CANbus" nonsense, as well as the relative size of the new Multi XL. They also illustrate a bit of confusion that Furuno is responsible for. The folks who write the brochures and manuals like to suggest that Furuno's NMEA 2000/"CANbus" junction box (discussed here) is THE way to install the instruments. That's simply not true. Now, who else can I annoy?