Furuno FI-50s, another calibration road taken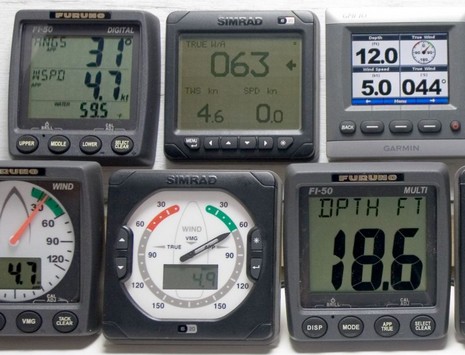 Well, it's one thing to contemplate testing a rack of N2K instruments (between slurping oysters and admiring sea birds), and quite another thing to do it. So many factors…oy! Today's focus is Furuno's unusual approach to calibration; it turns out that the FI-50s can do extensive calibration of almost any sensor because its done within the instruments instead of within the sensor. This could cause some confusion but overall seems like a terrific option, especially for folks who are going to use other manufacturer's N2K sensors or bring existing 0183 smart sensors onto a network with a converter (like the Simrad AT10).

Contemplate the photo above, or, better yet, the full rack shot (now with scroll bars!). All the wind and depth data is coming from the same two sensors, Furuno's analog whirly gig piped into a 502 Close Hauled gauge and a Maretron DST 100 (both off screen). The DST is actually mounted about 2' over a concrete floor but has a 10' offset programmed into it (which can be done with the Maretron, Garmin, or Simrad displays, but that's quite unusual, and only because all three companies sell the same Airmar transducer). At any rate, that explains the 12' foot depth PGN seen on most pictured displays and elsewhere on the network. But the 18.6' on the FI-50 Multi is because, for example's sake, I programmed an added 2 meter offset into it. (Nevermind that I meant 2', but the unit 'fooled' me; I dare say that will be clarified by the time these actually ship in a month or so, and maybe Panbo will get a credit ;-).
The FI-50s synchronize such calibrations among themselves (if desired), but they are not broadcast onto the network. You can see the same phenomenon with the wind. Note how the speed (actually a small fan) is nearly the same everywhere, the differences only a matter of individual instrument dampening and timing. Ditto wind direction on everything but the FI-50s, which have their own 30 degree offset set up. Yeah, I got carried away, but hopefully made the point? NavNet 3D will do the same sort of independent calibrations.
Today I also realized how hard it is to evaluate all these different screens, almost every one a different technology. For instance, the FI-50's bold segmented LCD fonts are very legible, as you can see, but they can't change font size for menus or put up useful icons like all the other (bit mapped) screens. Their OLED backlighting (less than 0.1 amp!) also seems to be the dimmest of the bunch, but it's automatic (if you desire), and did pretty well in my simulated low light photo below, and bigger here (except for the wind gauge LED's bleeding and poor lighting, which Furuno is looking into). But I've got a lot to learn about light settings on some of the other screens, plus put all these puppies in some real sun, not to mention figure out what that warning sign on the Simrad IS20s means. Oy!